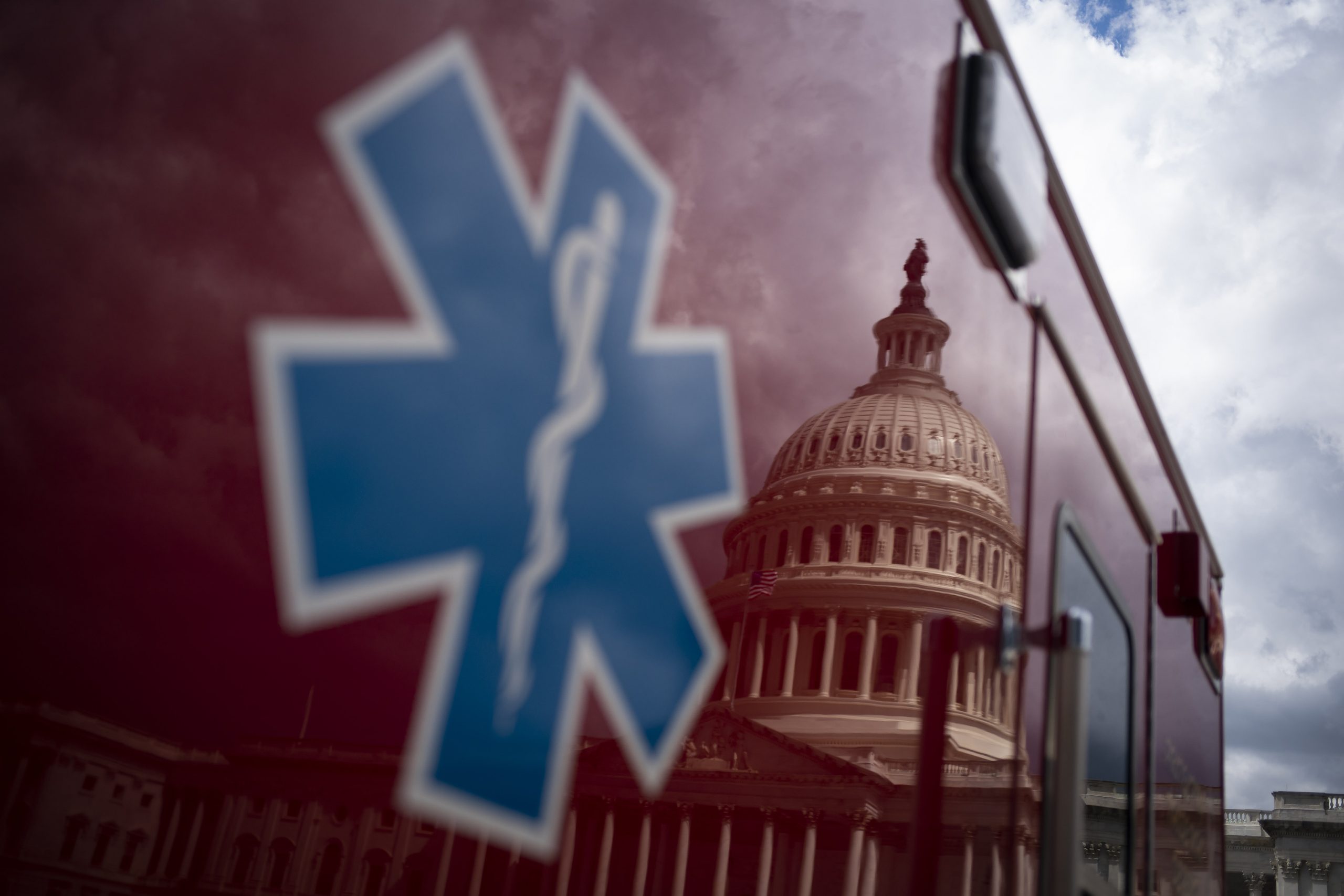 (L-R) Senate Majority Leader Mitch McConnell, Secretary of Treasury Steven Mnuchin, and Senate Minority Leader Chuck Schumer hold a meeting to discuss a potential economic bill in response to the coronavirus, COVID-19, in Washington, DC, on March 20, 2019.
Saul Loeb | AFP | Getty Images
Senate Democrats and Republicans are nearing a deal Sunday that could inject roughly $370 billion into loan programs for small businesses, a person familiar with the negotiations told CNBC.
The talks come after the $349 billion Paycheck Protection Program, which offers forgivable loans to small businesses, ran out of money on Thursday. Democrats rejected a proposal to refill the fund two weeks ago. They instead argued for changes, including adding more money to support federal testing, hospitals and local governments. They've also pushed to ensure groups without banking relationships get access to the program and SNAP benefits.
As of Sunday night, Democrats and Republicans were negotiating a deal that would allocate $310 billion more into the Paycheck Protection Program, setting aside $60 billion of that sum for rural and minority groups. Another $60 billion would go to the Economic Injury Disaster Loan program, a separate program offering loans for small businesses administered by the Small Business Association.
Senate Majority Leader Mitch McConnell, R-KY, hosted a call Sunday afternoon to provide an update on the package for members, along with President Donald Trump, Chief of Staff Mark Meadows and Treasury Secretary Steve Mnuchin, a senior Republican aide told CNBC.
In the call, Mnuchin said the program will not include the Democrats' push for state and local government funding, the senior Republican aide said. Democrats are still pushing for state and local funding, the person familiar with the negotiations said.
Mnuchin also said SNAP demands will not be in the package, the senior Republican aide said. He said discussions continue over federal funding for coronavirus testing, which he is discussing with McConnell, Sen. Lamar Alexander, R-TN, and Sen. Roy Blunt, R-MO.
Earlier in the day, Mnuchin said the deal could include $75 billion in funding for hospitals and $25 billion in funding for testing.
Rep. Steny Hoyer, D-MD, sent out a note Sunday evening saying "pending agreement" the House could take up the bill as soon as Wednesday.
"I think we're getting close to a deal," Trump told reporters at a press conference Sunday, "could happen, a lot of good work has been going on and we could have an answer tomorrow and we're going to see what exactly does take place."
The president added that Congress is looking at funding for hospitals as part of the negotiations
"We're also looking at helping our hospitals and our rural hospitals who have been hurt very badly, the rural hospitals for a long time have not been treated properly, we're looking to help them and beyond, so we're looking at hospitals also part of the package and we'll see how that all comes out," he said.
Trump said he was in favor of aid for state and local governments, but that would come in a future relief package. "We're going to be saving that for a later date," Trump said. "That will probably be our next negotiation, but I'm in favor of it."
Treasury Secretary Steven Mnuchin said earlier Sunday the White House and Congress could reach a deal today on supplemental funding for small businesses. Mnuchin said President Trump is prepared to discuss funding for state and local governments in the next bill while this package focuses on loans to small businesses and hospitals and testing.
Mnuchin said on CNN's "State of the Union" that leaders are "making a lot of progress" and he hopes the deal will be passed in the Senate on Monday, in the House on Tuesday and be up and running on Wednesday.
House Speaker Nancy Pelosi said Sunday morning that officials are "very close" to an agreement to replenish the small business fund and Senate Minority Leader Chuck Schumer said that they could strike a deal on Sunday evening or Monday morning.
"Overwhelmingly, my caucus, and we're working closely with the Senate Democrats, know that we have an opportunity, and an urgency, to do something for our hospitals, our teachers and firefighters and the rest, right now," Pelosi said on ABC's "This Week."
"And then we're preparing for our next bill," Pelosi said. "Businesses will have the money in a timely fashion."
The Trump administration said more than 1.6 million loans were approved to help companies keep employees on payroll. More than 22 million Americans have filed for unemployment in the last four weeks.
But many small businesses are still waiting for their banks to process an application or confirm whether they qualify for financial assistance from the PPP fund.
The program has been criticized for providing payments to certain business including large chain restaurants. For instance, Ruth's Chris Steak House chain, which has more than 5,000 employees, recently disclosed that it received $20 million in loans.