Seattle Police Chief Carmen Best on Tuesday announced her resignation, saying that she was not leaving because of pay cuts to her department, but because of the "lack of respect" toward her fellow officers.
Best's resignation comes amid the City Council's decision to reduce the department by as many as 100 officers through layoffs and attrition.
In response to a reporter who asked if her decision was motivated by protesters who appeared at her home earlier this month, or the City Council's decision, Best said it "is not about the money, and it certainly isn't about the demonstrators."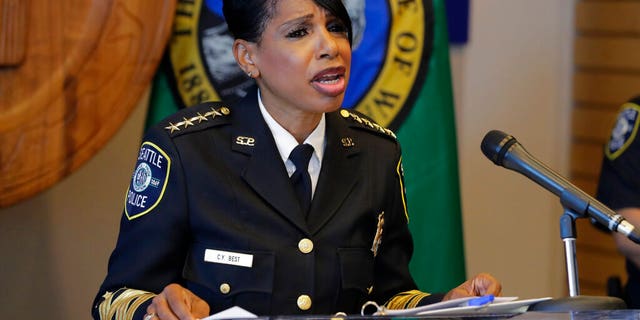 Seattle Police Chief Carmen Best speaks during a news conference, Tuesday, Aug. 11, 2020, in Seattle. 
(AP)
"I mean, be real, I have a lot thicker skin than that," Best said. "It really is about the overarching lack of respect for the officers, the men and women who work so hard, day in and day out."
She added: "The idea that we've worked so incredibly hard to make sure our department was diverse, that (it) reflects the community that we serve, to just turn that all on a dime and hack it off, without having a plan in place to move forward, is highly distressful for me."
Best, the city's first Black police chief, said in a letter to the department that her retirement will be effective Sept. 2.
"I am confident the department will make it through these difficult times," Best said in the letter. "You truly are the best police department in the country, and please trust me when I say, the vast majority of people in Seattle support you and appreciate you."
JOHN LOTT: CHICAGO'S CRIME PROBLEM — THIS IS REAL REASON BEHIND IT THAT CITY'S DEM MAYOR WILL NEVER ADMIT
In an email to police, Seattle Mayor Jenny Durkan said she accepted Best's decision "with a very heavy heart."
"I regret deeply that she concluded that the best way to serve the city and help the department was a change in leadership, in the hope that would change the dynamics to move forward with the City Council," Durkan wrote.
A military veteran, Best joined the department in 1992 and had worked in a wide variety of roles, including patrol, media relations, narcotics, operations, and as deputy chief. The mayor picked Best in July of 2018 to lead the department. She had been serving as interim chief.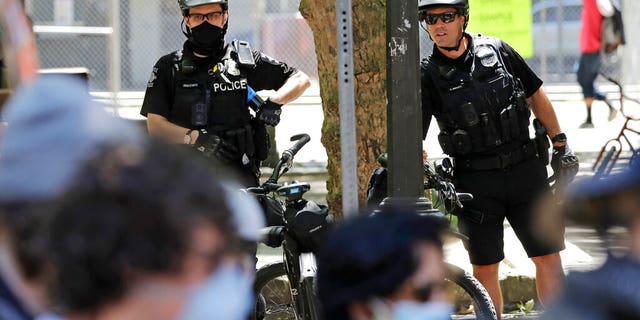 FILE: Police officers look on at protesters in Seattle. 
(AP)
Council members had approved the cuts Monday. The vote came after a summer of nationwide protests against police after the death of George Floyd while in police custody in Minneapolis.
Measures that would cut less than $4 million of the department's $400 million annual budget this year passed out of committee unanimously last week. The City Council also cut Best's roughly $285,000 annual salary and the pay of other top police leaders.
SEATTLE CHRISTIANS CONFRONTED BY KNIFE-WIELDING PROTESTERS YELLING OBSCENITIES
The cuts were widely supported by demonstrators who marched in the city but strongly opposed by Durkan and Best, who urged the council to slow down its discussions about police budgets. They said any layoffs would disproportionately target newer officers, often hired from Black and Brown communities, and would inevitably lead to lawsuits.
"I really think that we needed to have a plan moving forward," Best said at Tuesday's news conference. "It was highly disappointing to not see that."
CLICK HERE TO GET THE FOX NEWS APP
Durkan has appointed Deputy Chief Adrian Diaz as the interim chief. She told reporters there are no immediate plans to find a permanent replacement for Best.
The Associated Press contributed to this report.