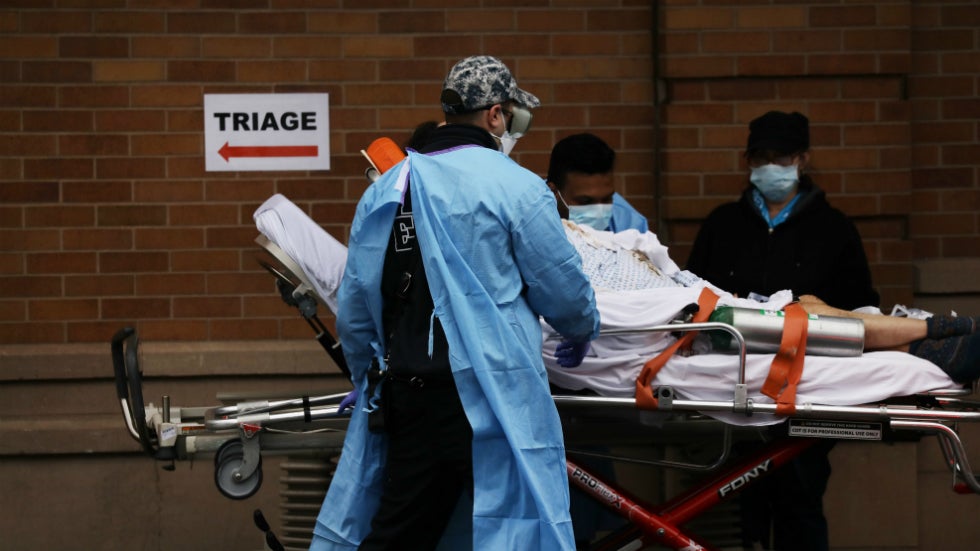 The New York state nurses union filed lawsuits against the state and two hospitals Monday over what it says are unsafe working conditions and a lack of protective equipment.
The New York State Nurses Association (NYSNA) sued the New York Department of Health and two hospitals, Montefiore Medical Center and Westchester Medical Center, claiming they put nurses's health and safety at risk.
NYSNA alleges in the suits that some nurses were not given impermeable gowns and personal protective equipment and nurses redeployed to hospitals other than those they normally worked at were not given sufficient training. The lawsuits say high-risk employees like pregnant nurses were not provided safe working conditions.
The lawsuit against the state department of health was filed in New York Supreme Court, New York County, and calls for Gov. Andrew Cuomo

Andrew CuomoNew York nurses union sues state, hospitals over coronavirus working conditions Overnight Health Care: Pressure builds on White House on testing | Georgia to reopen some businesses | Trump to meet with Cuomo Tuesday States should say 'no thanks' to a federal bailout MORE's (D) to require direct care nurses receive at least one N95 respirator daily. NYSNA claims in the lawsuit that some New York nurses are being instructed to come to work sick.
NYSNA Executive Director Pat Kane said in a statement that more than 70 percent of the union's nurses are reporting exposure to COVID-19, and most have not been tested.
"These lawsuits were filed to protect our nurses, our patients and our communities from grossly inadequate and negligent protections," Kane said. "We cannot allow these dangerous practices to continue."
Jonah Bruno, a spokesman for the New York Department of Health, said in a statement to The Hill that the department cannot comment on pending litigation.
"The State of New York continues to take every step necessary to ensure that health care workers, particularly those who are sampling and providing direct care, have the support and supplies needed to address this unprecedented public health emergency," he said.
The lawsuit against Montefiore Medical Center was filed in the U.S. District Court for the Southern District of New York on behalf of 3,000 registered nurses, who request injunctive relief.
A Montefiore spokesperson said in a statement to The Hill that, "NYSNA leadership has chosen to attack a system, and the commitment of thousands of their colleagues, who have followed the Governor's emergency orders and are selflessly doing all they can to fight COVID-19 and save lives."
Westchester Medical Center is being sued in the New York Supreme Court, Westchester County, on behalf of 1,600 registered nurses who seek an injunction "against hazards that cause or are likely to cause death or serious physical harm to nurses."
The Hill reached out to Westchester Medical Center for comment.
New York has been hit hard by the virus, leading to 247,512 positive cases in the state and 14,347 fatalities, according to the state health department.