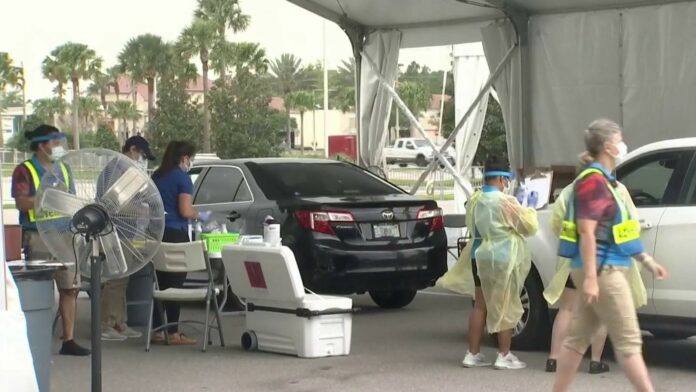 Volusia County reported 14 more deaths as a result of COVID-19

VOLUSIA COUNTY, Fla. – Volusia County is seeing an increase in fatalities in coronavirus cases, county leaders said Friday.
In Volusia County, there have been a total of 3,454 positive cases in Volusia County since March, according to the Florida Department of Health. The county has also had an increase of 14 deaths compared to the week prior, bringing the area total to 72 deaths.
"If you test positive, please notify anyone you've come into close contact with so that they can prevent further spread," Patricia Boswell, Administrator, Florida Department of Health in Volusia County said.
According to officials, 288 people have required hospitalization because of the virus.
According to the DOH data of coronavirus cases in long-term care facilities, there are now five in Volusia that have reported COVID-19 outbreaks: Bishop's Glen Retirement Center, Ocean View Nursing and Rehab Center, University East rehabilitation Center, Opis Coquine Center in Ormond Beach and Sunrise Community of Northeast Florida.
"Our facilities are watching this census closely and have plans in place, in the event they experienced a surge in COVID patients," Boswell added.
Officials urge caution as the positivity rate in Volusia County continues to rise.
"Volusia County's positivity rate is now 11%, the rate continues to rise. At this time last week, our positivity rate was just over 9%," Boswell said.
On Friday, city leaders in Bunnell passed a mask mandate requiring people to wear a face-covering in public.
Officials said there are circumstances that would allow residents to not have to wear a mask in public. To see a list of complete details click or tap here.
COVID-19 testing at the Volusia County Fairgrounds was canceled on Friday.
According to officials, the testing was canceled due to a delay in the committed delivery and an overwhelming demand on the labs."
At 11:00 a.m. Thursday, Family Health Source received a notice that labs had become overwhelmed, forcing the site to close our early Thursday and cancel Friday's testing, a news release said.
"We will extend our testing at Volusia County Fairgrounds on Monday the 13th and Tuesday the 14th from 8 a.m. to 5 p.m.," officials said.
As of Friday, the Florida Department of Health has reported 244,151 cases since March 1. In the past 24 hours, 11,433 new cases were reported in Florida.
To keep up with the latest news on the pandemic, subscribe to News 6′s coronavirus newsletter and go to ClickOrlando.com/coronavirus.
Copyright 2020 by WKMG ClickOrlando – All rights reserved.
---
About the Author:

Tom Metevia is an Emmy Award-winning content creator. He writes for all of the company's news websites, including ClickOnDetroit.com. Tom specializes in travel, entertainment and theme park news.