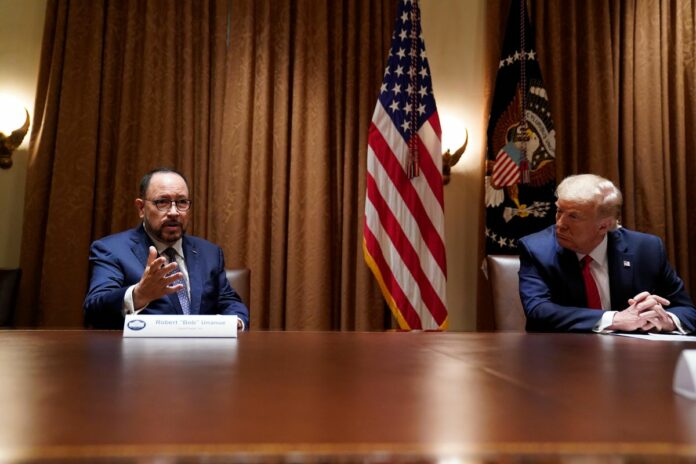 TOPLINE
Calls to boycott Goya Foods erupted online after the CEO of the popular Hispanic-owned foods brand praised President Trump during an event at the White House on Friday, another indication of the tight rope major U.S. companies must walk in the Trump era.

KEY FACTS
"We're all truly blessed…to have a leader like President Trump," Robert Unanue, CEO of Goya Foods said:
The hashtags #BoycottGoya, #GoyaFoods, and #goyaway trended on Twitter after the event, with multiple Democratic politicians joining in the backlash online.
Trump signed an executive order expanding his ""Hispanic Prosperity Initiative," an initiative that directs taxpayer support for charter and private schools and boosts tax benefits for tax "Opportunity Zones."
The CEO, who has been at the helm of the family-owned company since 2004 and is a  third-generation Spanish American, was in attendance for the ceremony, where he announced a plan to donate 1 million cans of chickpeas and 1 million pounds of other food to food banks.
During an interview on Fox and Friends on Friday morning, Unanue refused to apologize, calling the backlash to his comments "suppression of speech."
Trump's relationship with some in the Hispanic community began on a sour note after he described Mexican immigrants as "rapists" in his first speech as president, eliciting backlash. 
Goya Foods did not immediately respond to a request for comment Friday morning. 
Chief critic
"Americans should think twice before buying their products," former Housing and Urban Development Secretary Julián Castro tweeted.
Crucial quote
Sen. Ted Cruz (R-Tex.) snapped back at Castro's tweet: 
Key background 
Goya Foods is the latest company to be the subject of controversy over its leadership's support for Trump. In June, fast food chain Wendy's faced steep backlash online for its CEO's donation to Trump. The criticism also comes after a reckoning over the names and logos used by major U.S. brands in the wake of George Floyd's death. Mrs. Butterworth's and Aunt Jemima, the famous pancake syrup brands, and Uncle Ben's, the rice food brand, recently announced they will undergo a complete brand and packaging review.  
Further reading
Goya Foods' CEO said U.S. 'blessed' to have Trump as a leader, and calls for boycott quickly followed (NBC News)
#Goyaway: Calls To Boycott Goya Foods After CEO Praises President Trump (NPR)
Mrs. Butterworth's To Undergo A 'Complete Brand And Packaging Review' Along With Aunt Jemima, Uncle Ben's (Forbes)