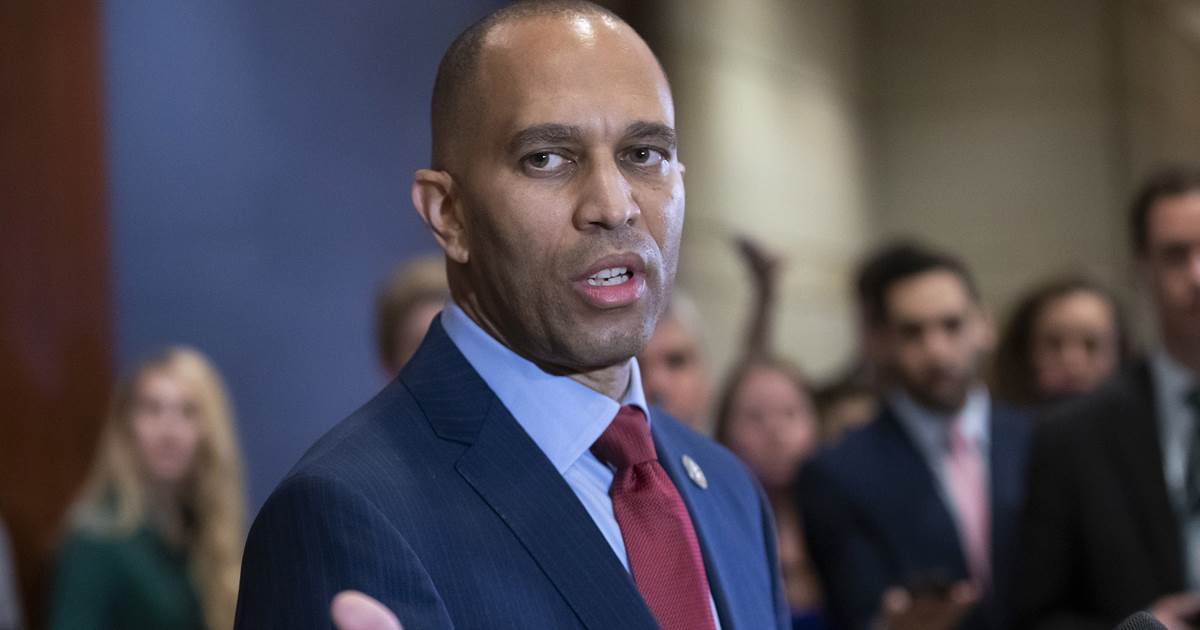 WASHINGTON — Congressional Democrats slammed President Donald Trump after he announced that he plans to suspend immigration to the United States, arguing that such a move does nothing to protect Americans from the coronavirus and deflects attention away from his handling of the outbreak.
House Democratic Caucus Chairman Hakeem Jeffries, D-N.Y., tweeted that Trump is the "xenophobe. In. chief."
"This action is not only an attempt to divert attention away from Trump's failure to stop the spread of the coronavirus and save lives, but an authoritarian-like move to take advantage of a crisis and advance his anti-immigrant agenda. We must come together to reject his division," tweeted Rep. Joaquin Castro, D-Texas, chairman of the Congressional Hispanic Caucus.
Shortly after 10 p.m. ET on Monday, Trump announced in a tweet, "In light of the attack from the Invisible Enemy, as well as the need to protect the jobs of our GREAT American Citizens, I will be signing an Executive Order to temporarily suspend immigration into the United States!"
There were no additional details. A senior administration official said Trump could sign the executive order as early as this week.
Let our news meet your inbox. The news and stories that matters, delivered weekday mornings.
The tweet came as the death toll in the U.S. from COVID-19 topped 42,000 people, according to Johns Hopkins' Coronavirus Resource Center.
Sen. Tim Kaine, D-Va., Democrats' 2016 vice presidential nominee, called it a "pathetic attempt to shift blame from his Visible Incompetence to an Invisible Enemy."
Pathetic attempt to shift blame from his Visible Incompetence to an Invisible Enemy. The President needs to reread the Declaration of Independence, criticizing King George for restricting immigration to America. https://t.co/LO0OndE88A

— Tim Kaine (@timkaine) April 21, 2020
Sen. Kamala Harris, D-Calif., a possible vice presidential pick for Joe Biden in his 2020 White House race, said Trump has "failed to take this crisis seriously from day 1. His abandonment of his role as president has cost lives."
"Tonight we have crossed 790,000 infections and 42,000 dead. This corrupt buffoon will will [sic] try any poisonous distraction and blame anyone to deflect from his failures that are killing our fellow Americans," tweeted Rep. Bill Pascrell, D-N.J.
A co-chair of the Congressional Progressive Caucus, Rep. Pramila Jayapal, D-Wash., tweeted that the president was "giving into racism & xenophobia."
This is beyond belief.

Immigrants have always made America great. Suspending immigration & giving into racism & xenophobia won't solve our problems.

Instead it will have a catastrophic impact on our health care, food supply & the systems we are relying upon during this crisis. https://t.co/lM427P0h2S

— Rep. Pramila Jayapal (@RepJayapal) April 21, 2020
The administration official said the ban "had been under consideration for a while."
House Judiciary Committee Chairman Jerry Nadler, D-N.Y., who played a key role in Trump's impeachment, said in a pair of tweets that Trump is seeking to distract people from his "fumbled" response to the coronavirus and is showing himself as "small and ineffective."
We need to come together to beat this disease, not attack each other and divide the country. This is a disgrace — demonizing so many of those who are serving on the front lines against COVID while the President shows himself as small and ineffective.

— (((Rep. Nadler))) (@RepJerryNadler) April 21, 2020
Few Republican members of Congress have reacted to the immigration announcement, though two conservatives praised him Monday night on Twitter.
"Wow! One thing about @realDonaldTrump, he knows how to put American citizens first!" said Rep. Mo Brooks, R-Ala.
And Rep. Paul Gosar, R-Ariz., wrote, "Thank you, @realDonaldTrump! All immigration to the United States should halt until every American who wants a job has one!"
Trump's announcement comes after he decided in January to restrict travel by foreigners from China and similarly decided in March to restrict all travel by foreigners from Europe.

Rebecca Shabad
Rebecca Shabad is a congressional reporter for NBC News, based in Washington.