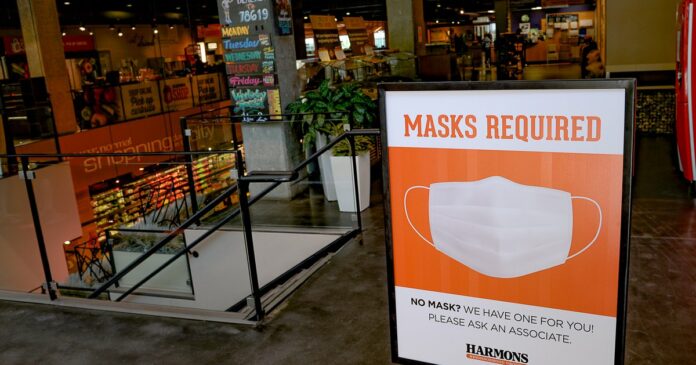 Editor's note: The Salt Lake Tribune is providing free access to critical stories about the coronavirus. Sign up for our Top Stories newsletter, sent to your inbox every weekday morning. To support journalism like this, please donate or become a subscriber.
Utah reached two unwanted milestones Wednesday in the coronavirus pandemic, setting a new one-day record for new cases and crossing the 200 mark in the state's death toll.
The state recorded 722 new cases of COVID-19 Wednesday, the Utah Department of Health reported — and seven new fatalities, making the overall death toll 201 Utahns.
The state's epidemiologist, Dr. Angela Dunn, said in a statement that the new cases "further reinforce the need for Utah residents to be taking the appropriate precautions to protect themselves and those around them."


Dunn repeated the call from state officials: "Please, wear a mask in public, practice physical distancing, stay home if you are sick, and wash your hands regularly. We are all part of the solution."
The seven people whose deaths were reported Wednesday are:
• Two Utah County men, both between the ages of 45 and 64; one was hospitalized when he died, the other was not in a hospital.
• A Utah County woman, between 65 and 84, who was hospitalized when she died.
• A Washington County man, between 65 and 84, who was a resident of a long-term care facility.
• A Salt Lake County woman, over the age of 85, who was a resident of a long-term care facility.
• A Salt Lake County man, between 65 and 84, also a resident of a long-term care facility.
• A San Juan County man, between 45 and 64, who was in a hospital when he died.
The state saw 25 more people hospitalized with COVID-19, UDOH reported. As of Tuesday — the last day available, as hospital reports lag behind case counts — there are 199 people currently in hospitals with the disease. There are 76 people in intensive care units, the lowest number in two weeks.
The high case numbers came from a comparatively low number of tests — just 2,911 processed since the day before, UDOH reported.
Utah's most populous county, Salt Lake County, set its own one-day record, with 349 new cases. The county has recorded 13,343 cases since the pandemic began — about half the state's total, even though Salt Lake County holds about a third of Utah's population.


Wednesday's new cases raise the seven-day average — the figure used by public-health officials to detect rising or falling trends — to 577 per day, the highest the average has been. The seven-day average crossed over 500 on June 25, but had seemed to plateau around 550 per day for more than a week.
UDOH reports that 15,178 people are considered "recovered" from COVID-19 — which, by the state's definition means they have gone three weeks since being diagnosed and are still alive.
This story is developing and will be updated.