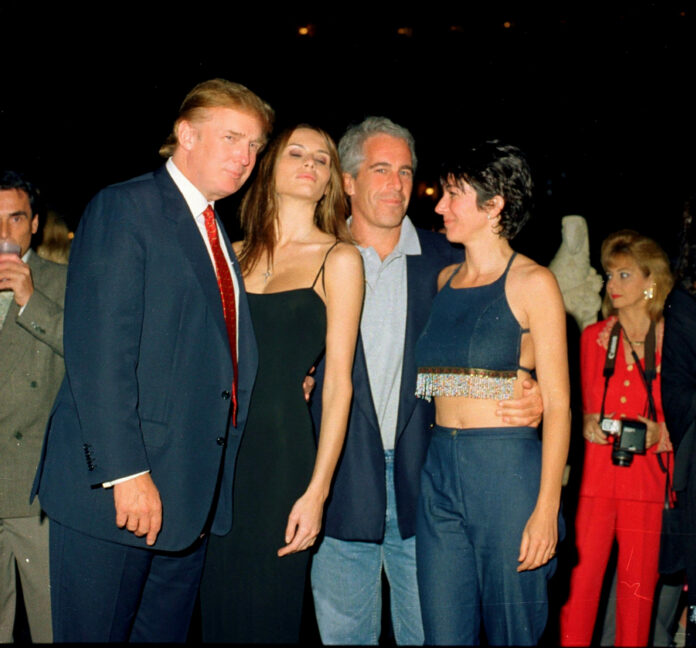 President Donald Trump on Tuesday offered kind words to Ghislaine Maxwell, the British socialite criminally charged with procuring underage girls to be sexually abused by the late investor Jeffrey Epstein.
"I just wish her well, frankly," Trump said of Maxwell, during a White House press conference on the coronavirus pandemic.
Maxwell, 58, last week was ordered held without bail in the case, where she is also charged with perjury.
One of her accusers was just 14 years old at the time that Epstein allegedly sexually abused her in the mid-1990s.
Trump's offer of well wishes to Maxwell came after a reporter asked him if "you feel that she's going to turn in powerful men?"
Maxwell and Epstein had socialized with many well-known people, including Trump and Britain's Prince Andrew, as well as former President Bill Clinton.
When Epstein was arrested last July on child sex-trafficking charges, there was speculation that he would inform authorities about possible sexual misconduct by others. He died from what was ruled a jailhouse suicide a month later.
"I've met her numerous times over the years, especially since I lived in Palm Beach, [Florida,] and I guess they lived in Palm Beach," Trump said of Maxwell and Epstein, who was a former friend of Trump's.
From left, Donald Trump and his girlfriend (and future wife), former model Melania Knauss, financier (and future convicted sex offender) Jeffrey Epstein, and British socialite Ghislaine Maxwell pose together at the Mar-a-Lago club in Palm Beach, Florida on Feb. 12, 2000.
Davidoff Studios Photography | Archive Photos | Getty Images
The president said that he hadn't been following Maxwell's case very closely.
He added, "I don't know the situation" regarding Andrew. One of Epstein's accusers has claimed that she had sex with Andrew, who is a son of Queen Elizabeth II, at Maxwell's direction.
Andrew has denied that woman's allegation.
But federal prosecutors have said that they want to question Andrew, the Duke of York, about his relationship with Epstein. 
"Just don't know. Not aware of it," Trump said of the allegations against Andrew, who withdrew from public duties in Britain last year after a disastrous interview in which he discussed breaking ties with Epstein.
Maxwell, who previously dated Epstein and managed his properties, was arrested on July 2 while holed up at a $1 million home on a 155-acre property in New Hampshire. The daughter of the late crooked media baron Robert Maxwell had stayed out of the public eye since Epstein's arrest a year earlier.
She pleaded not guilty at the bail hearing in Manhattan federal court, where Judge Alison Nathan said that Maxwell posed "a substantial risk of flight" because of her wealth and due to her holding citizenship in France, which does not extradite its citizens on criminal charges.
Maxwell is being held in a Brooklyn federal jail awaiting her trial, which is scheduled to begin next summer.
Trump's remarks about Maxwell came during his first briefing on the coronavirus in nearly three months.
The White House coronavirus task force, which is led by Vice President Mike Pence and includes coordinator Dr. Deborah Birx and Dr. Anthony Fauci, the nation's top infectious disease expert, had regularly held briefings on Covid-19 earlier this year.
The president had attended those near-daily briefings. But they all but ended in late April, shortly after Trump speculated about whether disinfectants could be injected into people to treat the virus. He later claimed he had posed that question sarcastically.
On Monday, Trump announced he would resume the briefings.
But no members of the White House coronavirus task force accompanied him at the Tuesday evening briefing on the virus.