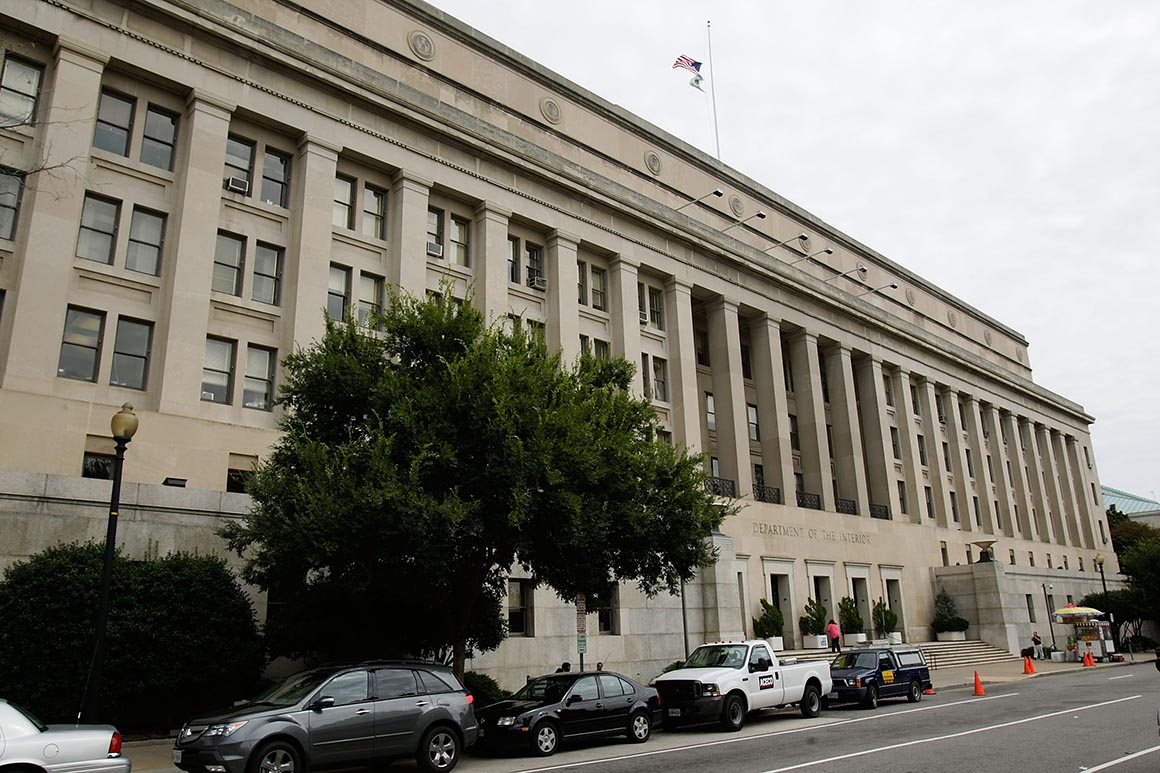 An Interior spokesperson said Sweeney has complied with all laws and regulations, and that "career officials determined that there are no statutory or regulatory prohibitions" that would limit her from work on the fund that the department characterized as "policy guidance." The department also noted that she took part in individual calls with other tribal groups, including the Great Plains Tribal Chairmen's Association.
Officials with the Treasury and Interior departments contend that the decision to grant Alaska Native corporations eligibility is rooted in language Congress approved as part of its $2.2 trillion coronavirus package, which made the $8 billion available to "Indian tribes" based on a definition of the term that included nongovernmental entities like Alaska Native corporations.
"Treasury must follow the law and provisions that were prescribed and passed by Congress, and mandated to the administration," an Interior Department spokesperson said.
Members of Alaska's congressional delegation have thrown their support behind the inclusion of Alaska Native corporations, arguing that Democrats and Republicans alike signed off on the language.
"Congress directed this — it's clear as day," Sen. Dan Sullivan (R-Alaska) said in an interview, calling Schumer's attack on Sweeney a "bunch of bullshit" and an attempt at character assassination. "It's going to be a little embarrassing when he finds out he signed off on that definition."
Sen. Lisa Murkowski (R-Alaska), Rep. Don Young (R-Alaska) and Sullivan sent a letter to Mnuchin and Bernhardt on Tuesday, which was obtained by POLITICO, pushing for Alaska Native corporations to be allowed to receive the aid. "Like tribal enterprises in the Lower-48, the impact of the pandemic on ANCs in Alaska is reduced incomes and increased unemployment," they wrote.
In a statement, Murkowski said Schumer's tweet betrayed "an utter lack of understanding of what Native Corporations are, why Congress created them, and the purpose they serve in Alaska."
"Tara Sweeney is doing an outstanding job as Assistant Secretary for Indian Affairs," she said. "Barely two weeks ago, Congress unanimously agreed that ANCs should be eligible for funding under the CARES Act and we expect Treasury to uphold and follow the law."
Still, some Capitol Hill staffers have since told POLITICO the provision was sloppily worded, and in late March several House lawmakers submitted official statements seeking to clarify that the money should go to cover budget shortfalls faced by tribal governments.
"This fund would be used by tribal governments to offset the dramatic losses they are facing at this time," Rep. Tom Cole (R-Okla.), who co-chairs the House's Native American Caucus, wrote in a colloquy entered into the Congressional Record.
A spokesperson for Cole said Thursday a bipartisan group is working to clarify that the fund was intended solely for tribal and Alaska Native governments.
Udall, the top Democrat on the Senate Indian Affairs Committee, also wrote to Mnuchin and Bernhardt on Tuesday that the funds were "intended for Tribal governments and should not be diverted."
Yet a Treasury form distributed to tribes and tribal organizations this week gives applicants the option to list their total shareholders, according to a copy obtained by POLITICO. The form also asks for information on applicants' employee base and land ownership — factors that tribal leaders say could skew funding toward Alaskan corporations that together control nearly as much acreage as every tribe in the lower 48 states combined.
At one point during the Monday call with Alaska Native tribes and corporations, Sweeney told an executive for Bering Straits Native Corporation that she would seek guidance from Treasury on the corporation's behalf on whether applicants could include subsurface land — such as the company's mineral rights — in that land ownership calculation, according to the meeting notes obtained by POLITICO.
Bering Straits did not respond to a request for comment. But the company's CEO, Gail Schubert, was among four Alaska Native corporation executives to express support for Sweeney and the administration's decision in a Thursday op-ed.
That's pitted the corporations and administration against many organizations representing tribes in the lower 48 states.
"It frankly is a cash grab by state-chartered Alaskan corporations," said Cherokee Nation Principal Chief Chuck Hoskin Jr., whose tribe is one of several that has lobbied in recent to exclude the for-profit businesses. "They're going to use a massive, massive land base and they're going to use shareholder information to make their case for a disproportionate amount of those funds."
Hoskin would not go as far as to call for Sweeney's resignation, saying he still hopes the decision is reversed. And an Interior spokesperson on Thursday pointed to a defense of Sweeney mounted by Louisiana's Tunica-Biloxi tribe.
But other tribes now say they've now lost faith in her over the funding decision, and that giving Alaska Native corporations access to the fund could raise other thorny dilemmas, including that Alaska Natives could be double-counted due to their status as shareholders and members of separate Alaska Native villages. If so, it would further tilt distributions in favor of a single state's entities.
The Alaska Native corporations, meanwhile, are also eligible to apply for federal funds through a separate program meant to aid small businesses that excludes tribal governments.
"Both of these situations could not have been the intent of Congress," the National Congress of American Indians wrote in a letter to Mnuchin.
Tribal leaders and organizations are now rushing to lobby the administration to reverse itself, while pressuring Congress to explore a potential fix. But several representatives said they're also wary of further delaying delivery of whatever aid they will receive, and that the suggestion Alaska Native corporations could qualify for the $8 billion fund blindsided them.
There was no discussion by Treasury or Interior officials across two initial hourslong sessions with tribes about whether corporations would be included, according to representatives on the call and a transcript reviewed by POLITICO.
"If this was the decision of the department, that their interpretation was that this was eligible for Alaska Native corporations, I don't think they were very up front," said one tribal representative. "It's not a slush fund. This is real."
Theodoric Meyer contributed to this report.