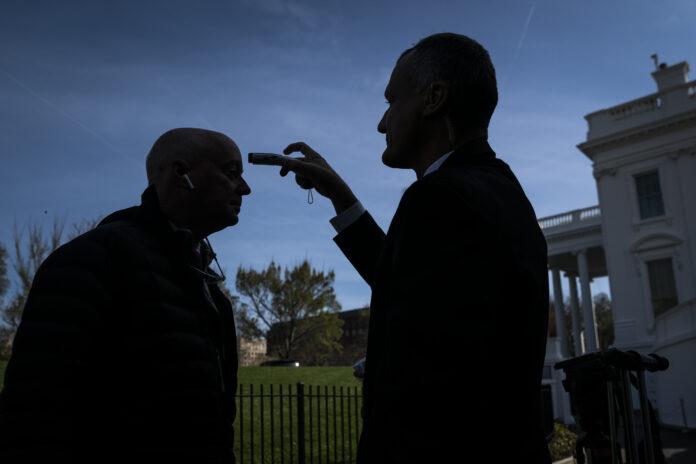 President Donald Trump confirmed Wednesday that a White House staff member tested positive for the coronavirus.
But the unnamed person who contracted the disease did not "affect" the large, in-person gathering with a number of world leaders that took place on the White House south lawn a day earlier, Trump's spokeswoman assured.
Questions had arisen earlier in the day about another Covid-19 infection at the White House, when a journalist there reported hearing about "a couple of positives today."
At a briefing, White House press secretary Kayleigh McEnany declined to comment on whether any staff members had tested positive, saying, "I don't share people's personal medical information."
But Trump, speaking at a news conference in the White House briefing room Tuesday evening, was more willing to discuss what he had been told.
"I heard about it this morning at a very small level," Trump began. But moments later, he said, "Last night I heard about it for the first time, and it's a small number of cases."
He then asked McEnany, who was sitting next to the podium, what she could share.
"We're not going to confirm the identities," she said, "But it did not affect the event and press was not around" the infected person.
"And it's not anybody that was near me," Trump added.
McEnany told Trump that just one person had tested positive for the virus. "It was one person," Trump repeated, adding, "not a person that I was associated with." 
On Tuesday, the White House hosted a ceremony on its south lawn for the signing of accords formalizing diplomatic ties between Israel and two Gulf Arab states. Israel Prime Minister Benjamin Netanyahu, along with the leaders of the United Arab Emirates and Bahrain, attended the event in person.
CNN and other outlets noted that the celebratory gathering appeared to disregard most social distancing measures that public health experts, including many within the Trump administration, recommend.
Others who work in the White House have previously tested positive. In May, it was revealed that a personal valet for Trump, who among other tasks serves the president his meals, had contracted the virus.
That same month, Vice President Mike Pence's press secretary Katie Miller also tested positive.