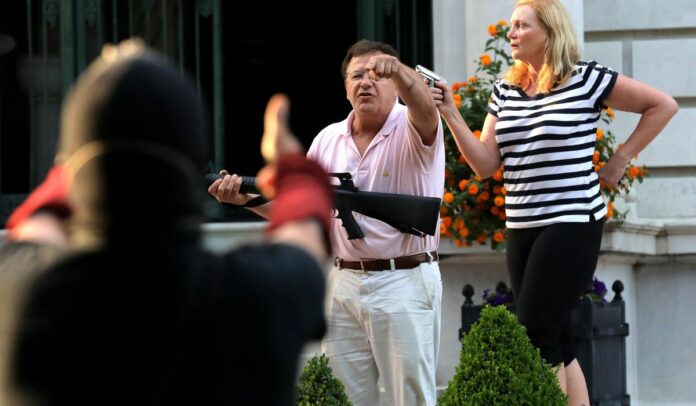 President Trump believes the prosecution of a St. Louis couple for defending their home with firearms against a group of protesters is an "extreme abuse of power," the White House said Tuesday.
"They were completely within their rights," said White House press secretary Kayleigh McEnany, who spoke with the president earlier Tuesday about the case.
She said the president observed that there have been "many cases brought to [the local prosecutor's] attention of violent rioters that she's failed to charge, but instead she's charging the individuals who were defending themselves from violent protesters."
Homeowners Mark and Patricia McCloskey each face a single felony count of unlawful use of a weapon — exhibiting. Charging documents filed on Monday said Mr. McCloskey pointed an AR-15 rifle at protesters, and his wife brandished a semiautomatic handgun, placing protesters in fear of injury on June 28.
St. Louis Circuit Attorney Kimberly M. Gardner said it's "illegal to wave weapons in a threatening manner at those participating in nonviolent protest, and while we are fortunate this situation did not escalate into deadly force, this type of conduct is unacceptable in St. Louis."
Missouri Attorney General Eric Schmitt called the case "a political prosecution" and said he will seek dismissal of the charges.
Ms. McEnany said there were "300 to 500 protesters who stormed the gates, tore down the gates and trespassed on their property."
"You have Patricia McCloskey, who said that they were telling her they were going to kill them, these protesters at the moment they were waving their guns to protect themselves," Ms. McEnany said. "She said they were going to burn down the house, they were going to be living in her house after I was dead, and they were pointing to different rooms of the house saying 'That's going to be my bedroom,' 'That's going to be my living room,' and 'I'm going to be taking a shower in that room.' So they were completely within their right and it's an egregious abuse of power on the part of the prosecutor."