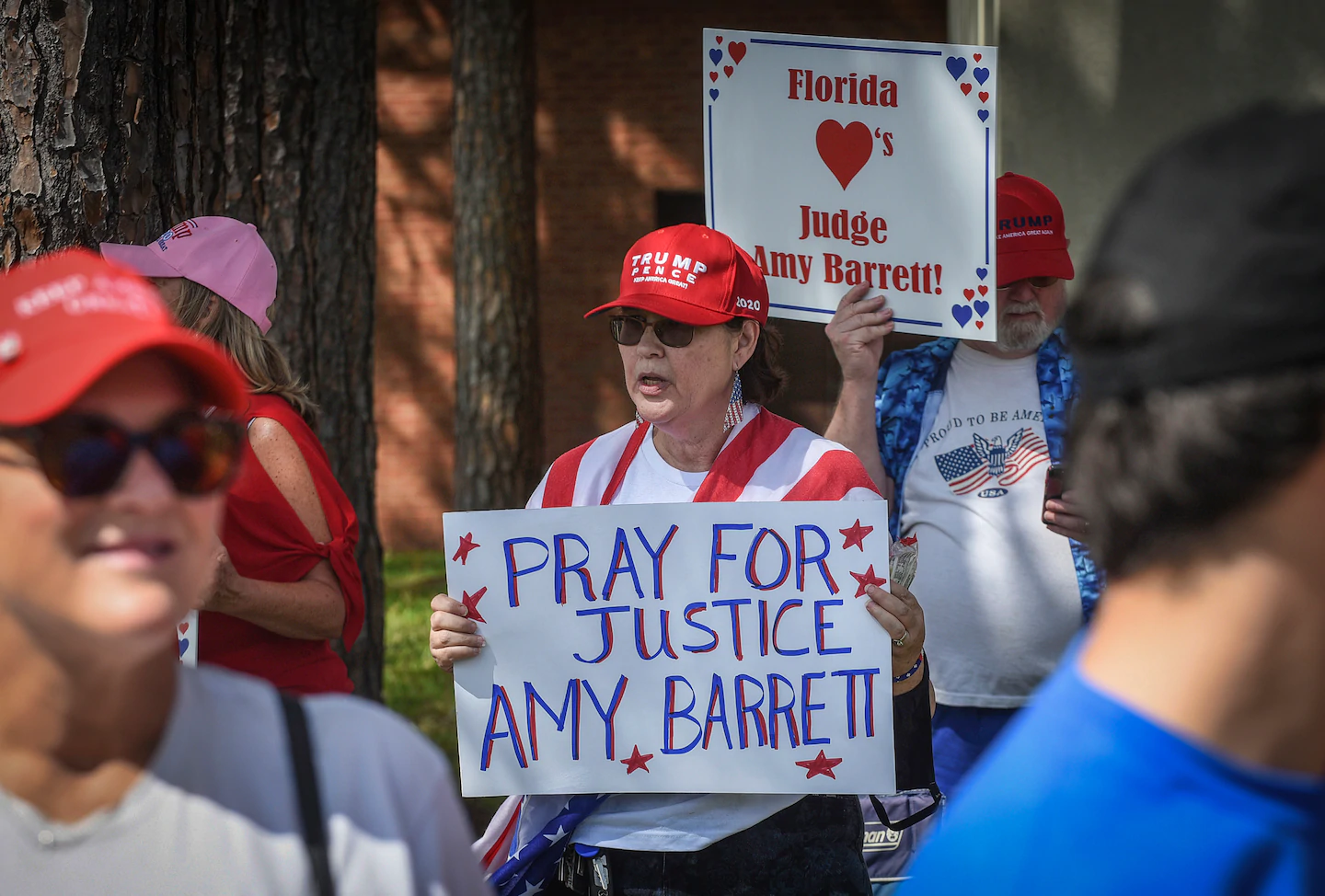 President Trump will announce Saturday evening his nominee to fill the vacancy on the Supreme Court left by the recent death of Justice Ruth Bader Ginsburg, setting up a bitter confirmation fight in the final weeks of the presidential campaign. At an event in the White House Rose Garden, Trump is expected to name federal appeals court judge Amy Coney Barrett, a deeply conservative jurist in the mold of the late Justice Antonin Justice Scalia, whose confirmation would cement the right's hold on the nation's highest court for many years and ensure Trump's legacy is felt for generations.
Trump will then travel to Harrisburg, Pa., for a campaign rally.
Democratic presidential candidate Joe Biden has two virtual events on his schedule, first a meeting with Latino business owners and then a public address to the U.S. Conference of Mayors.
With 38 days until the election …
Democratic senators are mapping out how they will fight Trump's SCOTUS nominee given they have little power to actually derail his pick.
Trump is expected to personally attack Biden at the candidates' first debate on Tuesday, and Biden is being prepped for the anticipated barrage.

A majority of Americans, 57 percent, say the winner of November's presidential election should choose the next Supreme Court justice, while 38 percent say Trump should fill the seat.

Biden leads Trump by eight percentage points nationally, 51 percent to 43 percent, according to a Washington Post average of polls. Biden's margin is the same in Michigan and Pennsylvania and smaller in other key states: seven points in Wisconsin, five in Arizona and one in Florida.

Are you planning on watching the first presidential debate? The Washington Post wants to hear from you.
September 26, 2020 at 1:42 PM EDT
Protesters leave message on street outside Mitch McConnell's D.C. home
By Colby Itkowitz
Youth activists representing the advocacy groups March for Our Lives and Demand Justice drew a massive chalk mural on the street in front of Senate Majority Leader Mitch McConnell's D.C. home.
McConnell, and his neighbors, will be greeted with this message: "Hey Mitch. We Call BS. Let The People Decide."
McConnell (R-Ky.), who refused to fill a Supreme Court vacancy in President Barack Obama's final year in office, said immediately after Justice Ruth Bader Ginsburg's death that he would move forward with Trump's confirmation even though Americans could vote him out of office in a few weeks.
Demand Justice, a liberal group that advocates against conservatives' stacking of federal courts, also unveiled a new domain name Friday night: www.amyconeybarrett.com.
The URL opens to a page on the group's website dedicated to blocking her confirmation.
"Amy Coney Barrett would threaten your health care and your reproductive freedom. We have to stop her," it says.
September 26, 2020 at 1:40 PM EDT
Biden calls Trump 'not that smart,' compares him to the Nazi propaganda minister
By Matt Viser
Biden, just days before the first presidential debate, called Trump "not that smart" while also comparing him to the Nazi propaganda minister.
"He's sort of like Goebbels," Biden said during an interview with MSNBC's Stephanie Ruhle. "You say the lie long enough, keep repeating it, repeating it, repeating it — it becomes common knowledge."
Biden made the comment when asked about Trump's repeated attempts to brand Biden as a socialist.
"I think people see very clearly the difference between me and Donald Trump," he said. "Trump is clearing protests in front of the White House that are peaceful, you know, with the military. This guy is more Castro than Churchill."
Biden, while brushing aside a suggestion from House Speaker Nancy Pelosi (D-Calif.) that he avoid debating Trump, said that he is preparing for a debate filled with personal attacks from the president.
"That's the only thing he knows how to do," Biden said. "He doesn't know how to debate the facts, because he's not that smart. He doesn't know that many facts. He doesn't know much about foreign policy. Doesn't know much about domestic policy."
During the 20-minute interview, some of which aired Friday, Biden also held to the idea that the Republican Party would moderate if Trump is defeated.
"I'm not being facetious when I say this. … Get rid of the worst president in American history, Donald Trump," Biden said, when asked how to unite people and defuse the partisanship in the Senate.
"He holds a lot of people with sway. Everybody in the Republican Party knows he is vindictive," Biden added. "People are worried, I think, about what he'll do. With him gone, I think it opens up a different avenue."
September 26, 2020 at 12:35 PM EDT
Trump says the 'only way' he will lose is if Democrats cheat
By Colby Itkowitz
Trump held his first campaign rally in Virginia this year on Friday night, telling his supporters there he'd make a "heavy play" for the state he lost in 2016.
Virginia has become increasingly more Democratic, with the vote-rich areas outside Washington, D.C., tending to be more liberal than the rest of the state. Hillary Clinton won the state by five points four years ago.
"I was told not to go for Virginia. We did really well last time and I never came and never did anything, and we did really well," Trump said.
Trump actually held three campaign rallies in Virginia during the 2016 general election, including one two days before the election.
"I said, 'Why didn't I go for Virginia?' But it's traditionally not a Republican state over the last number of decades, and I said, 'Why not? You have a crazy governor, and every time I see it, every two weeks he's trying to take your guns away, right?" Trump said, referring to Democratic Gov. Ralph Northam.
Trump also revisited his refusal to say whether he would support a peaceful transfer of power if he loses. The president claimed that the "only way" he loses is if the Democrats cheat and said he's not going to support a transition if there was cheating.
Trump has actively sought to delegitimize the results of the election, falsely claiming universal mail-in voting intended to protect people amid the coronavirus pandemic is ripe for corruption although there is no evidence this is true. In the five states that already allowed universal mail-in voting, Colorado, Hawaii, Oregon, Utah and Washington, there have been no issues with widespread fraud.
"The only way we're going to lose is if there's mischief, and it'll have to be on a big scale, so be careful," Trump said. "We do want a very friendly transition, but we don't want to be cheated and be stupid and say, 'Oh, let's, we'll go and we'll do a transition,' and we know that there were thousands and thousands of ballots that made the difference through cheating. We're not going to stand for it."
This attack claiming Democrats are trying to cheat is also baseless when it is the president who has sought to limit resources to the U.S. Postal Service to curtail its ability to handle the influx of mailed ballots.
Trump has also said he expects the Supreme Court to decide the presidential election, meaning he intends to legally challenge the results if he loses.
September 26, 2020 at 11:54 AM EDT
Barr told Trump about investigation into discarded Pennsylvania ballots
By Amy Gardner, Devlin Barrett and Josh Dawsey
Attorney General William P. Barr personally told President Trump this week about an investigation into nine discarded mail ballots in northeastern Pennsylvania that the president later touted as evidence of widespread election fraud, according to a person familiar with the conversation, who spoke on the condition of anonymity to describe internal administration discussions.
The conversation came as Trump has fixated on the subject of voter fraud with aides, administration officials said, asking for information on the topic and updates from his campaign advisers and legal team about voting lawsuits. He has repeatedly lambasted voting by mail as susceptible to widespread fraud, despite evidence to the contrary.
The Justice Department made a public announcement about the Pennsylvania case Thursday after the president discussed it in a radio interview. The statement drew sharp criticism from voting-law experts, who questioned the timing and the details released, such as the fact that most of the ballots were cast for Trump.
September 26, 2020 at 11:51 AM EDT
Some Democrats worry that pro-Biden super PACs are prioritizing white voters over minorities
By Michelle Lee
Some Democratic strategists are raising the alarm about the millions of dollars being spent by super PACs in support of nominee Joe Biden, saying too much is being spent on White swing voters while not enough is being devoted to driving up turnout among voters of color.
The complaints are perennial, but they carry new resonance this year, as Biden has struggled to inspire enthusiasm among young Black voters and Latinos.
Many in the liberal wing of the Democratic Party have urged leadership to pay closer attention to voters of color, who they say increasingly form the backbone of the party but cannot be taken for granted. This month, a prominent Democratic donor publicly scrutinized super PAC spending, urging groups to change course as the election nears.