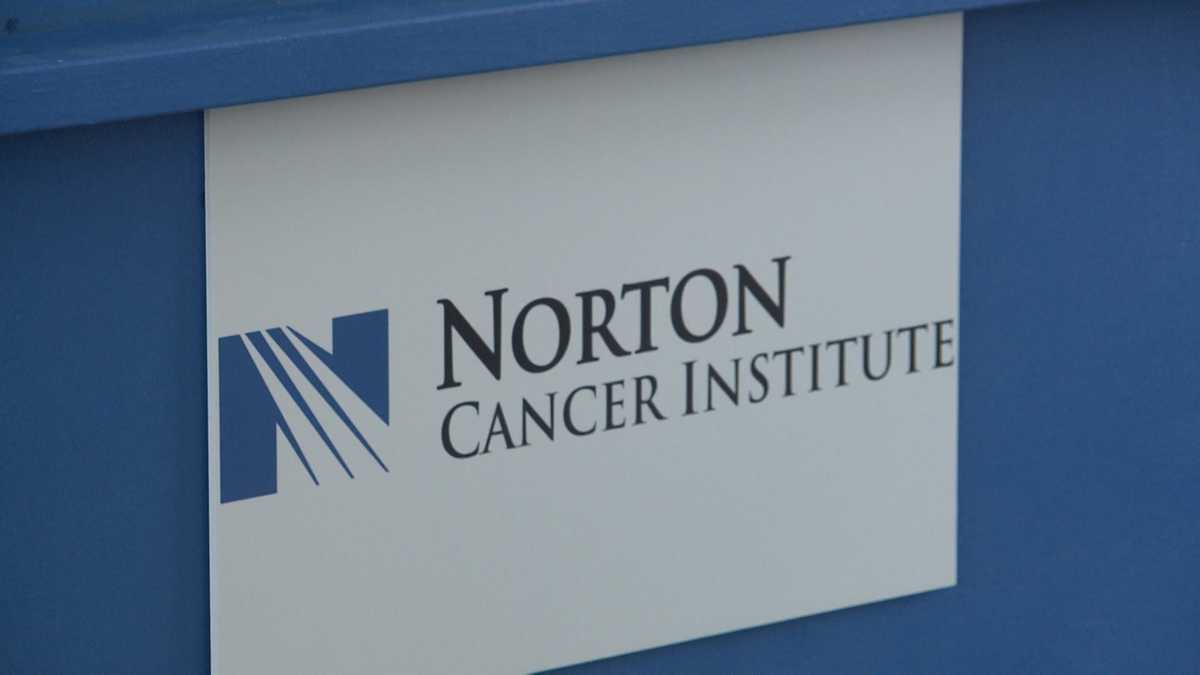 Norton patient will become first in world to participate in COVID-19 drug trial
A COVID-19 patient at Norton Healthcare will be the first in the world to participate in a randomized clinical study, health officials announced Monday.The oral drug, selinexor, is currently approved at higher doses by the U.S. Food and Drug Administration as a treatment for cancer patients with relapsed or refractory multiple myeloma. It is just one therapy being studied at Norton Healthcare to help patients recover from COVID-19, officials said.The clinical trial is studying the antiviral and anti-inflammatory properties of selinexor in patients with severe COVID-19. At Norton Healthcare, the study is being led by Don A. Stevens, M.D., a hematologist/oncologist with Norton Cancer Institute."We are examining how we can decrease the ability of the virus to replicate or reproduce in our patients' cells," Dr. Stevens said. "We also want to see how it can decrease the release of a biochemical responsible for inflammation that in some cases can cause organ damage."Norton Healthcare is one of 40 locations internationally to participate in this clinical trial.To be eligible, patients must be hospitalized with a laboratory-confirmed case of SARS-CoV-2 (the virus that causes COVID-19) and consent to participation within 48 hours of hospitalization.Patients must meet additional criteria:Confirmed laboratory diagnosis of SARS-CoV2 by standard approved Reverse transcription polymerase chain reaction (RT-PCR) assay or equivalent approved testing. Currently hospitalized and consented within the first 48 hours of hospitalization. Informed consent provided as above (participants must be dosed with study drug within 12 hours of consent). Has symptoms of severe COVID-19 as demonstrated by: At least one of the following: fever, cough, sore throat, malaise, headache, muscle pain, shortness of breath at rest or with exertion, confusion, or symptoms of severe lower respiratory symptoms including dyspnea at rest or respiratory distress.ANDClinical signs indicative of lower respiratory infection with COVID-19, with at least one of the following: respiratory rate ≥ 30 breaths/minute (min), heart rate ≥ 125 /min, Oxygen saturation (SaO2) 2 Liter (L)/minute oxygen by NC in order maintain SaO2 ≥ 93%, PaO2/FiO2
LOUISVILLE, Ky. —
A COVID-19 patient at Norton Healthcare will be the first in the world to participate in a randomized clinical study, health officials announced Monday.
The oral drug, selinexor, is currently approved at higher doses by the U.S. Food and Drug Administration as a treatment for cancer patients with relapsed or refractory multiple myeloma.
It is just one therapy being studied at Norton Healthcare to help patients recover from COVID-19, officials said.
The clinical trial is studying the antiviral and anti-inflammatory properties of selinexor in patients with severe COVID-19. At Norton Healthcare, the study is being led by Don A. Stevens, M.D., a hematologist/oncologist with Norton Cancer Institute.
"We are examining how we can decrease the ability of the virus to replicate or reproduce in our patients' cells," Dr. Stevens said. "We also want to see how it can decrease the release of a biochemical responsible for inflammation that in some cases can cause organ damage."
Norton Healthcare is one of 40 locations internationally to participate in this clinical trial.
To be eligible, patients must be hospitalized with a laboratory-confirmed case of SARS-CoV-2 (the virus that causes COVID-19) and consent to participation within 48 hours of hospitalization.
Patients must meet additional criteria:
Confirmed laboratory diagnosis of SARS-CoV2 by standard approved Reverse transcription polymerase chain reaction (RT-PCR) assay or equivalent approved testing.
Currently hospitalized and consented within the first 48 hours of hospitalization.
Informed consent provided as above (participants must be dosed with study drug within 12 hours of consent).
Has symptoms of severe COVID-19 as demonstrated by:
At least one of the following: fever, cough, sore throat, malaise, headache, muscle pain, shortness of breath at rest or with exertion, confusion, or symptoms of severe lower respiratory symptoms including dyspnea at rest or respiratory distress.
AND
Clinical signs indicative of lower respiratory infection with COVID-19, with at least one of the following: respiratory rate ≥ 30 breaths/minute (min), heart rate ≥ 125 /min, Oxygen saturation (SaO2) 2 Liter (L)/minute oxygen by NC in order maintain SaO2 ≥ 93%, PaO2/FiO2
Concurrent anti-viral and/or anti-inflammatory agents (e.g., biologics, hydroxychloroquine) are permitted.
Female patients of childbearing potential must have a negative serum pregnancy test at Screening. Female patients of childbearing potential and fertile male patients who are sexually active with a female of childbearing potential must use highly effective methods of contraception throughout the study and for 3 months following the last dose of study treatment
See full list of eligibility criteria.