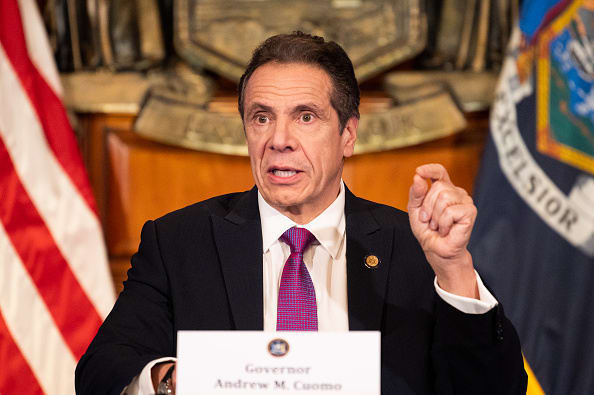 New York Governor Andrew Cuomo speaks during a press conference on April 20, 2020.
Michael Brochstein | Barcroft Media | Getty Images
New York Gov. Andrew Cuomo said he will focus on coronavirus testing during his meeting Tuesday afternoon with President Donald Trump at the White House.
The Democratic governor told reporters he wants to talk to Trump about "testing, and what does testing mean, and how do we do it, and how can the federal government work in partnership with states?" He said New York has struggled to navigate the international supply chain for test kits since Trump has left it up to individual states to procure their own tests and supplies.
"You shouldn't expect all these governors to run around and do an international supply chain while they're trying to put together their testing protocol in their state, coordinating their labs," Cuomo said at a press conference Tuesday at the Roswell Park Cancer Institute in Buffalo. "Then I have to put together an army of tracers — that's thousands of people. That's never been done before."
Cuomo and the president have kept closely in touch throughout the coronavirus crisis, and each has frequently commented on how the other is handling his responsibilities. Their remarks have vacillated from full-throated praise to searing criticism, much of it in recent days focused on testing.
Asked how he's going to handle the meeting, Cuomo said, "Life is a fine line. Being in government is a fine line. … I tell you how you negotiate the fine line: Tell the truth."
As the crisis in New York shows signs of slowing, testing has become a central issue for government leaders and business owners eager to reopen the country. Health officials warn that testing needs to expand dramatically before the country can start to relax the strict social distancing measures put in place by state leaders.
Trump has pressured some states to move more quickly, even as his own administration's federal guidelines recommend states or regions have a "robust testing program in place for at-risk health-care workers, including emerging antibody testing," prior to starting the first phase of the plan.
Cuomo said he understands why the federal government has placed the responsibility of testing on the states and acknowledged that it should primarily be their responsibility. However, he noted that Federal Emergency Management Agency officials have been giving presentations about testing at the White House press briefings, and it hasn't been clear what governors' direct responsibilities are.
On testing, Cuomo said that New York is "doing more faster than anyone else," but "we have to do better. We have to do more. And that's what we're talking about here." The federal government should help the states procure the necessary equipment that has been in low supply so the states can conduct more tests, Cuomo said.
Some governors have cited a lack of testing supplies, including cotton swabs and reagents, as hampering their ability to conduct more tests. On Sunday, Trump said he would invoke the Defense Production Act to increase swab production by at least 20 million additional swabs per month for test kits.
"I'm going to ask them to take this piece of this national manufacturers getting the test kits, and the vials, and the cotton swabs and the chemicals," Cuomo said. "Then the national manufacturers can feed my 211 labs and then the states can take it from there."
Cuomo also said New York's unemployment website "collapsed" following a surge in claims. He said the state now has 1,000 people working online and through its phone system to process the high volume.