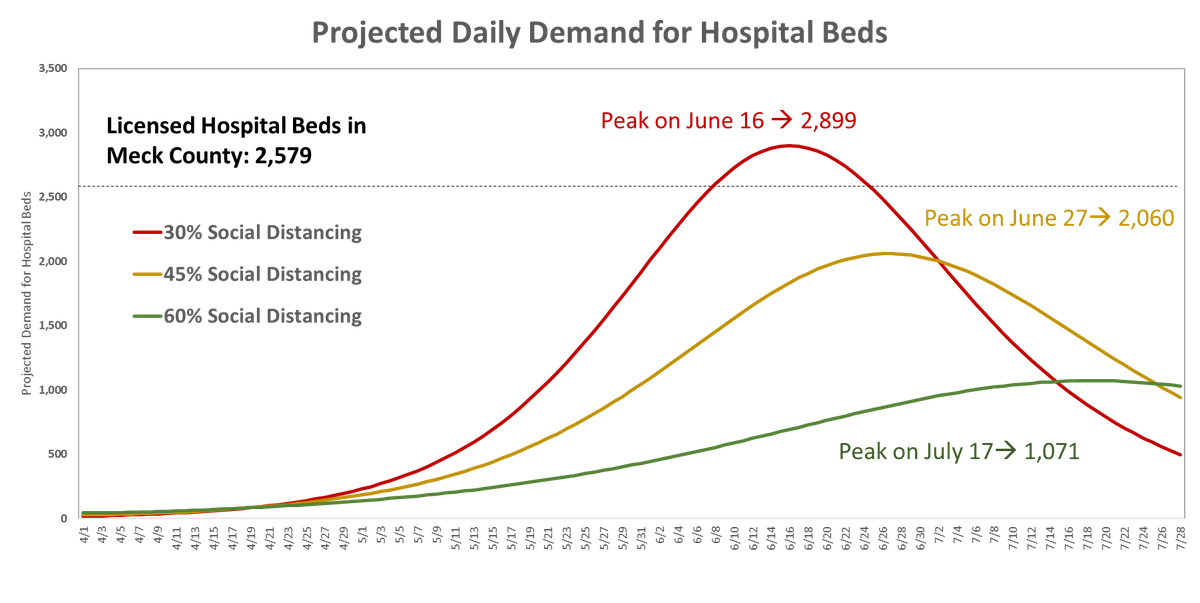 Skip to content
Nick Ochsner
|
April 20, 2020 at 9: 47 PM EDT – Updated April 20 at 11: 51 PM
CHARLOTTE, N.C. (WBTV) – New model projections released by Mecklenburg County health officials Monday night suggest some social distancing restrictions will be needed into the summer, even as the curve continues to flatten.
The projections were released Monday evening after county officials provided detailed information about the underlying data and assumptions used to formulate the models. County officials say its model is generated in cooperation with data scientists from Atrium Health and Novant.
According to the projections, the county is expected to have enough bed space to meet demand through a peak number of COVID-19 cases if the peak comes between late June and mid-July but may run out of critical care beds and ventilators regardless of when the peak comes.
In explaining the model's methodology, county officials said hospitals in Mecklenburg County treat 85 percent of acute care patients for an eight-county region that includes more than two million people in Mecklenburg, Cabarrus, Iredell, Lincoln, Gaston, and Union counties in North Carolina and York and Lancaster counties in South Carolina.
Coronavirus data in Mecklenburg County
Health and bioinformatics experts have previously told WBTV that models are only as good as the data upon which they are built. Data about the COVID-19 pandemic remains limited due to continued limited amounts of testing.
At a press conference Monday afternoon, Mecklenburg County Health Director Gibbie Harris said the county was working to expand testing across the county.
North Carolina Secretary of Health and Human Services Dr. Mandy Cohen said the state was focused on expanding testing, too, with a particular focus on increasing testing in minority communities.
The projections released by the county on Monday showed different outcomes based on the county keeping in place various level social distancing.
Based on the projections released Monday, the county has enough beds to handle an expected influx of patients if the county relaxes its current social distancing requirements by up to half.
Current county and state stay-at-home orders expire next week, at the end of April. No announcement has been made by either government as to whether additional restrictions will be implemented beyond then.
Copyright 2020 WBTV. All rights reserved.