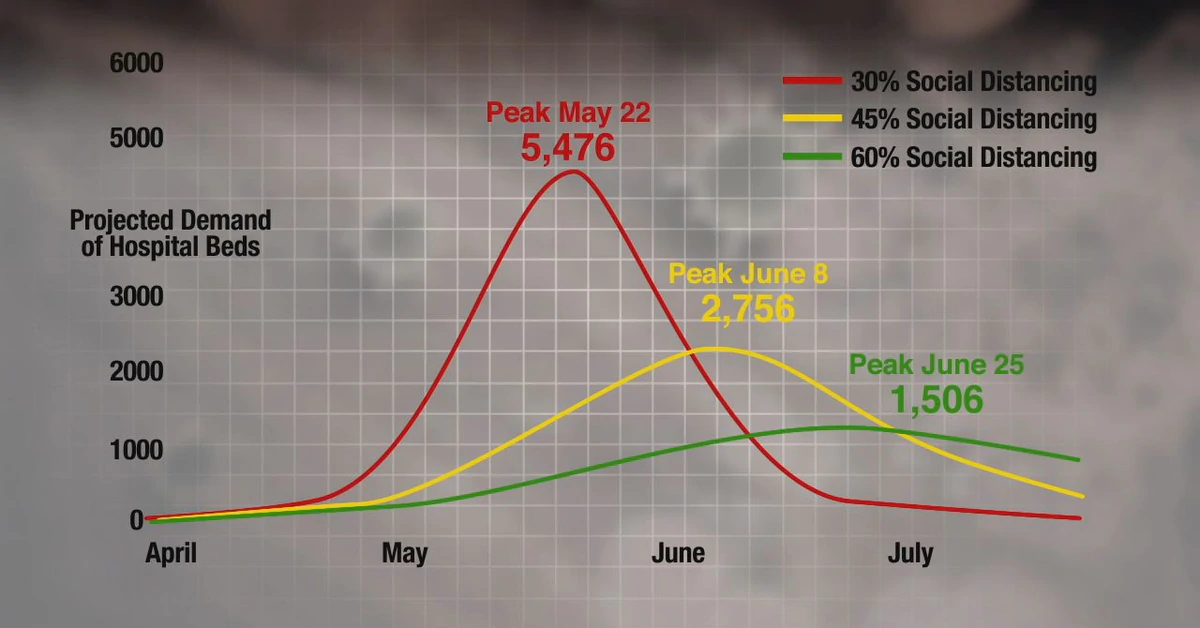 CHARLOTTE — The county uses a lot of COVID-19 data that will help leaders decide when to relax the stay-at-home order.
The county is now projecting Mecklenburg's peak to hit in mid-to-late June.
County officials have not released the latest chart yet.
The one from last week shows three lines, each based on a different level of social distancing.
Have questions about the coronavirus pandemic and its impact on the Carolinas? We have an entire section dedicated to coverage of the outbreak — CLICK HERE FOR MORE.
The county focuses on a yellow line that assumes 45% social distancing.
The county has used the University of Penn's model and data from local hospitals to make projections.
University of Pennsylvania's Model shows:
1.2% of infected patients hospitalized
Average stay of eight days
30% of hospitalized patients in ICU
Average stay of 10 days
Ventilation for eight days
The more successful the county flattens the curve, the longer the peak will be pushed out. It's not that the amount of people who will get infection is changing, it's the timing of it all. Flattening the curve keeps people from getting Covid-19 and overwhelming our healthcare systems.
What remains to be seen is how the loosening of restrictions in bordering South Carolina counties impacts Mecklenburg County.
"Anytime you open something up, something in one area, and you don't have the same thing happening in the others, there will be impact. We know that will be the case," said Gibbie Harris, county health director.
On June 27, the county thinks we will need 2,060 hospital beds. There are 2,579 beds in the county.
The county predicts it will need 1,143 ICU beds, but there are only 283 critical care beds.
There will be a need for 515 ventilators by June 27 and there are currently 243, according to the models.
>> We'll bring you LIVE updates on Channel 9 Eyewitness News. Get extended coverage on the free WSOC Now app on Roku, Amazon Fire and Apple TV.
The county said it is important to note that because the peak is pushed back doesn't necessarily mean the stay-at-home order will be in place until that date.
Gov. McMaster easing restrictions on some SC retailers, beach access
© 2020 © 2020 Cox Media Group