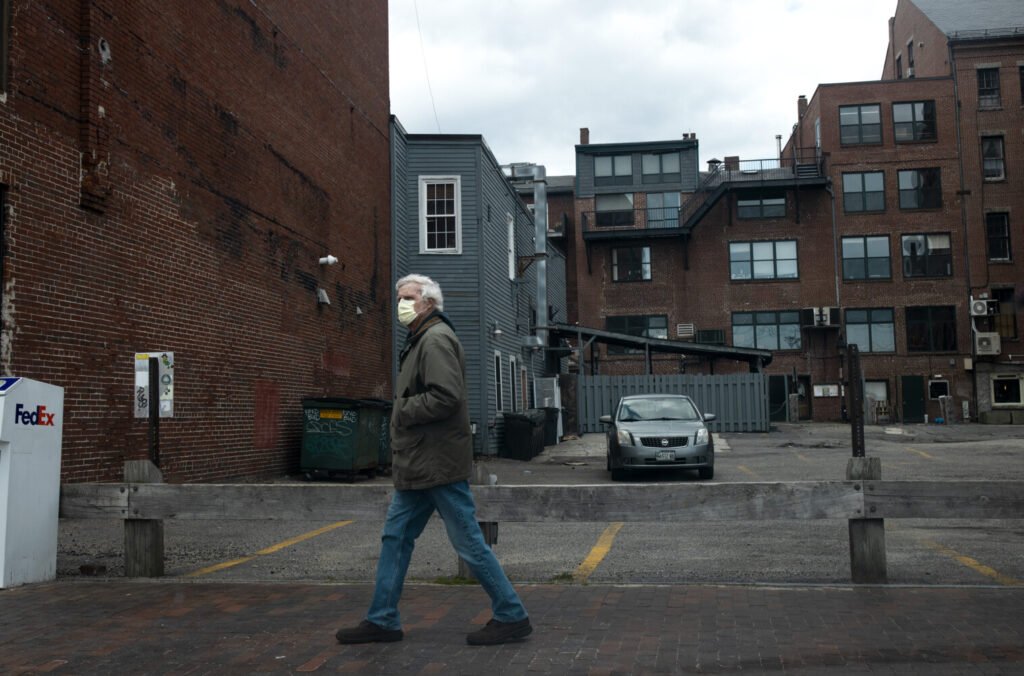 Community transmission of coronavirus is now evident in a fourth Maine county, Androscoggin, and the state is tracking an outbreak at a fifth long-term care facility, Falmouth By the Sea.
Maine Center for Disease Control and Prevention Director Dr. Nirav Shah made those announcements Thursday during his daily briefing.


Shah also updated the number of confirmed cases to 796, up 26 from a day earlier, and said three more people have died, bringing Maine's total to 27 deaths.
"As always, even though we talk about cases and numbers, numbers that are sometimes staggering, each and every case is a person and an individual," Shah said, before offering condolences to family members.
The deceased were a woman in her 70s from Waldo County, a man in his 70s from York County and a woman in her 80s, also from York county.
Among total cases, 130 people have been hospitalized at some point and 333 have recovered, putting the total number of active cases of COVID-19 at 436, which is down slightly from a day earlier.
Gov. Janet Mills, who appeared with Shah at Thursday's briefing, encouraged Mainers to "stay the course" to prevent further spread, even as pressure has been mounting to reopen the economy, at least partially.
The governor also announced new measures meant to help keep people in their homes – an executive order that prevents landlords from evicting residential or commercial tenants and the creation of a $5 million fund through MaineHousing to assist individuals who cannot pay rent on their homes.
"It's my hope that these actions will provide some sense of relief both financial and emotional to Maine people struggling to make ends meet," Mills said.
Coronavirus cases have been confirmed in every county except Piscataquis, but the biggest numbers are still in Cumberland County, with 343, and York County, with 164. Community transmission has been happening for weeks in the two southernmost counties. Penobscot County also has seen community transmission and state officials added Androscoggin to that list on Thursday. Community transmission is defined as at least 10 cases, 25 percent of which cannot be traced back to another known case or to travel to an affected area.
The actual number of Maine residents who have contracted the coronavirus is much higher than the number of confirmed cases because of limited testing and because it can take anywhere from one to 14 days after initial exposure for a person to begin exhibiting symptoms. More than 14,000 people have tested negative to date.
Nationwide, there are more than 640,000 confirmed cases and more than 31,000 deaths.
State officials have been closely tracking outbreaks at long-term care facilities in the state, whose residents are particularly vulnerable. On Thursday, Falmouth By the Sea nursing home was added after three residents and one staff member tested positive. Shah said the state is sending personal protective equipment, such as masks and gloves, to that facility immediately and working to ramp up testing as well.
Four other facilities have seen outbreaks – Tall Pines in Belfast (35 cases as of Thursday), the Maine Veterans Home in Scarborough (41 cases), The Cedars in Portland (5 cases) and the Augusta Center for Health and Rehabilitation (70 cases). Shah said the state is still waiting on several test results from staff and residents at the Cedars, so that number is likely to increase.
He said the state has moved aggressively to test other residents and staff members at long-term care facilities to mitigate further spread.
"It is possible to limit the spread if quick, strong and scientifically grounded action is taken," he said.
As of Thursday, 47 people were hospitalized, with 20 in critical care and seven on ventilators, which assist with breathing in patients suffering respiratory failure because of the virus.
The state has a total capacity of 319 critical care beds, 158 of which were available as of Thursday, and 344 ventilators, 313 of which were available, along with 240 alternative ventilators.
Shah said the state's two alternative care sites – one in Portland, the other in Bangor – have been staged with help from the Maine National Guard and would be ready to open should the state see a spike in cases.
Mills said the physical distancing requirements that have been in place are working but it's not time to let up.
That's why she took action to prevent evictions of tenants, except in cases where tenants engage in dangerous or unlawful conduct. Her executive order also strengthened the penalties for landlords who may try to evict tenants by unlawful means, such as cutting off their water or power.
The order covers both commercial and residential tenants who are unable to keep up with rent payments because of the coronavirus crisis, which has fueled record spikes in unemployment.
The rental relief fund will allow households that meet certain income and ability-to-pay requirements to receive a one-time payment of $500 in rental assistance to be paid directly to their landlords.
Mills also has sent letters to Maine financial institutions urging them to work with homeowners owners and small businesses experiencing financial hardship and not move forward with foreclosures because they cannot pay mortgages.
Mills' letters urged financial institutions to be especially flexible with landlords who may not be collecting rent and therefore unable to pay mortgages, but provide an essential service by keeping people housed.
"I also ask that you and your association pay particular attention to property owners who are landlords – those who are responsible for thousands of rental apartments, homes, retail and other commercial establishments. They deserve flexibility from their lenders because many of their tenants find themselves unable to pay the rent, an issue that we are taking steps to address," the letters said.
The governor reiterated Thursday that her administration is still discussing how to reopen parts of the economy but said no decisions have been made.
She said more adequate testing and wider availability of personal protective equipment is crucial but there are other measures to consider, too. Also, in letters sent to Maine financial institutions, the Governor also urged all financial institutions to provide to work proactively with Maine homeowners and small businesses experiencing financial hardship from COVID-19 to help keep them in their homes and storefronts.
"There is no data point that says you can open beauty salons or beaches," she said, suggesting that if Maine were to open beaches in southern Maine, many people from Massachusetts or New Hampshire would likely drive north. "We need to ask: What is the way to do this with minimal or no public health risk?"
The governor said she has been impressed with how many businesses have reinvented themselves.
Shah said he understands that a lot of people are wondering when things might open up but stressed that it's important to follow the science.
"It's really too early to tell," he said. "We climbed a pretty steep set of stairs to get here … it will be in that same fashion that we climb back down."
---
Invalid username/password.
Please check your email to confirm and complete your registration.
Use the form below to reset your password. When you've submitted your account email, we will send an email with a reset code.