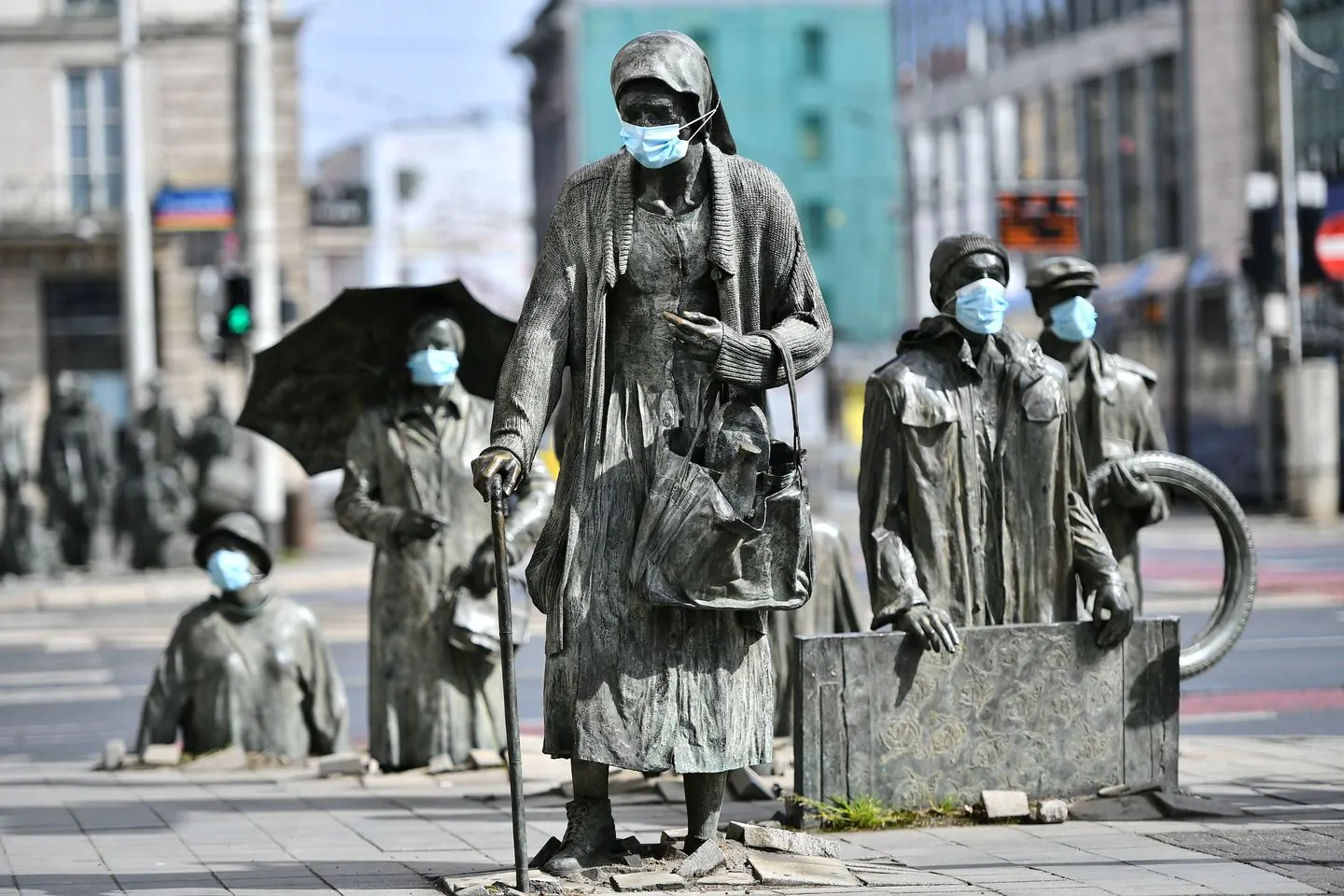 President Trump on Thursday is set to issue guidelines to governors on how to reopen the economy, after spending much of the previous day consulting with executives and industry groups on how to assess the financial damage wrought by the coronavirus pandemic.
Germany has also moved to reopen smaller nonessential businesses next week, though Chancellor Angela Merkel warned that restrictions will be lifted slowly and could be reinstated if the virus spreads. Older students will return to school in early May.
Here are some significant developments:
Confirmed coronavirus infections around the world have surged past 2 million. Nearly a third of those cases were reported in the United States, where more than 28,000 people have died.

At his White House briefing on Wednesday, Trump threatened to shut down both chambers of Congress so that he can make recess appointments related to the pandemic.

In South Korea, President Moon Jae-in's governing party won a landslide victory in parliamentary elections on Wednesday, as voters applauded his administration's handling of the virus.

After Trump withdrew funding from the World Health Organization, current and former advisers have questioned why the agency kept lending credibility to China when it could have expressed more skepticism.

Doctors and drug companies in the United States have launched more than 100 human experiments in a disorganized and scattershot effort to find treatments for coronavirus patients.
April 16, 2020 at 2: 17 AM EDT
Haiti, a possible success story, will reopen textile facilities next week
Haiti will reopen its key textile industry next week, officials said Wednesday, in a promising sign that the coronavirus pandemic may have largely spared the poorest country in the Western Hemisphere.
"I think we reacted very well even if the population had lots of little lapses," Prime Minister Joseph Jouthe said, according to Reuters.
While the Caribbean nation has usually struggled to fight outbreaks, his move to reopen textile factories — which produce 90 percent of its exports — seemed to indicate that the country's economic concerns were more pressing.
Jouthe's announcement could also signal some confidence in his own containment measures. As soon as the country's first two cases were reported in March, officials declared a state of emergency, closed off borders, and shut down churches, schools and factories.
Even with Haiti's high population density and a fragile health system, that swift action may have worked. Only 41 cases and three deaths have been reported so far, according to a Johns Hopkins University tracker, compared to a much more severe outbreak in the country's one land neighbor.
The Dominican Republic, which has about as many residents, has reported more than 1,600 infections, including at least 180 fatalities.
Still, health experts warn that the peak of the virus may still be weeks away in much of Latin America and the Caribbean. Less than 500 Haitians have been tested, Reuters reported, meaning that the virus may have far more people than recorded.
To ensure social distancing, textile factories will begin running at about a third of their usual capacity. Some had already been open to produce cloth masks and protective equipment for health workers.
By Teo Armus
April 16, 2020 at 2: 14 AM EDT
New Zealand leader Jacinda Ardern says many restrictions will remain in place even if lockdown begins lifting
New Zealand Prime Minister Jacinda Ardern said Thursday that stringent restrictions would likely remain in place even if the country begins easing out of lockdown.
"We have an opportunity to do something no other country has achieved, elimination of the virus," Ardern said at a news conference livestreamed on Facebook.
Since last month, New Zealand has been at the highest level on its coronavirus alert plan, Level 4, which constitutes a highly restrictive nationwide lockdown. As the effort appears to be working, leaders plan to announce on April 20 whether the measures will continue. The country, which has a population of nearly 5 million, reported 15 new cases Thursday, bringing the total to 1,401.
Even if a decision is made to move to Level 3, Ardern stressed Thursday that "Many things will feel the same as they do now."
"Ultimately, Level 3 is a progression," she said, describing the stage as a "waiting room." "It's not a rush to normality."
At Level 3, Ardern said businesses and work places will move from "essential operations only" to "safe operations only," meaning some people will be allowed to return to work provided they maintain social distancing. Businesses, she added, could be open as long as there are no "face-to-face transactions," noting that bars, restaurants, mall and retail stores would remain closed.
Restrictions will also continue to be imposed on schools and gatherings such as weddings and funerals, Ardern said.
Meanwhile in neighboring Australia, Prime Minister Scott Morrison said Thursday that he would keep in place measures aimed at stemming the spread of coronavirus for at least four more weeks, at which point they would be reviewed. Restrictions could be lifted then, he said, provided there had been improvements in testing and contact tracing, among other caveats.
By Allyson Chiu
April 16, 2020 at 1: 56 AM EDT
Some business leaders say Trump's effort to reopen is haphazard, warn more testing is needed
President Trump's attempt to enlist corporate executives in a push to reopen parts of society amid the coronavirus pandemic got off to a rocky start Wednesday, with some business leaders complaining the effort was haphazard and warning that more testing needs to be in place before restrictions are lifted.
The president spent much of his day hosting conference calls with company executives, industry groups and others that he announced Tuesday as part of a hastily formed outside advisory council devoted to the issue.
By Robert Costa, Ashley Parker, Josh Dawsey and Felicia Sonmez
April 16, 2020 at 1: 51 AM EDT
What caused the coronavirus? A skeptical take on the theories about the outbreak's Chinese origin.
Of all the mysteries about the novel coronavirus, its origin excites the most fervent debate. At the outbreak's beginning, there were conspiracy theories that the virus was man-made; recently, questions have focused on whether a natural virus was accidentally spread through research.
In the United States, such speculation largely comes from politicians hawkish against Beijing and keen to defend the Trump administration. Scientists, meanwhile, are often the most hesitant to speak out, wanting to focus on research that helps end the outbreak — not who, if anyone, caused it.
But the theories have spread widely, prompting a response from U.S. officials and President Trump himself. So, here is a skeptic's take on three rapidly mutating theories: one clearly false, one possible but not supported by known evidence and one broadly true.
By Adam Taylor
April 16, 2020 at 1: 48 AM EDT
Rams center is first NFL player known to have tested positive
Brian Allen, a center for the Los Angeles Rams, is the first NFL player known to have tested positive for the novel coronavirus.
The Rams confirmed that Allen, 24, had tested positive. Rams Coach Sean McVay told Jay Glazer, who first reported Allen's positive test Wednesday night, on Fox Sports 1 that he spoke to Allen on Tuesday.
"I'm really glad to hear that he's feeling good," McVay said. "He's healthy and he's on the road to recovery. I think we all understand the severity of what this has meant for some people."
By Mark Maske
April 16, 2020 at 1: 26 AM EDT
Trump denied he wanted his name on stimulus checks. Here's how it happened.
When President Trump publicly denied on April 3 that he wanted his signature on stimulus checks that would be sent to millions of Americans struggling amid a pandemic, officials in the Treasury Department were already secretly working on a plan to get the president's name on the payments.
Trump, who was reportedly musing about placing his signature on the checks as early as late March, defended the unprecedented move Wednesday. "I don't know too much about it. But I understand my name is there," Trump said.
The effort to put Trump's name on millions of "Economic Impact Payment" checks began shortly after the president on March 27 signed the bipartisan $2 trillion legislation aimed at stemming the financial fallout from a global pandemic that has halted much of the economy.
By Toluse Olorunnipa and Lisa Rein
April 16, 2020 at 1: 16 AM EDT
Missouri will convene in-person legislative session, lawmakers say
The Missouri legislature will reconvene in person later this month, the state's top Republicans said on Wednesday, with lawmakers set to return to the state capital no later than April 27.
Just three days after Missouri's current stay-at-home order is set to expire, committee hearings and other legislative procedures will resume with social distancing guidelines in place.
"It is absolutely critical for the people of Missouri that we keep the state government funded and services operating without interruption," State House Speaker Elijah Haahr (R) said in a statement.
While Missouri Gov. Mike Parson (R) has expressed his support for the effort, some Missouri Democrats said that resuming the legislative session so soon could put members and others at risk.
"There is simply no good reason to come back to Jefferson City during the worst of the Coronavirus outbreak for legislation that has nothing to do with fighting the Coronavirus outbreak," State Sen. John Rizzo (D), the body's minority leader, said on Twitter on Tuesday.
He pointed out that an influential University of Washington model predicts that the outbreak will peak in Missouri just as lawmakers are heading to the state capitol in Jefferson City, Mo.
The legislature will also allow lobbyists and members of the public to attend hearings, although people's temperatures will also be taken as they enter the building.
By Teo Armus
April 16, 2020 at 1: 08 AM EDT
The World Health Organization: What you need to know about the U.N. agency in Trump's crosshairs
President Trump announced Tuesday he would cut funding to the World Health Organization in response to what he characterized as the U.N. group's refusal to hold China accountable for its initial response to the novel coronavirus. The move, mid-pandemic, has sparked outrage from other nations and global health experts.
"The United States has been a long-standing and generous friend to WHO, and we hope it will continue to be so," WHO Director-General Tedros Adhanom Ghebreyesus said during a news conference Wednesday. "With support from the people and government of the United States, WHO works to improve the health of many of the world's poorest and most vulnerable people."
By Ruby Mellen
April 16, 2020 at 12: 43 AM EDT
WestJet to lay off 1,700 pilots, calling plans a 'last resort'
More than 1,000 WestJet pilots received layoff notifications Wednesday night as coronavirus-related travel restrictions continue to cripple the aviation industry.
In a statement emailed to The Washington Post, a spokesperson for WestJet, Canada's second-largest airline, confirmed that 1,700 pilots would be laid off in the coming months, calling the drastic move "a last resort."
"The impact of covid-19 on the aviation industry is colossal, and WestJet is making difficult but necessary decisions to right-size our airline to weather the crisis," the spokesperson said, noting that the ongoing pandemic has forced the airline to ground almost three-quarters of its fleet.
The pilots were informed via an email from WestJet's vice president of flight operations John Aaron, according to Global News, which obtained a copy of the notice. Layoffs will be based on "reverse seniority" with the first 700 pilots to be laid off effective May 1, the network reported. The remaining 1,000 will be out of a job by June 1.
These latest staffing cuts come just several weeks after WestJet announced last month that it had reduced its entire workforce by almost half, leaving 6,900 people jobless. Roughly 90 percent of those employees chose to leave voluntarily, the Associated Press reported.
Then, about a week ago, WestJet said government wage subsidies would allow the airline to rehire 6,400 people, according to CTV News. Global News reported Wednesday that the pilots who will be laid off May 1 will also remain on the airline's payroll as a result of the subsidy program.
By Allyson Chiu
April 16, 2020 at 12: 34 AM EDT
Trump set to announce new guidelines to reopen the economy Thursday
Trump started out this week saying in a briefing he had "absolute" authority to open the economy, which he wants to do by May 1. He backed off that claim by Tuesday, after taking criticism for flouting the Constitution, instead saying he would essentially advise governors on how to open their economies.
Some of those guidelines could be coming in a news conference Thursday, he said, adding that "they'll be safe; they'll be strong."
He also indicated the United States may have reached its peak of cases, which is more hopeful language than his own medical experts are willing to use.
By Amber Phillips
April 16, 2020 at 12: 33 AM EDT
There are so many coronavirus myths that even Snopes can't keep up
Did self-described psychic Sylvia Browne predict the 2020 coronavirus pandemic in her 2008 book? The people wanted to know, so they turned to the place one goes to find the answers to such questions: Snopes.com.
The Internet's original myth-busters tackled this query on March 4, and the resulting post became one of the site's most-read pieces that month, along with a look into whether the Trump administration actually fired the U.S. pandemic response team in 2018 and the one about whether Costco truly issued a toilet paper recall.
But since then, Snopes has been overwhelmed with so many covid-19-related questions that the website can't keep up. The company has done something that seems counterintuitive: It has scaled back operations by publishing fewer stories. There have been no furloughs or layoffs; but Snopes is encouraging employees, whose lives have been turned upside down by the pandemic, to take time off if needed.
By Elahe Izadi
April 16, 2020 at 12: 33 AM EDT
China reports increase in local infections while imported cases drops
China reported 46 new confirmed coronavirus cases in the past 24 hours, the same number as the day before, and no new deaths, the country's National Health Commission said Thursday.
Though the number of infections found in people who had recently been abroad still make up a majority of the new cases, those instances have continued decreasing for a third straight day, dropping from 36 to 34 on Wednesday, amid border closures and reduced international travel.
But domestic cases rose to 12, two more than the previous day, with Beijing reporting new local cases for the first time in more than three weeks. Of the 12 cases, three are from the country's capital while the others were reported in Heilongjiang and Guangdong provinces.
China also saw a bump in asymptomatic cases, according to health officials. The country tracks those cases separately and does not include them in its count of confirmed cases. On Wednesday, there were 64 new asymptomatic cases, an increase from 57 reported a day earlier.
By Allyson Chiu