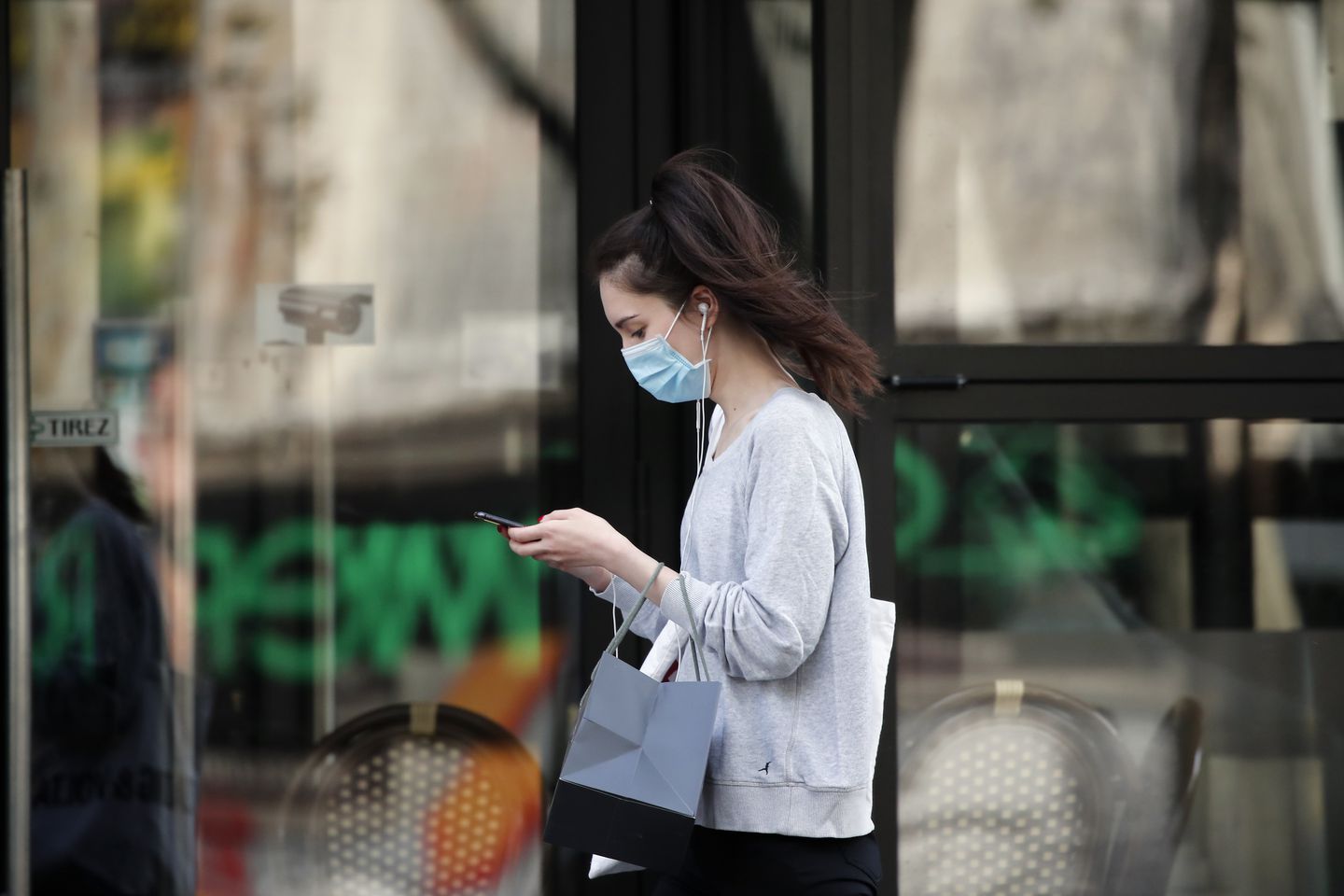 President Trump tweeted on Monday night that he intends to sign an executive order to temporarily suspend immigration to the United States, "in light of the attack from the Invisible Enemy, as well as the need to protect the jobs of our GREAT American Citizens." Such a ban would be unprecedented in American history, and further details about how it would be implemented were not immediately available.
Extreme declines in economic activity caused U.S. oil prices for May delivery to tumble below zero dollars a barrel on Monday, a historic crash that highlighted how the coronavirus pandemic has wreaked havoc on global energy markets.
Meanwhile, as some nations gradually reopen businesses, the Republican governors of Georgia, South Carolina and Tennessee on Monday announced plans to scale back restrictions in their states.
Here are some significant developments:
A Yahoo News/YouGov poll published Monday found that most Americans disagree with protesters who are demanding an end to stay-at-home orders. The poll showed that 71 percent of respondents were more concerned about lifting lockdowns too quickly.

The federal government intends to "ramp back up" as states reopen, allowing more than 2 million employees to gradually return to the office.

Kentucky reported its largest-ever jump in coronavirus cases on Sunday, days after protesters urged Gov. Andy Beshear (D) to ease lockdown restrictions.

Georgia Gov. Brian Kemp (R) announced that gyms and salons would be allowed to reopen on Friday, though the state hasn't met the White House's benchmarks. The move was criticized by Georgia Democrats, including the mayors of Atlanta and Savannah, who warned that lifting restrictions could put people at risk.

Maryland Gov. Larry Hogan (R) clashed with Trump over testing capacity on Monday, after Hogan said that he had purchased 500,000 tests from South Korea.
April 21, 2020 at 1: 22 AM EDT
Debt-plagued Virgin Australia enters voluntary administration after pandemic grounds most flights
Debt-saddled Virgin Australia announced that it had entered voluntary administration on Tuesday, following the cancellation of most of its flights.
The airline, which is the second-largest carrier in Australia, had already posted annual losses for seven consecutive years before the coronavirus pandemic grounded many of its planes. As of Dec. 31, it had 5 billion Australian dollars (roughly $3.2 billion) worth of debt.
In March, as travel restrictions led to the sudden collapse of Virgin Australia's cash flow, 80 percent of the company's direct workforce was placed on unpaid leave. An attempt to secure a loan for $888 million from the Australian government was unsuccessful, the airline said Tuesday.
A team of administrators from consulting firm Deloitte have been appointed to "recapitalize the business and help ensure it emerges in a stronger financial position on the other side of the covid-19 crisis," Virgin said in a statement to the Australian Securities Exchange. The newly-appointed management team said Tuesday that they intend to continue operating the airline's few remaining scheduled flights.
Australian Treasurer Josh Frydenberg said that the country does not intend to bail out the "five large foreign shareholders with deep pockets" who control more than 90 percent of Virgin Australia's shares, the Australian Broadcasting Corp. reported. But some lawmakers fear that Virgin's collapse would effectively give rival Quantas a monopoly in the country.
While Deloitte has said that there are "no plans to make any redundancies," unions representing transit workers worry that Virgin employees could see their entitlements cut. "Sixteen thousand workers and their families have been abandoned by the Government," Michele O'Neil, president of the Australian Council of Trade Union, told the ABC.
By Antonia Farzan
April 21, 2020 at 1: 00 AM EDT
Coronavirus restrictions begin to ease in some places as wedge between states and White House over testing deepens
Individual states and localities — as well as foreign governments — began to announce a gradual easing of restrictions imposed to prevent the spread of the coronavirus Monday, amid protests that openings were not fast or extensive enough.
The demonstrations came as a dispute over the availability of virus tests, and the need to test far more widely to provide crucial data before reopening the economy, deepened a wedge between many of the nation's governors and the White House. While governors want the federal government to take responsibility for ensuring the availability of tests, Treasury Secretary Steven Mnuchin said that the administration favors a "state-driven approach."
President Trump said on Twitter that the demand for more tests was driven by the same "Radical Left, Do Nothing Democrats" who earlier had demanded that the federal government intervene to provide more ventilators for acute-care coronavirus patients.
By Karen DeYoung
April 21, 2020 at 12: 40 AM EDT
Trump says he will issue order to suspend immigration, closing off the United States to a new extreme
President Trump announced in a tweet late Monday night that he plans to suspend immigration to the United States, a move he said is needed to safeguard American jobs and defend the country from the coronavirus pandemic, which he called "the Invisible Enemy."
"In light of the attack from the Invisible Enemy, as well as the need to protect the jobs of our GREAT American Citizens, I will be signing an Executive Order to temporarily suspend immigration into the United States!" the president wrote, announcing the plan at 10: 06 p.m.
Trump, who is running for reelection on his immigration record and his effort to build a wall on the U.S. border with Mexico, has long been frustrated with the limits on his ability to seal off the United States by decree. An executive order suspending all immigration to the country would take the president's impulses to an untested extreme.
By Nick Miroff, Josh Dawsey and Teo Armus
April 21, 2020 at 12: 35 AM EDT
Nearly 1 in 10 nursing homes nationwide report coronavirus cases
Nearly 1 in 10 nursing homes in America have publicly reported cases of the coronavirus, a count that has soared in the past three days as several hard-hit states released the names of facilities after weeks of pressure from families, journalists and watchdog groups.
Through state reports and media accounts, The Washington Post has compiled a nationwide list of more than 1,300 nursing homes, with a death count that has spiraled into the thousands.
The list is far from complete. More than a half-dozen states with significant outbreaks — including Maryland and Virginia, where dozens of nursing home residents have died — have not released the names of facilities with coronavirus cases.
By Debbie Cenziper, Joel Jacobs and Shawn Mulcahy
April 21, 2020 at 12: 33 AM EDT
Trump, Congress near deal for more small-business money, trying to work through last-minute snags
The White House and Congress on Monday tried to design another giant bailout package aimed at combating the coronavirus pandemic's economic and health fallout, scrambling to resolve last-minute snags over loan access and testing.
"We have I believe come to terms on the principles of the legislation, which is a good thing, but it's always in the fine print," House Speaker Nancy Pelosi (D-Calif.) said on CNN Monday evening. "And so now we're down to fine print, but I feel very optimistic and hopeful that we'll come to a conclusion." Pelosi said she hoped for action Tuesday in the Senate and Wednesday in the House.
If a deal is reached, the nearly $500 billion measure would become the fourth virus-related bill rushed through Congress in just two months at a total price tag of almost $3 trillion.
By Erica Werner
April 21, 2020 at 12: 31 AM EDT
China reports 11 new cases, no new deaths
For the first time this month, travelers from overseas represented a minority of new coronavirus cases reported in China over the past 24 hours. Of 11 new confirmed cases, only 4 came from abroad, the country's National Health Commission said Tuesday.
So-called "imported" cases involving people returning from abroad have made up the majority of new infections since March 25, prompting fears of a new wave of transmission and leading to intensified quarantine measures and the closure of checkpoints along the Russia-China border. The northeast province of Heilongjiang, which borders Russia, continues to be the front line of ongoing efforts to stop the spread of the virus. On Monday, six new cases were reported in Heilongjiang.
For the sixth day in a row, no new deaths were reported.
China tracks asymptomatic cases separately and does not include those tallies in the count of confirmed cases. On Monday, 37 new asymptomatic cases were reported, including two from abroad.
By Antonia Farzan
April 21, 2020 at 12: 30 AM EDT
As MLB shutdown continues, team employees wonder how long they'll be paid
With employees of some teams, including the Washington Nationals, uncertain of their employment status beyond the end of the month, Major League Baseball this week is expected to make it easier for teams to institute furloughs or pay reductions as the 2020 season remains delayed by the novel coronavirus pandemic.
The expected suspension of MLB's Uniform Employee Contracts, first reported by the Athletic on Sunday night, would not require teams to begin reducing payroll costs but would enable them to do so. Language in those contracts grants Commissioner Rob Manfred the power to suspend them in the event of a national emergency, which President Trump declared March 13.
The 2020 season has been on hold since spring training was canceled March 12, and there is no firm indication as to when or if the regular season can begin.
By Dave Sheinin
April 21, 2020 at 12: 29 AM EDT
This American family left Wuhan, China and thought they averted coronavirus
In early February, as their flight departed the airport in Wuhan, China, William Lowe and his wife, Xiaoli, thought they had escaped the most dangerous place on earth.
The Maryland couple and their 5-year-old daughter had been visiting Xiaoli's parents in Hubei province, the original hot spot of the novel coronavirus outbreak, when they were evacuated. When the cargo plane chartered by the U.S. government to fly them and other Americans out of China finally landed at Travis Air Force Base in California, William breathed a huge sigh of relief.
Back on U.S. soil, he felt a sense of security. He believed the human and medical disaster unfolding in China couldn't happen here. He trusted the United States would respond with its scientific and economic might to prevent an outbreak of similar scale.
By Joe Heim