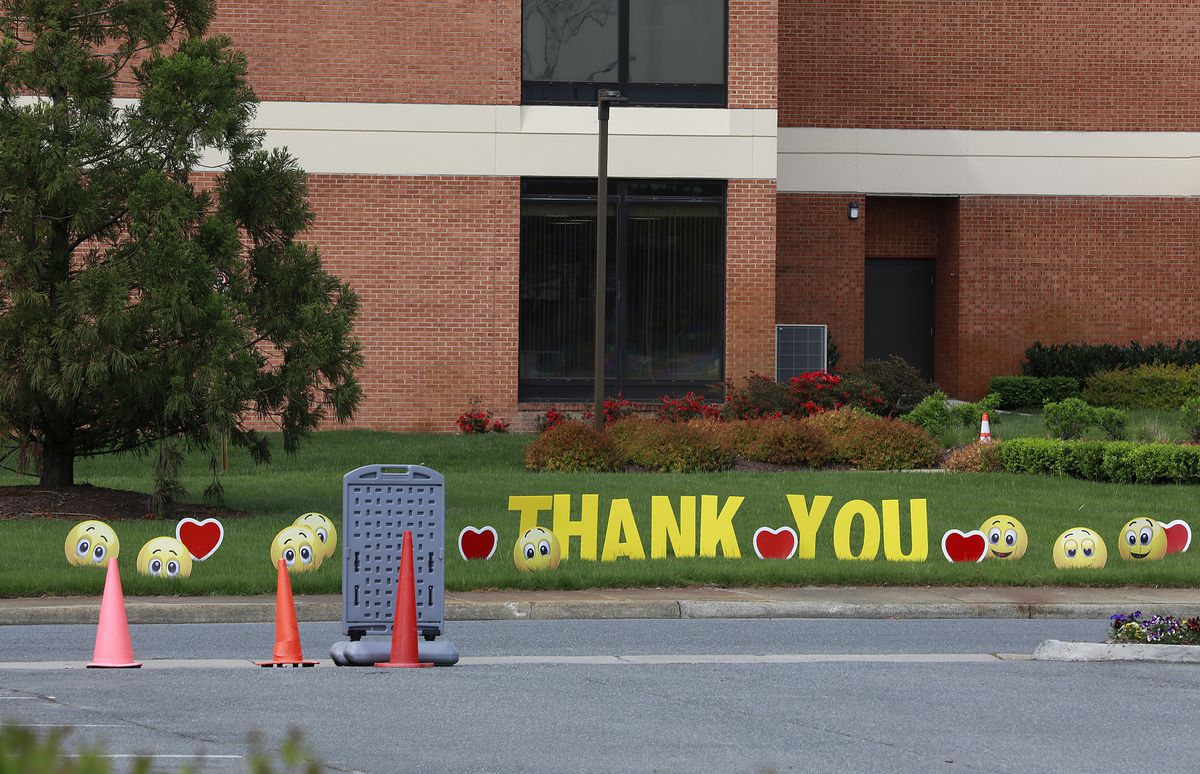 Over the weekend, the number of confirmed coronavirus cases in Virginia soared past 8,500 and the death toll climbed to 277, according to information released by the Virginia Department of Health.
The number of cases, which includes people who have tested positive and those who are symptomatic with a known exposure to a coronavirus case, increased by more than a thousand since Friday.
Here's what you need to know for Monday:
Four Norfolk sheriff's deputies have tested positive for the coronavirus and are isolating at home. But it's unclear how many inmates they may have exposed before showing symptoms last week.
Two deputies started showing symptoms last week and have been at home since then, sheriff's office spokeswoman Deanna LeBlanc said in a news release. Another was running a fever when their temperature was checked before reporting for duty and sent home. A fourth deputy hasn't been at work for several weeks because of an unrelated health issue.
No inmates have tested positive, LeBlanc said, although she did not say whether any have been tested.
Sheriff's office officials are working with the Virginia Department of Health to do "contact tracing," find out who the four deputies had contact with — and may have infected — before they tested positive and were sent home.
3: 58 p.m.: Virginia starts a new group to make sure the state has enough coronavirus tests available
A group of public and private health officials will coordinate to figure out how many coronavirus tests are needed per day and how those tests will be obtained as Virginia looks to eventually loosen stay-at-home restrictions.
The testing work group will be headed by former Virginia Health Commissioner Karen Remley and state epidemiologist Lillian Peake, Gov. Ralph Northam said at a press conference in Richmond Monday.
The group will include hospital officials, long-term-care facility staff, emergency physicians and university healthcare experts, as well as staff from state and private labs.
They'll focus on three things: expanding testing sites and testing criteria, increasing the number of tests per day and the speed at which results are available, and addressing factors that currently limit testing, such as the lack of availability of swabs.
3: 33 p.m.: Rite Aid offers coronavirus testing outside Virginia Beach store
A Rite Aid store in Virginia Beach will offer testing for the coronavirus in its parking lot starting Wednesday.
The drive-thru, at 2293 Upton Drive, is one of 11 across eight states that the retail pharmacy chain will open that day, bringing its total to 24. At each location, the company expects to handle more than 200 tests daily for COVID-19, the respiratory illness caused by the virus.
It's not clear why the Virginia Beach market was selected for the service, but a spokeswoman for Rite Aid said the company made the decision with the commonwealth and the U.S. Department of Health and Human Services.
2: 04 p.m.: Aboard the USNS Comfort: What Hampton Roads medical workers have been doing in New York
Long shifts. Few, if any, days off. Intensive care. But finding solace in their mission.
That's how several medical workers from Hampton Roads describe their time serving aboard the Norfolk-based hospital ship Comfort while it's docked in New York City.
The Navy originally said the ship would treat only patients without coronavirus to help ease the strain on the city's hospitals, but soon reversed course amid pressure from local officials.
The Comfort staff had treated 163 patients as of Friday, about half of whom had COVID-19, Navy Region Mid-Atlantic spokeswoman Beth Baker said in an email. More than 80 patients had been discharged.
"Some of these are very complex patients with additional conditions that are being treated at the same time as they are being treated for COVID," she wrote.
Four crew members of the Comfort who had tested positive for the virus have also since recovered and are back at work, Baker added.
9: 15 a.m.: More than 400 new cases reported Monday morning
There are now nearly 9,000 coronavirus cases in Virginia and another 23 deaths were reported overnight, bringing the statewide tally to 300, according to statistics released this morning by the Virginia Department of Health.
The number of cases, which includes people who have tested positive and those who are symptomatic with a known exposure to a coronavirus case, increased by 453 from Sunday's total for a new total of 8,990.
So far, at least 56,736 people have been tested in Virginia.
Of the 300 deaths, 134 have been Virginians older than 80, 82 between the ages of 70 and 79, 54 between the ages of 60 and 69, 19 between the ages of 50 and 59, seven between 40-49, and three from 20-39.
Virginia Beach still has the highest number of cases in Hampton Roads, with 281 cases. James City County has 141, Chesapeake has 166, Norfolk has 113, Newport News has 102, Hampton has 90, Suffolk has 92, Isle of Wight has 86, Portsmouth has 65, Accomack has 52, York has 44, Williamsburg has 19, Northampton has seven and Poquoson has six cases.
Of the 8,990 cases, 4,662 are women, 4,248 are men and 80 did not have a reported gender.
The Virginia Hospital and Healthcare Association reported Monday that there are now 1,296 hospitalizations related to the coronavirus. Of those, 828 patients have tested positive for the virus and 468 have COVID-19 symptoms serious enough to require hospitalization but are pending final test results.
The association also reported that 1,324 patients have been hospitalized for the virus and released since the pandemic first reached Virginia.
8: 45 a.m.: Virginia Department of Corrections to increase coronavirus testing
The Virginia Department of Corrections will increase the testing of incarcerated offenders for the coronavirus, according to a news release from the department Monday morning.
The Department of Health will send staff to the facilities with tests from the state, Virginia Commonwealth University, the University of Virginia and the Division of Consolidated Laboratory Services.
To date, 434 offenders have been tested and 116 were found to have been infected, according to the release. Fifty staff members also have tested positive.
As part of their efforts to combat the virus, the department also is testing asymptomatic offenders. It's already been done at the facilities in Harrisonburg and Haynesville and will be done at Deerfield Correctional Center next. Employees will be tested there as well.
7 a.m.: Coworking spaces work to maintain operations during coronavirus outbreak
Adding plants. Declaring no handshake zones. Banning visitors. These are some of the ways local coworking spaces are adapting to a coronavirus crisis that has made working from home the "new normal" for many people.
Inside Business spoke with several local coworking hubs to see how they — and their members — are coping with the national health crisis and resulting state mandates.
There's a spike of new coronavirus cases in Isle of Wight — but where?
With a rash of new cases last week, Isle of Wight County now has the highest rate of confirmed coronaviros infections in Hampton Roads.
But good luck getting any firm answers on exactly where in the county the spike is occurring.
Isle of Wight had 69 cases as of Friday — nearly triple the 24 it had a week earlier, according to Virginia Department of Health numbers.
With 37,600 residents, the county now has the seventh-highest coronavirus rate in the state, outpacing 126 other cities and counties when adjusted for population, according to an analysis of state data by The Virginian-Pilot and Daily Press.
Many larger localities have far more infections, but Isle of Wight's per capita rate of 183 cases per 100,000 residents is more than double the statewide per capita rate of 88.
Private schools for disabled students are closed too. Some may not re-open.
Claire Anderson's parents worried that she didn't understand what the coronavirus is or why she couldn't go to school.
She is an 18-year-old student at the Peninsula School at The Faison Center in Newport News, a private day school for students with disabilities.
Claire has autism, is classified as nonverbal and has severe anxiety. When Gov. Ralph Northam closed schools on March 13, he also closed private schools, leaving thousands of students with disabilities that make regular public schooling difficult at home with their parents.
Her father, Robert Anderson, tried to explain that there was an illness going around, that they didn't want people to get sick.
"When he was finally able to get it through to her that nobody can go to school and nobody can go to work, and when she realized it was everybody, that seemed to help quite a bit," her mother, Jennifer Anderson, said.
Last school year, over 4,200 Virginia youths with disabilities were placed in private day schools. The schools themselves are private, but public school divisions and the state reimburse the schools.
The closure presents challenges for families, now tasked with leading their children's specialized education, and schools, some of which worry they won't survive the closure. Brian McGann, president and CEO of The Faison Center, said that some localities have stopped or want to reduce payments.
"People are going to have to start making staffing decisions if this is not answered immediately," McGann said. "Private day schools need to know whether or not they're going to have revenue to keep staff on to then be in a position to be able to open come mid-June."
In Chesapeake, some jailed inmates can't get a new bond hearing despite coronavirus pandemic
Earlier this month, a Chesapeake public defender asked the court to consider letting a man facing a drug charge out on bond because of the coronavirus pandemic.
As COVID-19 spread, hundreds of thousands had been infected worldwide and thousands had died, attorney Erik Mussoni wrote in his request. The local jail "has never confronted a global health pandemic like this one."
"People who have control over their bodies are self-isolating to prevent contracting or spreading this deadly disease," the lawyer wrote.
Mussoni's client, Danial Curtin, was arrested in August last year on a charge of possessing methamphetamine. He initially got a bond, but it was revoked in November.
Curtin's ongoing detention during the pandemic posed a threat to his life and to the health and safety of the community, Mussoni wrote, adding that no judge had found holding him without bond was necessary to ensure public safety or prevent him from fleeing.
In his 10-page request, Mussoni cited information from the World Health Organization, Centers for Disease Control and the White House. He included national, state and local infection numbers and information from experts on health in jails and prisons.
Five days later, in a written order, a Circuit Court judge denied Mussoni's request for an emergency hearing.
His isn't the only such request for bond to be rejected without a court hearing. Kathleen Ortiz, the city's top public defender, said Circuit Court judges have denied at least two bond hearing requests from attorneys in her office for people who previously had a bond denied in that court.