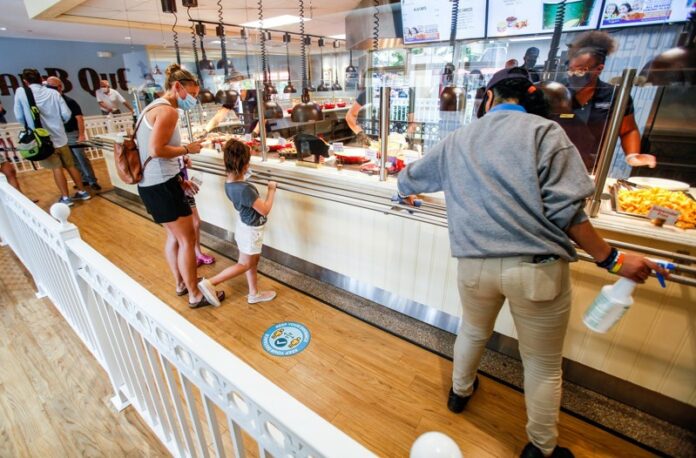 MASON — 
A Kings Island employee has tested positive for COVID-19, park officials told this news outlet today.
"The affected associate was screened, as per usual, prior to park opening," said Kings Island spokesman Chad Showalter. "In accord with CDC guidelines, our associate and guest screening procedures and contact tracing protocols along with social distancing and proper face coverings are designed to facilitate a safe in-park experience for our guests and associates."
Showalter said park policy is that any associate confirmed to have tested positive for COVID-19 is sent home for 14 days or until they test negative. Simultaneously, any associate identified as having close contact with an associate who has tested positive will also be sent home for 14 days or until they test negative.
MORE: Meet Orion: Kings Island's delayed opening brings biggest investment online

The workstation and general workplace where the affected associates work will be sanitized and will not reopen to other associates or guests "until proper cleaning of the facility has been completed," Showalter said.
"The health and safety of our associates and guests is always our top priority," Showalter said.
The amusement park prepared for opening during the coronavirus pandemic by enacting a host of safety protocols and guidelines. Masks are required for all those 2 years old and older and signs and floor decals remind guests to social distance. Those wanting to take a break from those measures can stop by Kings Island's new, fenced-in "RelaxZone" areas where guests can sit and remove their masks.
There are also hundreds of hand sanitizers stations around the park and staff regularly cleaning rides, games, restaurants and frequently touched surfaces.
MORE: Kings Island changes: What to know about new park rules

Thank you for reading the Journal-News and for supporting local journalism. Subscribers: log in for access to your daily ePaper and premium newsletters.
Thank you for supporting in-depth local journalism with your subscription to the Journal-News. Get more news when you want it with email newsletters just for subscribers. Sign up here.