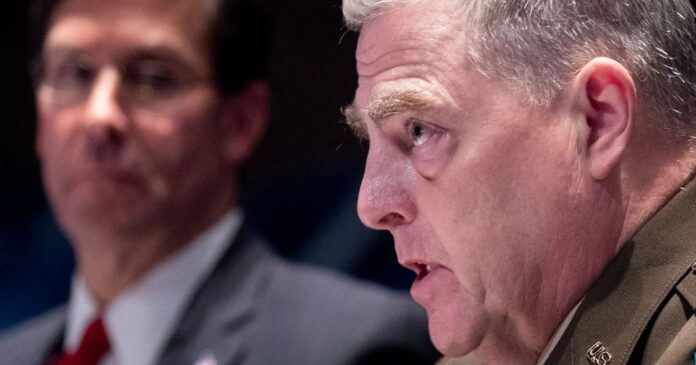 WASHINGTON — Army Gen. Mark Milley, the chairman of the Joint Chiefs of Staff, told Congress on Thursday that the Trump administration was "perhaps not" doing "as much as we could or should" to deter Russia and other foreign powers from providing weapons and support to America's enemies in Afghanistan.
Questioned at a House Armed Services hearing about the long history of Russia's support for the Taliban, Milley said Russia was among many U.S. adversaries that for years have been providing "training, money, weapons, propaganda … and a lot of other things" to the Taliban and the Haqqani network, an Afghan guerrilla group.
The military has responded on the ground, he said, but "the issue is higher than that."
"The issue is at the strategic level," he said. "What should or could we be doing at the strategic level?"
Let our news meet your inbox. The news and stories that matters, delivered weekday mornings.
The key question, Milley said, was whether there are sanctions that should be imposed, diplomatic protests lodged, phone calls made or other pressure brought to bear.
"I can tell you that some of that is done. Are we doing as much as we could or should? Perhaps not. Not only to the Russians, but to others. But a lot of it is being done. Some of it's quiet. Some of it's not so quiet."
Milley and Defense Secretary Mark Esper, who also testified, said the military was looking into the intelligence that the Russians had offered payments to the Taliban as an incentive to kill Americans, but both said that military intelligence agencies had cast doubt on the reports and that they had seen no indication that any American was killed because of a so-called bounty program.
However, they acknowledged that Russia had been supporting the Taliban for years, and Milley's comment was a concession that the U.S. has not pushed back as hard as it could. It is unclear whether President Donald Trump has ever raised the issue in his many conversations with Russian President Vladimir Putin.
Although Thursday's hearing was ostensibly about the military's role in quelling protests, several lawmakers asked about the intelligence about Russian bounties, first reported June 26 by The New York Times. The members said they had received a classified briefing on the intelligence before their hearing.
Esper said no intelligence report he saw used the word "bounty," although he later acknowledged that the reports described payments. He said no military spy agency had corroborated the intelligence, which officials have said was developed largely by the CIA.
He said that he learned about the intelligence in February and that the military first saw it in January.
Both officials said the military and intelligence agencies continue to investigate. NBC News has reported that the CIA assessed the intelligence at a level of moderate confidence, meaning plausible and credibly sourced but less than certain. The National Security Agency, the Pentagon's digital spying arm, gave a lower confidence level, and Esper said other military intelligence agencies did, as well.
"We're going to dig into this. We're going to get to the bottom of it, this bounty thing," Milley said. "If, in fact, there's bounties directed by the government of Russia or any of their institutions to kill American soldiers, that's a big deal. We don't have that level of fidelity yet."

Courtney Kube
Courtney Kube is a correspondent covering national security and the military for the NBC News Investigative Unit.