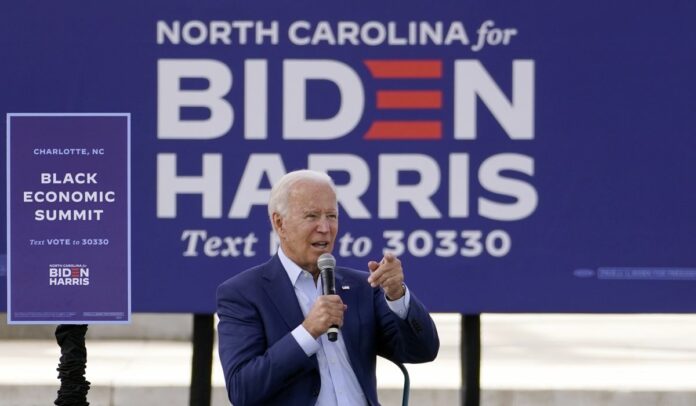 Joseph R. Biden said Wednesday his Justice Department wouldn't automatically pursue charges against President Trump when he leaves office as the Democratic presidential nominee knocked the president for turning DOJ into the "Department of Trump."
"This has been the most corrupt administration in modern American history," Mr. Biden said while campaigning in North Carolina. "The Justice Department has turned into the president's private law firm."
Mr. Biden referred to DOJ's recent move to intervene in a defamation case involving a woman who claims Mr. Trump sexually assaulted her in the 1990s.
He said his Justice Department would be "totally independent of me."
"I'm not going to pursue prosecuting anybody," he said. "I'm going to do what the Justice Department says should be done and not politicize it."
"It's become the Department of Trump, and that's wrong," he said.
Sen. Kamala D. Harris of California, Mr. Biden's running mate, told NPR in July 2019 when she was running for president that she would want her Justice Department to pursue obstruction of justice charges against Mr. Trump if he didn't get impeached.
"I believe that they would have no choice and that they should, yes," Ms. Harris said.
Shortly after those remarks, former 2020 candidate Pete Buttigieg said he would expect his DOJ to think for itself and that presidents shouldn't be calling for their political opponents to be targeted.
The Democrat-led House did ultimately vote to impeach Mr. Trump in December, charging him with abuse of power and obstruction of Congress over his strong-arming Ukraine into digging up dirt on Mr. Biden.
The Republican-controlled Senate voted to acquit Mr. Trump earlier this year.