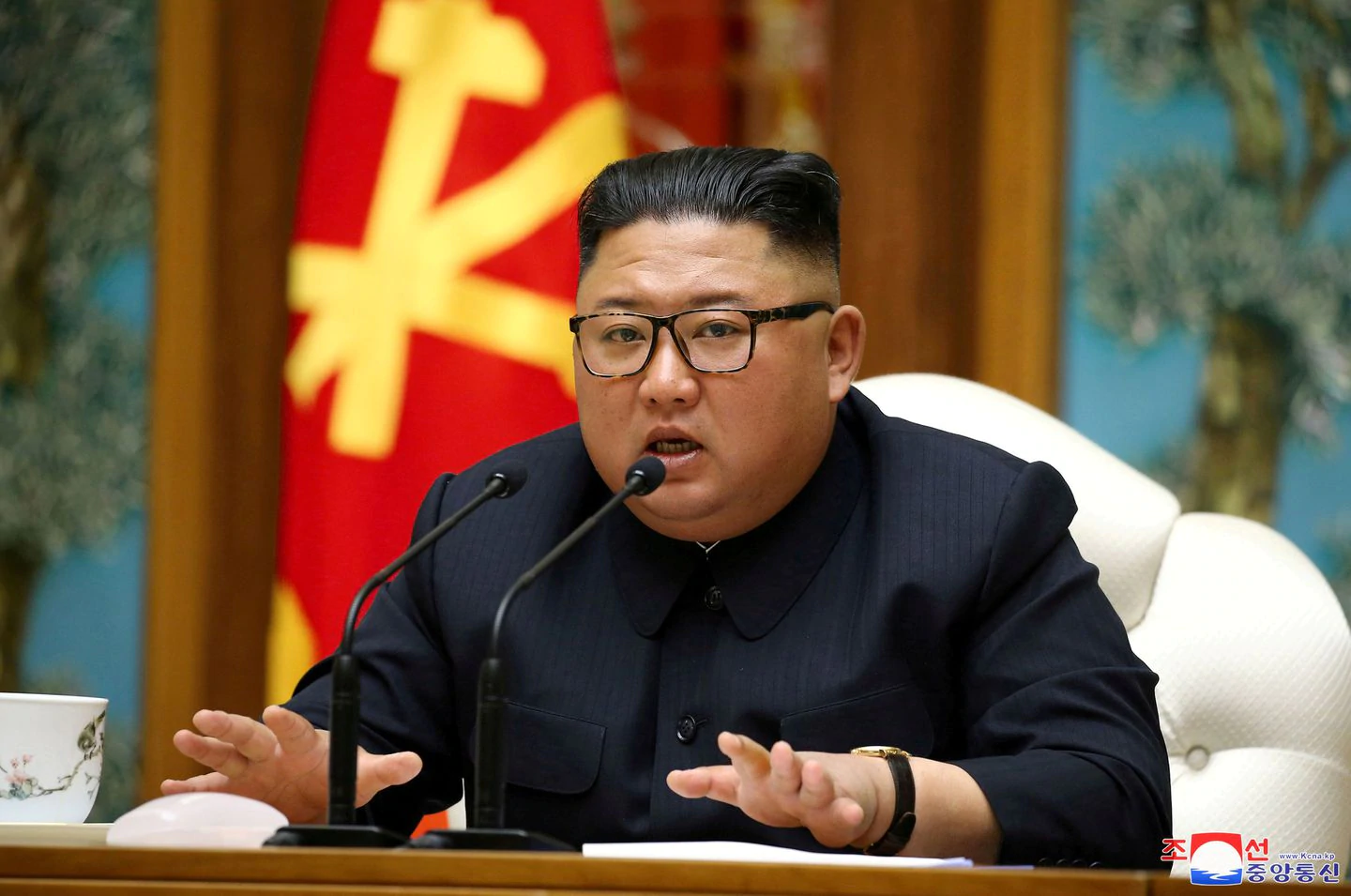 TOKYO — South Korea said Tuesday it was not true that North Korea's leader, Kim Jong Un, was gravely ill, contradicting U.S. media reports, although his absence from recent public events has sparked speculation about his health and refocused attention on his eventual succession.
The nuclear-armed leader is only 36 years old, but he is clearly overweight and is frequently seen smoking. Still, when he failed to show up for an important celebration to mark his late grandfather's birthday last week, most experts assessed that he was either taking precautions over the novel coronavirus pandemic or was simply breaking with precedent to show he was his own man.
On Monday night, another possible explanation surfaced: South Korean news website Daily NK reported that Kim was recovering at a mountain villa after undergoing a cardiovascular procedure last week. It cited a single unidentified source.
North Korean state media outlets were silent on the question: Kim's health is a top-secret matter at the best of times.
But the report quickly snowballed after CNN cited a U.S. official "with direct knowledge" as saying that Washington was monitoring intelligence that Kim's health was in "grave danger" after a surgery. The network later cited another official as saying concerns about Kim's health were credible but that the severity was hard to assess.
While South Korea's government soon denied the report, the events revived uncertainty about what might transpire in North Korea should Kim be incapacitated.
"We have nothing to confirm regarding recent media reports about the health problems of Chairman Kim Jong Un of North Korea, and no atypical movement inside North Korea has been detected," Kang Min-seok, a spokesman for South Korean President Moon Jae-in, said in a statement.
Another South Korean government official, who was not authorized to be quoted by name, said the CNN report was "not true."
"Our government understands that Kim Jong Un is currently staying in a region outside Pyongyang," he said.
China's Foreign Ministry declined to comment on Kim's whereabouts, other than saying the two countries were good neighbors and that Beijing was ready to advance bilateral relations.
Kim's health has long been a concern, but he also has the best medical care North Korea can muster, with the ability to call on expertise from Russia or China. Information about his health is extremely hard to verify in the secretive state.
Daily NK, which was set up by North Korean defectors, said Kim underwent surgery April 12 at a hospital in North Korea's Hyangsan county — the same hospital where his grandfather, Kim Il Sung, died in 1994.
But the website said Kim left the hospital to recover at one of his many residences. It also said some doctors remained in attendance but others had already returned to Pyongyang — suggesting that there was no immediate medical emergency.
Diplomats and officials in the region said there were no signs of unusual military activity at the border between North and South Korea, and North Korean embassies around the world appeared to be operating normally. Nonetheless, news of his father's death in 2011 did not emerge for two days, and there was no indication initially that anything was amiss, experts said.
Daily NK said Kim has been suffering cardiovascular problems since August, which had been worsened by two visits to Mount Paektu, a sacred peak on North Korea's border with China, late last year. It said Kim left Pyongyang for the hospital after presiding over a meeting of the Politburo of the ruling Workers' Party on April 11.
Kim has not been seen in public since then.
On April 12, Pyongyang fired several short-range missiles. Kim is often shown in state media attending weapons launches, but the test was not reported in official organs. On April 15, he was not seen at unusually low-key celebrations to mark Kim Il Sung's birthday.
On Sunday, North Korea denied that Kim had sent a letter to President Trump, after the U.S. leader claimed to have received a "nice note" from his counterpart in Pyongyang.
Experts said North Korea is unlikely to have issued such a statement — which would have required high-level approval — if Kim were gravely ill.
Speculation about the health of the North's third-generation leader — including rumors he might be brain dead — surfaced in 2014 when he disappeared from public view for a few days. It later emerged that he had undergone ankle surgery.
But the developments underscored the uncertainties inherent in North Korea's tightly controlled regime, where the leader's younger sister, Kim Yo Jong, is increasingly emerging as a senior figure.
"Probably they don't have a succession plan, because having a succession plan would be tantamount to plotting a conspiracy against the leader," said Andrei Lankov, a professor of Korean studies at Kookmin University in Seoul.
Kim succeeded his father and grandfather as North Korea's ruler, and while he is believed to have children, they would be very young and are not in the public eye. Retired basketball star Dennis Rodman met a daughter when he went to Pyongyang in 2013.
"It is a dynastic system, and the Achilles' heel of any dynastic system is what do you do until the eldest son is ready to rule," said John Delury, a historian and North Korea scholar at Yonsei University.
If Kim were to have serious health problems, Delury said, it would have profound consequences — but would not simply mean the regime would "cease to exist."
Indeed, Kim has made efforts to rebuild the institutional apparatus of the ruling party and government since taking power.
"Even if Kim Jong Un were in critical condition or died, it wouldn't lead to regime collapse," said Cheong Seong-chang, a North Korea expert at the Sejong Institute in South Korea. "Even in Kim Jong Un's absence, Pyongyang's ruling elite form a solid basis."
Nor would a temporary illness affect his standing, Cheong said, any more than his absence for ankle surgery did in 2014.
Nevertheless, the reports have thrown a greater spotlight on Kim's younger sister.
Kim Yo Jong caught attention when she represented her brother at the 2018 Winter Olympics in South Korea. She now appears to be a key confidante of her brother; last month, she issued her first political statements in her own name.
Her official position, as an alternate member of the ruling Politburo, does not put her in the highest ranks of the regime. And as a young woman in a society that strongly favors male leaders, she would certainly not be a shoo-in, but she is probably better placed than anyone if something were to happen to her brother, experts said.
Kim reported from Seoul.