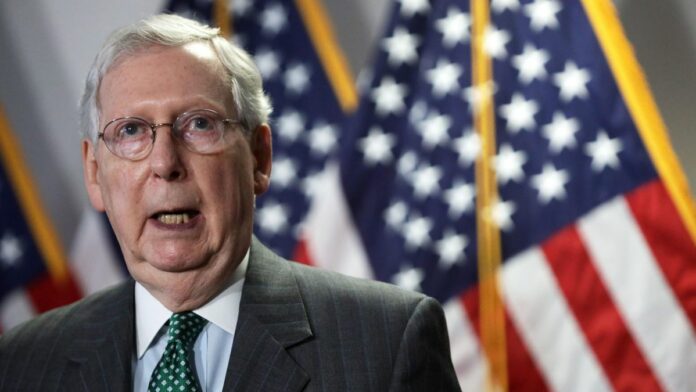 TOPLINE
As Congress returned to Washington Monday facing a three-week crunch to pass the next stimulus package before they break for an August recess, Senate Majority Leader Mitch McConnell (R-Ky.) and House Minority Leader Kevin McCarthy (R-Calif.) met with President Trump to discuss the GOP's proposed bill, slated to be released this week. Here's what we know about the long-awaited legislation.

KEY FACTS
The GOP's proposal will include a reduction of the $600 per week federal unemployment benefits (currently slated to expire at the end of this month), according to the Washington Post—these benefits will be a major point of contention between Democrats and Republicans as negotiations begin this week.
The GOP bill is also expected to include some form of payroll tax cut, but some Republican leaders aren't on board with that provision and Democrats are widely opposed.
A "redline" priority for Senate Majority Leader Mitch McConnell (R-Ky.) has been liability protections for businesses that reopen amid the coronavirus; the proposed GOP bill will include them. 
Additional aid to state and local governments—a key Democratic priority—is not likely to be included in the draft GOP legislation, according to the Post, though the proposal could ease restrictions on how states are allowed to spend CARES Act aid and may include additional money for states to reopen schools.
The Post also reports that McConnell's draft could include at least two new tax credits for businesses. 
The total cost of the Republican proposal is expected to be about $1 trillion—that's one third of what the House Democrats proposed in the $3 trillion Heroes Act. 
While Democrats have been advocating for more immediate, large-scale spending for months, Republicans led by McConnell have opted for a "wait and see" approach to the next bill, preferring to let existing federal relief spending from the CARES Act trickle down through the economy before authorizing more. 
Chief Critic
In a letter to Senate Democrats on Monday, Senate Minority Leader Chuck Schumer (D-N.Y.) urged his colleagues to continue to push for the party's priorities in the next bill. "Unfortunately, by all accounts the Senate Republicans are drafting legislation that comes up short in a number of vital areas, such as extending unemployment benefits or funding for rental assistance, hazard premium pay for frontline workers, or investments in communities of color being ravaged by the virus, and many other necessary provisions. Democrats will need to fight hard for these important provisions," he wrote.
Key background
Congress has passed four major pieces of legislation to combat the economic damage caused by the coronavirus pandemic. The first two bills shored up funding for testing and small business loans, established tax credits for paid sick leave and expanded unemployment benefits. Those were followed by the $2.2 trillion CARES Act in March, the largest relief bill in American history. After that, Congress passed a $484 billion "interim" bill to replenish emergency funding for small businesses after the Paycheck Protection Program, a small business rescue program established by the CARES Act, ran out of money in just two weeks due to overwhelming demand. McConnell has said the next stimulus bill Congress passes will be the last. House Democrats passed their proposal—the $3 trillion Heroes Act—in May, but Senate Republicans did not seriously consider the bill.
Further reading
Report: Trump Wants To Block Funding For Virus Testing, CDC In Next Stimulus Package (Forbes)
White House Says Discussions For Next Stimulus Bill To Start 'In Earnest' This Week (Forbes)
100 Republicans And Democrats Send Letter To IRS Asking For Fix To Stimulus Payment Problems (Forbes)
Senate Democrats Propose $350 Billion In Coronavirus Aid For Communities Of Color. Here's Exactly What That Would Look Like. (Forbes)