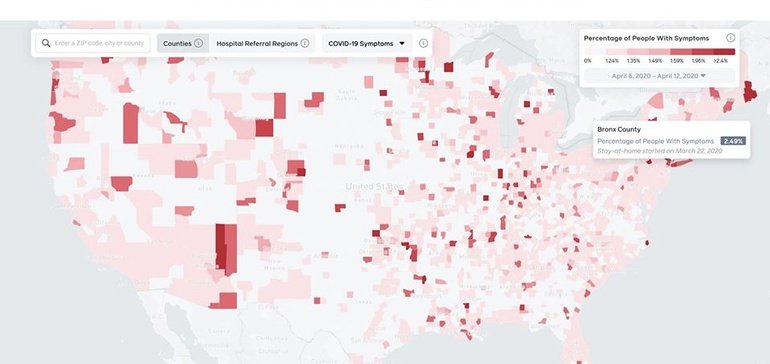 Facebook, in combination with Carnegie Melon, has this week released the first of its new COVID-19 symptom tracking maps, which may assist authorities in planning for future break outs by highlighting where groups of individuals are experiencing coronavirus symptoms throughout the United States.

The maps use self-reported sign information from Facebook users, then pin that information onto map locations, highlighting crucial locations of prospective spread.
That can offer essential early indications of possible issue locations – as described by Facebook CEO Mark Zuckerberg:
" Comprehending how COVID-19 is spreading out is important for local governments and public health authorities as they allocate scarce resources like ventilators and PPE, and ultimately to decide when it is safe to begin re-opening different locations. Researchers think these sign study maps can be an essential tool in making these decisions."
Facebook began gathering this self-reported information a couple of weeks back via a brand-new News Feed timely requiring user participation.

Facebook particularly notes that the reaction data is sent to scientists at Carnegie Mellon, and is not available by Facebook at any phase.
And the responses, thus far, have actually been appealing – based on Facebook:
" On Monday, the team at Carnegie Mellon is publishing its initial findings They're getting around 1 million reactions a week in the US, and the outcomes are promising. They associate with openly offered information on verified cases, which suggests this data can assist predict where the illness will spread. They can likewise be used to build in-depth county-by-county insights. The results show, for instance, that in some New York City suburban areas, an approximated 2 to 3%of individuals are experiencing COVID-19- like symptoms."
The project is actually similar to the 'How We Feel' App, which was established, in part, by Pinterest CEO Ben Silbermann, and was launched earlier this month to assist in COVID-19 sign tracking.

The principle here is the very same – by tracking self-reported signs, you can theoretically provide more insight into probable areas of break outs, assisting authorities to plan their action. A limitation of 'How We Feel', however, is that it needs individuals to download a new app, and it needs a lot of individuals to use it to be valuable – which is an issue that Facebook doesn't have as the survey is built into the most used social networks platform on the planet.
Interestingly, Instagram founders Kevin Systrom and Mike Krieger have actually also launched a brand-new app which tracks how quick COVID-19 is spreading in each United States state.
Facebook's tool, specifically, provides the essential value of scale – which is the same as what the upcoming Google/Apple data-tracing partnership supplies, and the crucial element that's required to get true oversight and understand the infection' effects gradually and area. In this respect, Facebook's tool could undoubtedly show extremely important, especially as authorities want to move into the next phase of relieving lockdown measures and staying on top of outbreaks in order to avoid overloading local health resources.
The next stage, keeps in mind Zuckerberg, is mapping these exact same patterns globally, which Facebook will begin from this week.
The initial outcomes highlight the prospective worth of this tool – and with so many Facebook users taking the survey, this might wind up being a crucial element in global COVID-19 reaction. Numerous federal governments are establishing their own tracing services, however once again, Facebook's scale could assist to ease some of the concern in this respect, and, at the least, offer key notifies and indications of prospective areas of concern.
You can take a look at the initial Facebook/Carnegie Mellon COVID-19 symptom maps here.