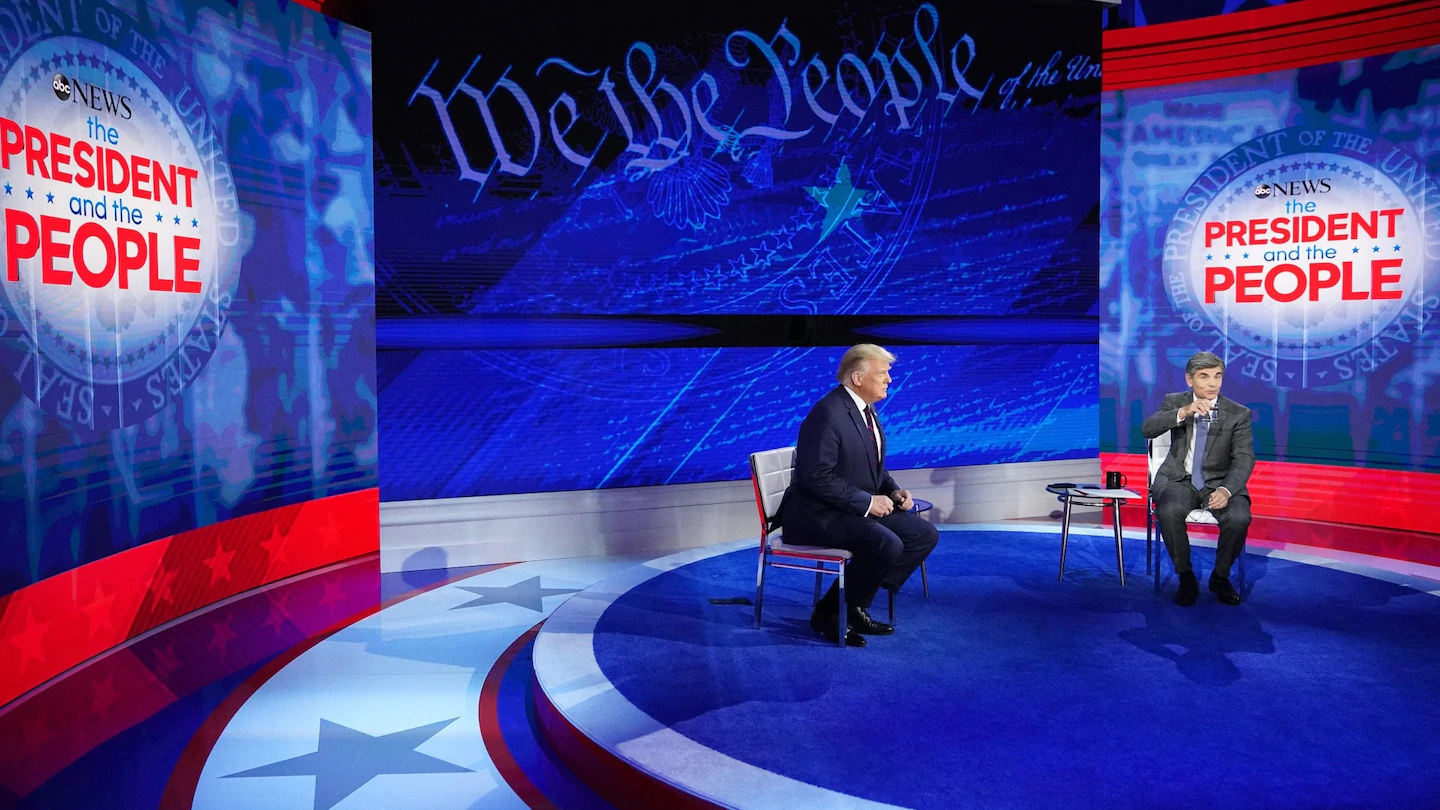 Democratic presidential nominee Joe Biden plans Wednesday to deliver remarks on developing and "equitably distributing" a coronavirus vaccine, while President Trump hosts a call with Jewish leaders and helps House Republicans raise money as they make an uphill push to retake control of their chamber.
The events follow a day in which Trump at a town hall event praised his handling of the pandemic and Biden sought to shore up support among Latino voters. Meanwhile, new polling shows Biden with a strong lead in Minnesota and a tighter race in Wisconsin, another key battleground state.
With 48 days until Election Day …
September 16, 2020 at 11:19 AM EDT
'Jim, you didn't make a mistake': Trump defends CNBC host who addressed Pelosi as 'Crazy Nancy'
Trump on Wednesday tweeted in support of CNBC host Jim Cramer, who one day earlier prompted a torrent of criticism after he called House Speaker Nancy Pelosi (D-Calif.) "Crazy Nancy" to her face during a live TV interview.
"Jim, you didn't make a mistake," Trump tweeted, sharing a clip of Cramer's apology. "It's true, and that's why you said it. No pandering!"
Pelosi (D-Calif.) was on CNBC on Tuesday morning to discuss the negotiations over a new round of coronavirus relief legislation. At one point in the interview, Cramer questioned Pelosi about a CNN interview days earlier in which she had said she was optimistic about the likelihood of a deal as talks between Trump administration officials and congressional Democrats remain stalled.
"Really?" Cramer said. "I mean, I thought I'd take it right off the table right this very minute. You've got [White House Chief of Staff] Mark Meadow[s] going and saying he was the skunk at the party. He didn't really — you know, he's gotten in the way between you and, I think, [Treasury] Secretary [Steven] Mnuchin. I mean, what deal can we have, Crazy Nancy?"
He then quickly added: "I'm sorry, I — that was the president. I have such reverence for the office, I would never use that term."
"But you just did," Pelosi said with a laugh. "But you just did."
Later Tuesday, after several tweets defending his actions, Cramer apologized on his show "Mad Money" for using the phrase, which is also employed frequently by Trump.
"I made a very stupid comment," he said. "It was a tongue-in-cheek attempt to make a point about the harsh tone of the negotiations in Washington. But it fell completely flat and I apologize for that. . . . I have an incredible amount of respect for both the speaker and the office she holds."
In one tweet, Cramer compared himself to Trump, writing: "you know what i love? the president goes unchecked, calls her Crazy forever. I call it as horrible and i am called out for doing so here. What a travesty. . ."
By Felicia Sonmez
September 16, 2020 at 11:03 AM EDT
Sanders, Schumer call for formation of bipartisan panel to ensure election integrity
Senate Minority Leader Charles E. Schumer (D-N.Y.) and Sen. Bernie Sanders (I-Vt.) on Wednesday called for the formation of a bipartisan Senate committee to hear testimony from officials and experts to ensure Americans that the November election will be "free from voter suppression and intimidation."
In a letter to Senate Majority Leader Mitch McConnell (R-Ky.), the two senators said that such a panel is necessary given that "there are some who are systematically undermining public confidence in the voting process, and irresponsibly fanning suspicions and conspiracy theories about the legitimacy of election results."
"We believe this issue is above partisan politics. It is about the very essence of American democracy. Let us come together, Republicans and Democrats, to ensure the security of our elections and assure Americans' confidence in the result," Schumer and Sanders wrote.
The senators said that any bipartisan committee should focus on three main themes: ensuring the security of vote-by-mail systems; examine the likely timeline for tabulating results; and prepare for various post-election scenarios.
The letter comes as Trump has repeatedly argued, without evidence, that widespread mail-in voting would lead to voter fraud. The president has also suggested that if Americans vote by mail, they should also attempt to vote in person, prompting criticism that he was encouraging the public to illegally vote twice. As he did in 2016, the president has once again declined to say whether he will accept the results of the election.
By Felicia Sonmez
September 16, 2020 at 10:00 AM EDT
McEnany seeks to clarify Trump comments on 'herd mentality' and the virus going away without a vaccine
White House press secretary Kayleigh McEnany sought Wednesday to clarify comments by Trump in a town hall event Tuesday at which he suggested the coronavirus would disappear even without a vaccine and referred to a "herd mentality" that could aid the process.
"It is going to disappear," Trump told host George Stephanopoulos, who hosted the ABC News event. "It's probably going to go away a lot faster now because of the vaccine. It would go away without the vaccine."
Pressed by Stephanopoulos about whether the virus would go away without a vaccine, Trump said, "Sure, over a period time," and he said a "herd mentality" would develop.
During an appearance Wednesday on Fox News, McEnany said Trump had been very clear.
"What the president said very clearly there is that a vaccine gets you there quickest," she said, before praising Trump's efforts to expedite the production of a vaccine. "He's tearing down bureaucracy. He's tearing down barriers and making sure we have a safe, effective vaccine in record time."
The Washington Post reported last month that one of Trump's top medical advisers — Scott Atlas, a neuroradiologist and fellow at Stanford's conservative Hoover Institution — has urged the White House to embrace a controversial "herd immunity" strategy to combat the pandemic, which would entail allowing the coronavirus to spread through most of the population to quickly build resistance to the virus.
The White House downplayed the report at the time, although Trump cited Atlas on Tuesday when pressed on which experts agree with him that the United States has turned a corner on the virus.
Trump apparently meant to reference "herd immunity" instead of "herd mentality."
"Well, the term 'herd immunity' is a medical term which means that when you have a certain percentage of a population with antibodies, you have herd immunity," McEnany said Wednesday. "It can be done via a vaccine or via prior illness that you develop the antibodies."
She did not elaborate on what role that might play in the administration's response to the pandemic.
By John Wagner
September 16, 2020 at 9:20 AM EDT
Concert giant to offer event venues as polling sites
Live Nation Entertainment, the concert promotion giant that owns or operates more than 140 event venues in the United States, said Wednesday that it is looking to offer more than 100 event spaces as polling places across the country as concerns over a shortage of polling locations grow.
The entertainment company said it was working with local officials to study the feasibility of using many of its event venues as polling sites, and that four locations — the Wiltern and Hollywood Palladium in Los Angeles, Emo's in Austin and the Buckhead Theatre in Atlanta — have been confirmed as polling locations so far. Another in Philadelphia, the Fillmore, is in the final stages of vetting.
The sites are being offered as traditional polling sites, such as senior centers, schools or other public buildings, become less accessible amid concerns about the novel coronavirus, and are being offered free of charge, according to the company.
"Core to what we do at Live Nation is helping amplify voices onstage around the world, and supporting voting is another important way we want to continue making voices heard," said Michael Rapino, the company's president and CEO, in a statement.
The company is partnering with groups such as More Than a Vote, a coalition of Black athletes and artists, as well as Civic Alliance, a nonpartisan coalition of businesses working to support voting initiatives.
More Than a Vote has been working with sports teams to make giant arenas available as voting venues. Milwaukee's Fiserv Forum and Atlanta's State Farm Arena, for instance, will serve as early voting locations.
Live Nation will also be working with the initiative Power to the Polls to give employees a day of paid time off to serve as poll workers to help address the shortage of workers expected on Election Day, as typically older volunteers who have often staffed polling sites are at more risk because of the pandemic. The entertainment company will join a growing number of employers giving workers the option to do the same, including Old Navy and Patagonia.
By Jena McGregor
September 16, 2020 at 9:05 AM EDT
Trump keeps dodging the crux of major issues, and that's showing in his reelection prospects
A consistent tack for Trump as he defends his handling of the coronavirus and race relations — two issues that are dragging down his reelection chances — is to dodge acknowledging how bad are both. Especially on the coronavirus, he is playing to his base above all else.
When it comes to the pandemic, Trump has been behaving for months as if it's on its way out the door. He is holding indoor rallies, inviting people to be largely maskless, and raising the risk that in the states he needs to win, he is playing a role in spreading the coronavirus rather than tamping it down.
By Amber Phillips
September 16, 2020 at 8:54 AM EDT
Pence heading to Ohio for 'Workers for Trump' rally
Vice President Pence plans to head to Ohio on Wednesday, as the Trump campaign seeks to shore up support in a Midwestern battleground state carried by the Republican ticket four years ago that appears in play this year.
Pence is scheduled to hold a late-afternoon "Workers for Trump" rally at the Muskingum County Fairgrounds, according to the campaign.
In 2016, Trump carried Ohio by eight percentage points over Democrat Hillary Clinton. A Washington Post average of recent polls from the state shows this year's race against Biden is tied.
By John Wagner
September 16, 2020 at 8:42 AM EDT
As Pentagon chief shows some independence, Trump launches attacks but leaves him in office
Trump's continued denigration of Pentagon officials highlights the fraught nature of his relationship with Defense Secretary Mark T. Esper weeks ahead of the election, as the president's remarks undermine his Pentagon chief and threaten to erode confidence in one of the nation's most trusted institutions.
Trump has considered firing Esper since at least June, according to three officials, when the defense chief disagreed with the president's plan to use active-duty troops to quell protests in the wake of the police killings of George Floyd and other Black civilians. Since then, Esper has made several decisions seemingly at odds with Trump.
"I think the president vacillates on whether he thinks Mark should go or not," said a senior Republican Party official, speaking on the condition of anonymity to discuss the sensitive matter candidly. "Sometimes, you know, Esper gets under his skin."
By Dan Lamothe, Missy Ryan and Paul Sonne
September 16, 2020 at 8:16 AM EDT
Biden campaign ramps up spending with new health-care ads
The Biden campaign said Wednesday that it is ramping up its spending on advertising in battleground states with new ads that include two in which real people recount the challenges of having a child with a preexisting condition and question whether their health care would change under another four years of Trump.
In one spot, a mother in Texas shares the story of her son who has leukemia. She decries Trump's efforts to repeal the Affordable Care Act, the signature health-care law passed under President Barack Obama.
"If Donald Trump gets rid of our health-care law, my son won't be protected," she says.
In another spot, a father in Arizona describes a heart condition his son has had since birth and questions Trump's commitment to those with preexisting conditions.
"I think that Joe Biden will be the person to protect Anthony and those with preexisting conditions," the father says.
The Biden campaign said the ads are part of $65 million in spending this week on paid media, including television, radio and print advertising.
Trump has repeatedly promised a new health-care plan and has yet to deliver one. In a town hall meeting on Tuesday night, he continued to insist that a plan he and Republicans deliver would protect preexisting conditions, even as his administration has sued to strike down Obamacare.
By John Wagner
September 16, 2020 at 8:11 AM EDT
Biden to deliver remarks on distribution of coronavirus vaccine
Biden plans Wednesday to deliver remarks on developing and "equitably distributing" a coronavirus vaccine as he seeks to return attention to an issue that polls show cutting in his favor.
His planned remarks in Delaware come as Trump is promising the rapid development of a vaccine — in an interview Tuesday, he said one could be ready before the election — while also facing questions about whether he is being motivated by politics.
Biden has assembled a team of advisers on the issue, some of whom worked in the Obama-Biden administration. Before his remarks Tuesday, Biden is scheduled to receive a briefing from public health experts, according to his campaign.
In recent weeks, Biden has criticized Trump on an array of issues related to the pandemic, including Trump's acknowledgment in Bob Woodward's book that he deliberately downplayed the deadliness of the virus. Biden has also highlighted the disparate impact of the virus on blue-collar workers and minority communities.
By John Wagner
September 16, 2020 at 8:07 AM EDT
Trump to host call with Jewish leaders, help House Republicans raise money
Trump plans to host a call with Jewish leaders in the Oval Office on Wednesday before helping House Republicans raise money as they make an uphill push to retake control of their chamber.
According to the White House, Trump will participate in a "High Holy Days Call" with Jewish leaders at 12:30 p.m. Eastern time.
In recent presidential cycles — including 2016 — exit polls have showed Jewish voters siding heavily with the Democratic nominee, but Trump has sought during his term to alter the equation.
On Wednesday night, Trump is scheduled to travel to Capitol Hill, where he will deliver remarks to the National Republican Congressional Committee Battleground Dinner, according to the White House.
By John Wagner
September 16, 2020 at 8:05 AM EDT
Analysis: Non-college educated women are fleeing Trump in Minnesota and Wisconsin, according to new Post-ABC poll
Trump loves the "poorly educated" — the non-college-educated White voters who overwhelmingly supported him in 2016. But they seem to be losing love for him in two key upper Midwestern battleground states seven weeks from the election, according to polling from The Washington Post and ABC News.
Biden holds a wide 16-point lead in Minnesota and a narrower six-point edge over the president among likely voters in neighboring Wisconsin, which went to Trump in 2016 by a slim 23,000 votes. In both states, Trump is having trouble replicating his success with non-college-educated White voters who helped carry him to the White House four years ago.
The narrowing gap in both states is being driven by non-college-educated women.
By Jacqueline Alemany
September 16, 2020 at 8:04 AM EDT
Biden holds a wide lead over Trump in Minnesota, new Washington Post-ABC poll finds
Joe Biden holds a wide lead over President Trump in Minnesota, according to a Washington Post-ABC News poll, with voters in the battleground state expressing greater faith in Biden than Trump to handle issues of racial equality, crime and violence at political protests.
The poll finds Biden leads 57 percent to 41 percent among Minnesota likely voters, a 16-point margin that contrasts with Biden's six-point edge in a Post-ABC poll conducted in Wisconsin over the same period.
Biden's big margin in the Minnesota poll warrants caution given his narrower lead in Wisconsin. Outcomes in these two states have been similar in recent presidential elections, differing by no more than four points in their vote margin since 2000.
By Scott Clement and Dan Balz
September 16, 2020 at 7:58 AM EDT
Post-ABC poll shows Biden holding narrow edge over Trump in Wisconsin
Joe Biden holds a narrow edge in the key battleground state of Wisconsin as Trump's law-and-order message has so far failed to translate into significant support or change the dynamic of the race there, according to a Washington Post-ABC News poll.
Trump has seized on the protests that erupted after last month's police shooting of Jacob Blake in Kenosha, denouncing the burning and looting that took place and warning of worse across the country if Biden is elected.
The poll shows Biden standing at 52 percent to 46 percent for Trump among likely voters and by 50 percent to 46 percent among all registered voters. Neither gap is significant, with a 4.5-point margin of sampling error among likely voters applying to each candidate's support.
By Dan Balz and Emily Guskin
September 16, 2020 at 7:56 AM EDT
High turnout and some left-wing wins in Delaware primaries
Delaware Democrats resoundingly nominated Sen. Christopher A. Coons for a second full term Tuesday, in a primary that shattered turnout records and saw the left that struggled in the Senate contest oust some incumbents down the ballot.
As of Wednesday morning, with some ballots still left to count, 119,861 votes had been cast in the primary between Coons and activist Jessica Scarane. That's 36,822 more ballots than were cast in the state's 2018 primary, when activist Kerri Evelyn Harris challenged Sen. Thomas R. Carper, in the first major race that pitted the left against Delaware's moderate Democratic establishment. Scarane ran more than 3,000 votes ahead of Harris, while Coons ran nearly 34,000 votes ahead of Carper.
That demolished Delaware's record for Democratic primary turnout, set in 2008, when Barack Obama defeated Hillary Clinton in the race for the small state's delegates. Republican turnout was also up over 2018, although lower than the party's 2016 presidential primary, when Donald Trump swept the state.
Scarane's campaign did not attract the national attention or investments of some other primaries this year, but it invigorated Delaware's left, which saw some success in other races. The left-wing Working Families Party endorsed challengers in four legislative primaries, and all four of them were in the lead as of Wednesday morning.
Two had already won. Activist Larry Lambert, who narrowly lost a 2018 race to Rep. Raymond Siegfried, defeated him easily in the higher-turnout environment. LGBTQ rights activist Eric Morrison defeated Rep. Earl Jaques by a landslide, after Jaques had criticized Morrison for performing as a drag queen. Challengers Marie Pinkney and Madinah Wilson-Anton led with some votes left to count. While not backed by the WFP, activist Sarah McBride easily won the Democratic nomination in the state's first state senate district, putting her on track to become the highest-ranking transgender elected official in the country.
By David Weigel