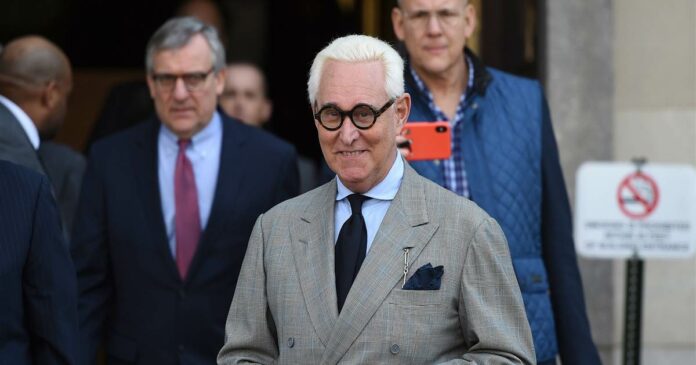 Like many of the actions President Donald Trump has taken since entering the White House, his decision Friday night to commute the sentence of former campaign aide Roger Stone was immediately polarizing.
Republicans and Democrats were quick to react, some congratulated Stone and Trump, while others decried political favoritism and a disregard for the rule of law.
"With Trump there are now two systems of justice in America: One for Trump's criminal friends and one for everyone else," Rep. Adam Schiff, D-Calif., said in a tweet.
"What we're seeing today is an appalling overture … from the president saying, 'If you lie for me, if you cover up for me, I will reward you. On the other hand, if you are a rat and you cooperate then like a Mafia boss, I will come after you," he told Rachel Maddow on MSNBC on Friday night.
Schiff, who led much of the impeachment hearings against Trump earlier this year, condemned the president's actions, saying that Stone lied and intimidated witnesses to hide Trump's exploitation of the Russian hack of his opponent's campaign.
Let our news meet your inbox. The news and stories that matters, delivered weekday mornings.
Stone was sentenced in February to 40 months in prison for lying to Congress during its investigation into whether Russia interfered with the American presidential election. He was spared that fate Friday.
"Roger Stone has already suffered greatly," the White House said in a statement. "He was treated very unfairly, as were many others in this case. Roger Stone is now a free man!"
Former Vice President Joe Biden, the presumptive Democratic presidential candidate, said the commutation was another example of Trump acting as though he is above the law. "Still true," Biden tweeted about a comment from 2019 in which he named Stone and others as Trump associates "who flout our laws."
"We shouldn't be surprised that he thinks he is above the law. We deserve better as a country," Biden said in the original tweet.
Senate Minority Leader Chuck Schumer, D-N.Y., labeled the commutation of Stone's sentence the work of "a lawless president who regards the Justice Department as his personal plaything."
"By refusing to hold President Trump accountable, the Republican Party bears responsibility for his lawlessness," Schumer said in a statement.
But congressional Republicans praised the move. Ranking House member Rep. Jim Jordan of Ohio tweeted that Stone's prosecution by "overzealous prosecutors was an outgrowth of the Obama-Biden misconduct.
"Like every president, President Trump has the constitutional right to commute sentences where he believes it serves the interest of fairness and justice," Jordan wrote in a tweet. "I support President Trump's decision to commute Roger Stone's sentence."
Former New York Mayor-turned-Trump attorney Rudy Giuliani said Stone's prison sentence was "horrendous in comparison to the proven acts."
"Ignore the Corrupt Media, this achieved justice," Giuliani tweeted.