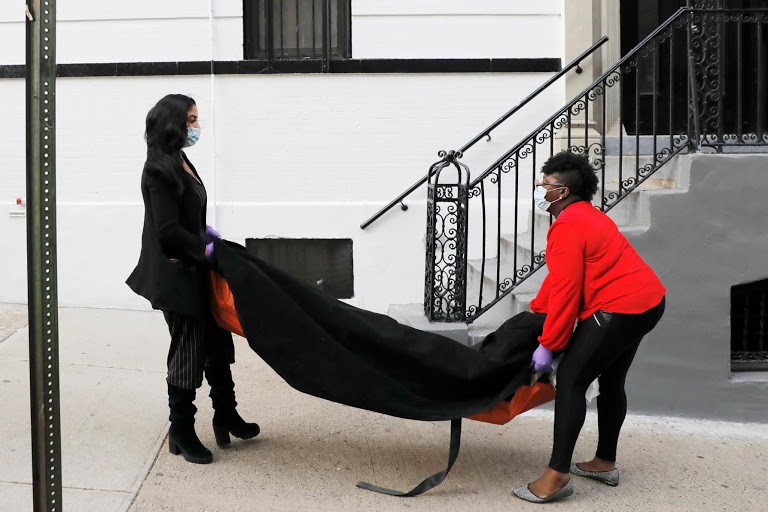 There are 48 bodies in the basement of the funeral house in Harlem. Forty are in cardboard boxes, prepared for cremation. The other 8 remain in the refrigerator, to be embalmed and buried. It will be weeks or months prior to they get either.
As health officials began burying COVID-19 victims in a mass grave on Hart Island during New York's worst week of death, the four female undertakers at the International Funeral & Cremation Service started turning bodies away.
Story
The funeral home in Harlem is one of the couple of permitting watchings for COVID-19 victims. Because of the pandemic, just 10 people can gather at a time; most households are larger so the ladies offer four-hour viewings, 10 people per hour. Families have to bring their own gloves and masks.
Jenny states the ladies need to view each other right now. The message, she states, is "restrict your compassion please, because we got ta relocation onto the next one. There's no time at all to stop."
Jenny's grandpa passed away of the coronavirus on April 6. A week later, on Excellent Friday, her auntie passed away. "Suspected COVID-19," her death certificate read. They were household so Jenny took care of both of them herself.
" I'm not the psychological type to inform you the fact," she states. "I don't want to sound uncaring but it's a task. It's what I do."
PICTURE EDITING MARIKA KOCHIASHVILI; TEXT MODIFYING Leela de Kretser and Lisa Shumaker; DESIGN JULIA DALRYMPLE.