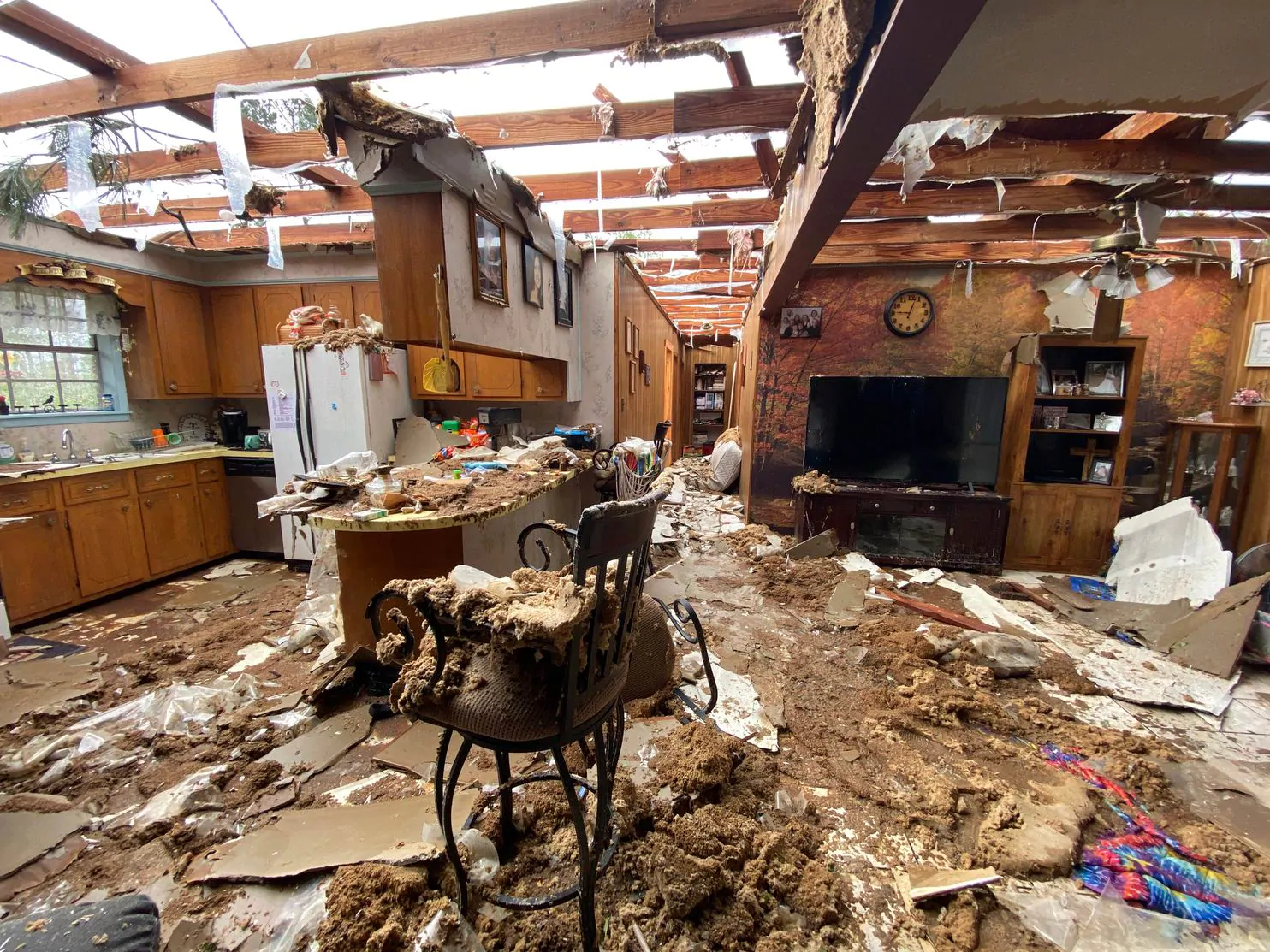 The storms resulted in more than 250 reports of severe weather, including several tornadoes. Up to eight inches of rain also fell.
more than 250 instances of severe weather (damaging winds, hail and tornadoes) were reported between Texas and South Carolina, and at least one person died in both Mississippi and Alabama. More than 45,000 customers were without power early Monday in these two hardest-hit areas.
Heavy flooding accompanied some of the storms, engulfing parts of the Interstate 20 corridor in Mississippi, Alabama and Georgia with more than a half-foot of rain.
One of the tornadoes — described by the National Weather Service in Jackson, Miss., as "large and extremely dangerous" — passed just 30 miles south of where a 2.25 mile-wide EF4 monster carved a deadly 69-mile-long path of destruction during last week's storms. The Mississippi Emergency Management Agency reported one person died as the twister passed through Marion County.
While most of the intense storms had moved off the East Coast Monday morning, strong to severe storms were pushing south across the northern and central Florida Peninsula, where a severe thunderstorm watch was in effect through 3 p.m. eastern. Several tornadoes had formed in association with these storms.
[Tornadoes swirl across parts of Florida, including Cape Canaveral]
Straight-line wind damage rivals power of tornado
Sunday kicked off with a lone severe thunderstorm south of Talladega Springs, Ala. It brought wind gusts likely topping 80 or 90 mph to Alexander City, which suffered widespread damage. Recreational vehicles were rolled onto their sides and windblown golf-ball-size hail stripped trees of their leaves in nearby Kellyton.
Then, Sunday evening, another storm with serious winds rolled through Dale, Coffee, Pike and Barbour counties in southeastern Alabama. Doppler radar estimated 100 mph wind gusts barely a quarter mile above the ground. Those two storms proved among the day's most damaging.
"It was definitely wind damage," said Jason Holmes, a meteorologist at the National Weather Service in Birmingham, Ala., when discussing the morning storms. "We're getting our group together [to conduct storm surveys]."
While damage from the evening storms in southeastern Alabama was primarily from straight-line winds perhaps in the form of a "macroburst," or extra-large downburst, there's the chance that a couple quick-hitting twisters could have spun up along the storm's leading edge as well.
"These damaging wind events can cover a lot more ground and affect a larger area by a tornado," Holmes said. "Just by the sheer affected area, they can be more impactful to a larger population. Some places are just getting the first light of day and seeing all the damage."
Tornado touchdowns in Texas and Mississippi
Earlier in the day Sunday, a tornado also developed southwest of Galveston, Tex., from a rotating supercell thunderstorm in nearby Brazoria County. The tornado touched down near the intersection of routes 35 and 36 outside of West Columbia, Tex., about 30 miles southwest of Galveston Bay. It was on the ground for two minutes.
The most potent storm of the day formed between 6 and 7 p.m. Central time, east of Interstate 55 and south of Highway 98 in south central Mississippi. That storm quickly amped up, dropping a large, powerful tornado as it churned toward areas just south of Hattiesburg, Miss.
The National Weather Service Storm Prediction Center cautioned "a potential long-track tornado [was] ongoing," estimating its peak winds to be between 120 and 170 mph based on Doppler radar.
The tornado passed near the town of Purvis, just about 30 miles southeast of where calamitous tornadoes razed the landscape and killed at least eight on April 12.
Last week's Mississippi tornado was nation's third largest on record]
only 1.6 miles apart swirled through Baldwin County, Ala.
Southwest of Mobile, five rotating "mesocyclones" were embedded within a highly-sheared squall line. Wind shear describes a change of wind speed/direction with height. Enough shear can cause storms, or elements within storms, to spin. Occasionally, that can cause a squall line to end up with kinks woven into it. Meteorologists call that a QLCS, or quasi-linear convective system.
Diving into my bathroom to shelter. Power is surging at my apt complex. @NWSMobile

— morganabigail (@morganabigail) April 20, 2020
An equally formidable QLCS affected southeastern Alabama. A pocket of potentially 80 to 100 mph gusts was blowing toward Fort Rucker, Ala., on Sunday night when the radar suddenly experienced communication issues. The likely culprit? A lightning strike.
"NWS forecasters are still receiving radar data into our systems and warnings are actively being issued," wrote the National Weather Service in Tallahassee.
The radar was back in service Monday morning.
Flooding rains dump eight inches
Heavy rainfall accompanied repeated rounds of storms that hugged a stationary front draped along the Interstate 20 corridor through Mississippi, Alabama and western Georgia. In Chilton County, Ala., 8.4 inches were measured, with 6.5 inches in Elmore County and several amounts topping 6 inches in Lee County.
Between 7 a.m. Sunday and 7 a.m. Monday, 7.79 inches fell in northern Russell County, Ala., while an arrow band of 6 to 7.5 inches was observed from Muscogee County to Houston County in Georgia.
Numerous flash flood warnings were issued because of heavy rainfall, including in some of the same areas affected by the tornadoes. Flash flooding was reported around Hattiesburg, Miss., where roads were closed and high water rescues were required.
Fewer tornadoes than expected
Overall, compared with Easter Sunday's outbreak, there was a quarter fewer severe weather reports that accompanied this most recent interlude of severe weather despite similar atmospheric parameters in place. The main reason? Storm mode.
Abnormally warm Gulf of Mexico could intensify the upcoming tornado and hurricane seasons]
Jason Samenow contributed to this article.