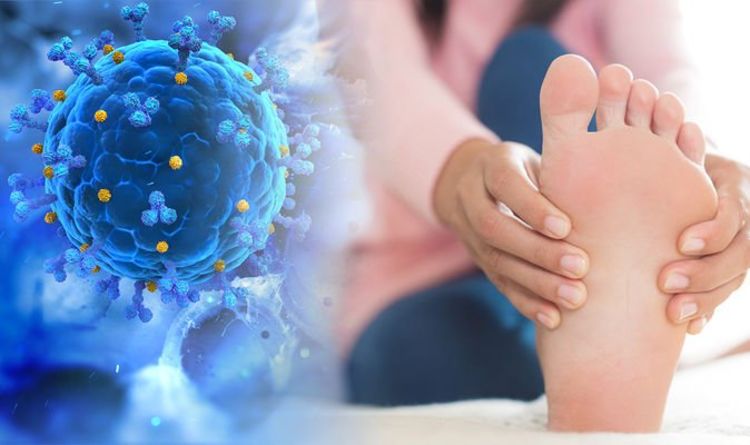 Coronavirus has actually been shown to have a range of signs. From a runny nose to nausea, the illness has been taking a trip down even more parts of the body. Now, there's seemingly a symptom present on your feet.
Medical experts are currently investigating whether individuals infected with COVID-19 show a particular sign of the disease on their feet.
The Spanish General Council of Authorities Podiatric doctor Colleges shared a statement recently detailing their observation.
The declaration stated lots of COVID-19 clients have "purple-coloured lesions" on their feet.
It continued that the marks are "comparable to chickenpox or measles".
Generally appearing around the toes, the marks are said to "heal on their own".
In addition, there can be a cluster of purple lesions or an isolated case of just one.
And there is no indication of where the mark once was once it has healed.
FIND OUT MORE: Coronavirus – do you have this pain in your testicles?

Coronavirus: Uncommon marks on the feet might be a sign of COVID-19( Image: Getty)
The "curious" purple sores have been observed in "Italy, France and Spain".
And the marks are apparently more common in children and adolescents.
Although the lesions are benign (not harmful), the statement added: "The Council of Podiatrists prompts its colleges and its members to be very watchful."
This is because the marks "might be a sign of COVID-19 detection that can help to prevent contagion".
DON'T MISS
Coronavirus – the fizzing pain in your body that could be COVID-19[SYMPTOMS]
Coronavirus symptoms: How to inform the infection is impacting your brain[SIGNS]
Coronavirus symptoms: Call 999 if you identify these signs on your face[LATEST]
If determined to be precise, spotting purple lesions on the feet might caution individuals when someone is infectious.
This, in effect, can fast-forward the isolation period, thus reducing the variety of individuals the infected individual comes in contact with.
As an outcome of this, less individuals would be exposed to the disease and it would assist to reduce pressure off the NHS.
This is because less people will have an adverse response to the infection at the same time.

Coronavirus: Purple lesions are seen on the feet of COVID-19 patients ( Image: The General Council of Authorities Colleges of Podiatrists)
The experts alerted they didn't have enough "scientific proof", as of yet, to say for particular that these sores are a main symptom of COVID-19
Other clinical symptoms of the disease, such as cough, fever and breathing distress requirement to be kept an eye on.
And anybody providing such signs can utilize the NHS 111 online service to learn what to do next.
The majority of cases of COVID-19 are moderate in nature, and just require rest at home.

Coronavirus: Feet lesions are present on some COVID-19 clients' feet ( Image: The General Council of Official Colleges of Podiatrists)
However, for anybody finding it hard to breathe, do call 999– as this is an emergency situation.
Although precise house screening packages aren't available to the UK public yet, symptoms are the only confirmation of the illness.
The World Health Organisation (WHO) state that fever, tiredness, cough, a runny nose, queasiness and diarrhoea can be symptoms of COVID-19
Although, some people might be asymptotic and show no signs of the infection at all.