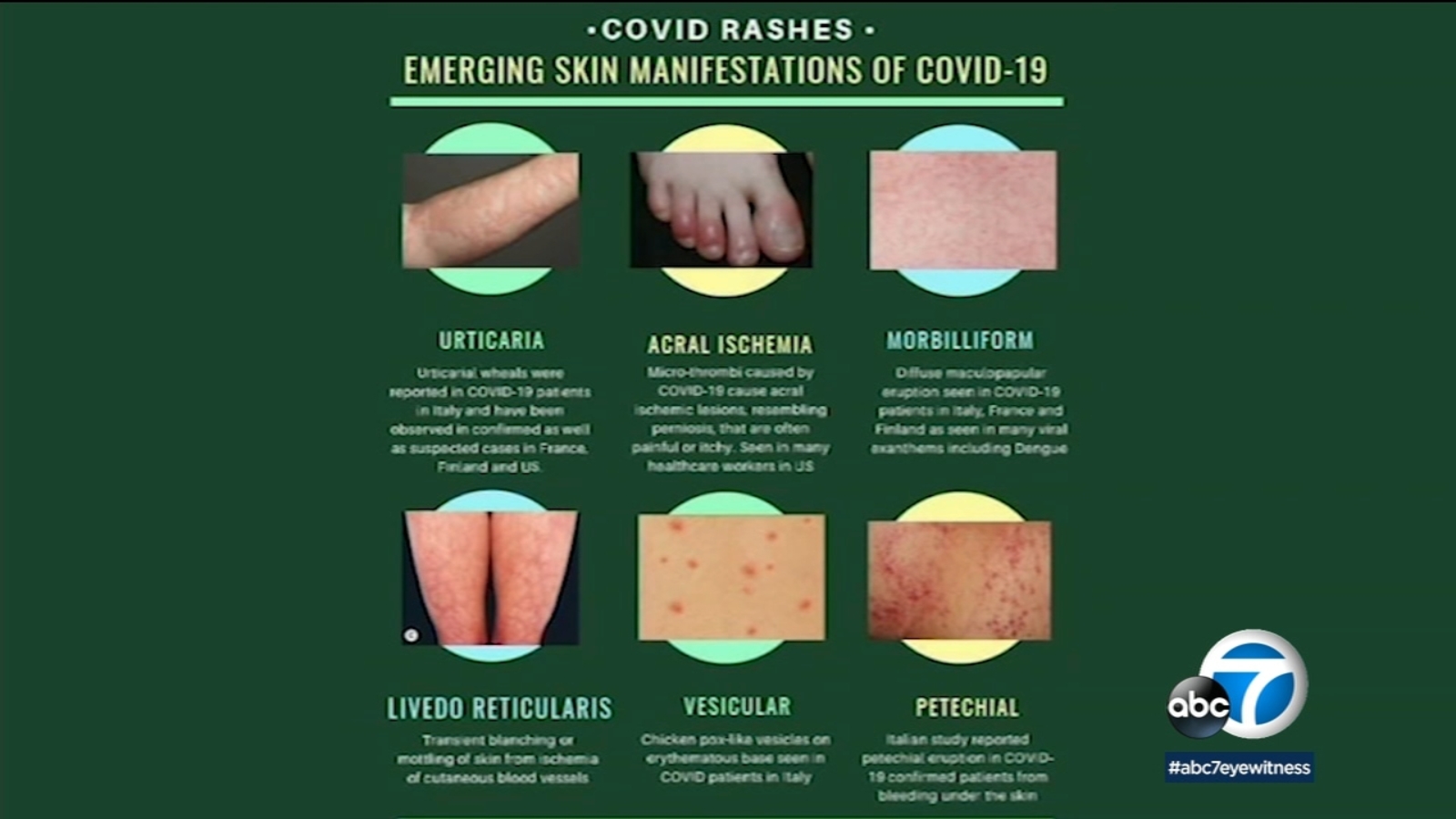 LOS ANGELES — Certain skin rashes are emerging as possible symptoms of the novel coronavirus, prompting additional research by some doctors and guidance by the American Academy of Dermatology.
"It just was so painful," said Jessica, a Los Angeles woman who contracted the novel coronavirus, describing painful red irritation on her feet. KABC-TV is identifying the woman only by her first name to maintain her privacy.
Jessica developed a cough and fever, but later exhibited other symptoms that have not been widely associated with the virus.
"I looked down, I was getting in the shower, I was like, 'Oh my gosh, my toe is turning blue," she recalled. "I felt like I had really bad blisters on it."
What does COVID-19 do to your body and why does it spread so easily?
When she tried to lightly scratch an itch, her blood vessels ruptured.
Jessica's dermatologist, Dr. Shirley Chi, was stumped — until she began examining research from overseas.
"When I first saw this mysterious rash, I just didn't know what to make of it," Chi said. "In northern Italy there was a study that showed that out of 148 patients at this hospital — none of which had gotten prior medication — one in five had a rash associated with their condition, COVID-19."
The American Academy of Dermatology has issued guidance regarding several different types of rashes that have been connected with COVID-19.
The symptoms range from hives to measles-like rashes to a condition resembling frostbite.
Chi emphasized the importance of individual patients contacting their doctor for treatment.
"That's why the American Academy of Dermatology is putting together a registry," and that's why it's important to contact your doctor if you have symptoms like this."
If you have a question or comment about the coronavirus pandemic, submit yours via the form below or here.
Get the latest news, information and videos about the novel coronavirus pandemic here
RELATED STORIES & VIDEOS:
Live updates about coronavirus outbreak in US, around the world
Coronavirus data: See how the curve of COVID-19 cases is bending in each Bay Area county
Everything you need to know about the Bay Area's shelter-in-place order
Coronavirus Doctor's Note: Dr. Alok Patel gives his insight into COVID-19 pandemic
Stimulus calculator: How much money should you expect from coronavirus relief bill
WATCH: ABC7's interactive town hall 'Race and Coronavirus: A Bay Area Conversation'
What Bay Area tenants need to know about rent payments, eviction amid COVID-19 outbreak
Here's how shelter in place, stay at home orders can slow spread of COVID-19
Coronavirus Timeline: Tracking major moments of COVID-19 pandemic in San Francisco Bay Area/
Coronavirus and the new normal of living in the San Francisco-Bay Area — COVID-19 Diaries
Happy hour goes virtual as people try to be sociable while social distancing during COVID-19 crisis
Coronavirus Outbreak: Here's why you should practice 'social distancing'
DRONEVIEW7: What the Bay Area looks like during the coronavirus shelter-in-place
ABC7's drive around San Francisco shows empty streets, businesses shuttered
Symptoms, prevention, and how to prepare for a COVID-19 outbreak in the US
List of stores, companies closing due to coronavirus pandemic
Canceled late fees, free services available amid COVID-19 crisis
Here's how you can help during COVID-19 pandemic
How to maintain learning during school closures
No masks but here are 100+ products that may help protect you against novel coronavirus germs
Here's a look at some of history's worst pandemics that have killed millions
Asian community fighting racism, xenophobia, bigotry as world fights COVID-19
Copyright © 2020 KABC-TV. All Rights Reserved.