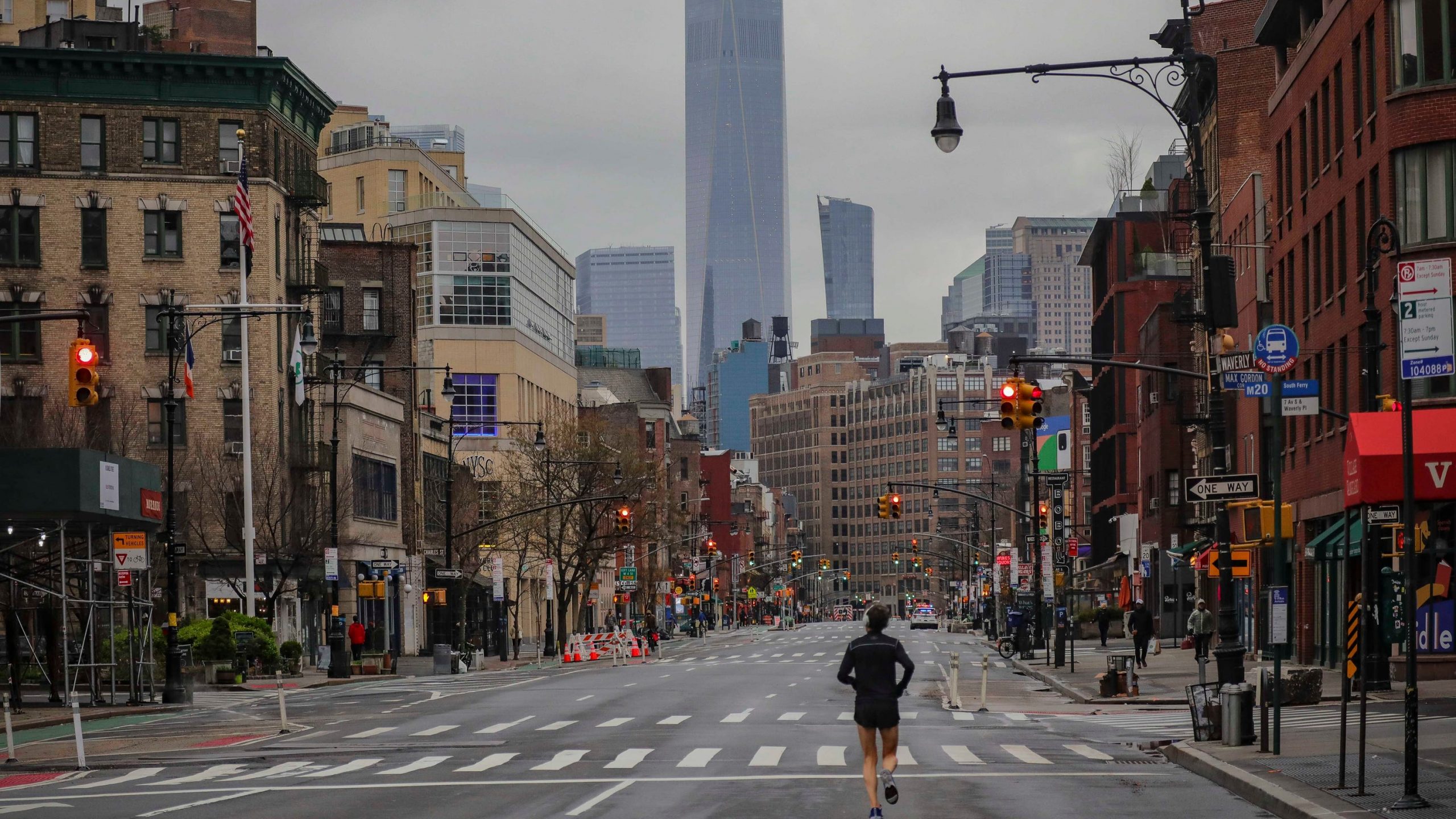 CLOSE


Multiple states across the country have seen protests as stay-at-home orders meant to curb the spread of the coronavirus continue.
Wochit
The Senate was poised to pass a $450 billion stimulus package Tuesday and New York Gov. Andrew Cuomo will meet with President Trump at the White House after some fiery exchanges over their respective handling of the coronavirus pandemic.
Senate Minority Leader Chuck Schumer said a deal had been reached on a stimulus package that will supplement the $2 trillion package passed last month.
Cuomo has been resolute in refusing to ease restrictions in his state, the epicenter of the pandemic in the United States. Governors in several states, however, have begun allowing some businesses to reopen.
Cuomo has repeatedly chastised the president for asking governors to lead the struggle against the outbreak without federal resources. Trump responded this week by tweeting the governor should "spend more time 'doing' and less time 'complaining.'"
Almost 1,500 Americans died Monday, raising the toll to more than 42,000 among almost 800,000 confirmed cases, according to John Hopkins University data. New York state has suffered more than one-third of the deaths.
The number of worldwide coronavirus cases was nearing 2.5 million Tuesday; there have been more than 170,000 deaths.
Our live blog is being updated throughout the day. Refresh for the latest news, and get updates in your inbox with The Daily Briefing. More headlines:
• 'I'm back': CNN's Chris Cuomo reemerges from basement after three weeks of coronavirus isolation.
• Antibody tests: What are they? Will help Americans return to normal?
• Testy debate: Trump says Maryland governor didn't understand testing situation.
• Fauci says protests against lockdowns could end up having opposite effect.
• When will a second wave of the coronavirus hit? What will it look like?
• Ordering packages online?Don't worry, it's still safe.
• Staying Apart, Together. Sign up for our newsletter on coping with a world changed by coronavirus. 📧
Schumer: Deal struck on $450 billion stimulus package
Essentials of a $450 billion stimulus deal providing money for small businesses, hospitals and coronavirus testing has been struck and will win Senate approval today, Sen. Chuck Schumer, D-NY, said Tuesday. Schumer told CNN the White House agreed to reserve some of the money for small businesses in rural area and "mom and pop" stores. The bill includes $75 billion for hospitals but nothing for states whose budgets have been decimated by the economic downturn. The White House agreed to take that up with the next bill, Schumer said.
"They are still dotting the 'i's and and crossing the 't's but ever major issue was resolved," Schumer said. "I believe we will pass it this afternoon at 4 p.m."
Poll: Thumbs down to Trump; don't expect safe gatherings before June
A majority of Americans say it could be June or later before it will be safe for larger gatherings to take place again, according to a Washington Post-University of Maryland poll. Most Americans — 54% — give President Donald Trump negative marks for his handling of the outbreak. By contrast, 72% of Americans give positive ratings to the governors of their states for the way they have dealt with the crisis, with workers also rating their employers positively.
Stocks struggle as oil prices plunge
U.S. stocks skidded Tuesday after the price of U.S. crude oil briefly plunged below zero, with demand collapsing as the pandemic leaves factories, automobiles and airplanes idled. The briefly negative oil price reflects a market so glutted that producers are willing to pay someone to take their oil away. The Dow industrials fell more than 2% when the market opened. Unconfirmed reports Tuesday that North Korean leader Kim Jong Un was in fragile condition after surgery added to the jitters. But South Korea's government said Kim appeared to be handling state affairs as usual.
Trump says he will temporarily suspend immigration to 'protect jobs'
President Trump tweeted late Monday that he was temporarily suspending immigration to the U.S. The president cited the need to protect jobs in light of "the attack from the Invisible Enemy," a reference to the ongoing coronavirus pandemic.
"In light of the attack from the Invisible Enemy, as well as the need to protect the jobs of our GREAT American Citizens, I will be signing an Executive Order to temporarily suspend immigration into the United States!" Trump tweeted.
Over the past weeks of the crisis, which has seen many states shut down, the administration has made moves to clamp down on asylum seekers and immigrants seeking entry into the country. Critics contend that Trump is using the crisis, which has killed more than 40,000 Americans and paralyzed the economy, to further his America First policies.
– Marco della Cava
Tennessee, Georgia, S.C. to gradually reopen
Tennessee Gov. Bill Lee, South Carolina Gov. Henry McMaster and Georgia Gov. Brian Kemp of Georgia announced various measures Monday aimed at easing restrictions on some businesses in their states.
Lee said his state's stay-at-home order will not be extended past April 30, and that some businesses around the state will begin reopening next week: "For the good of our state, social distancing must continue, but our economic shutdown cannot."
McMaster announced a plan called "Accelerate South Carolina" that allows clothing, department, furniture, jewelry and sporting goods stores, as well as florists and flea markets to reopen at reduced capacity starting today. He also gave local officials the authority to open their beaches.
Kemp said he was allowing certain businesses to reopen on Friday, including gyms, fitness centers, bowling alleys, barbers, cosmetologists and massage therapists.
– Natalie Allison, Nashville Tennessean
South Carolina, North Carolina beaches: What the rules are as some restrictions are eased
Most stimulus qualifiers haven't seen any money yet
Congress and the White House are kicking the tires on a new round of stimulus payments, but more than half of the people who qualify have yet to receive any cash from the first round. Some seniors who receive Social Security retirement benefits via direct deposit are expected to see that money associated with the Economic Impact Payments hit their accounts sometime this week, possibly next, federal officials say. Also, the IRS will begin issuing paper checks this week to people who have not provided direct deposit information but have a mailing address on record, according to an April 16 report by the House Committee on Ways & Means.
– Susan Tompor, Detroit Free Press
CLOSE


Here is how the federal government is stepping in to support small businesses and health care providers.
USA TODAY
Tom Brady cited, booted from Tampa park
Six-time NFL champion quarterback Tom Brady was unceremoniously kicked out of a Tampa park while working out, Mayor Jane Castor revealed. Brady recently signed with the Tampa Bay Buccaneers after two legendary decades with the New England Patriots. Castor said city parks are closed due to the coronavirus outbreak and that park staff routinely patrol the parks for violators.
"They patrol around just to make sure people aren't doing contact sports and things and saw an individual working out," Castor said. "And she went over to tell him that it was closed and it was Tom Brady. "Well, there ya go … he has been cited."
– Colin Liotta, Bucs Wire
Germany cancels Oktoberfest
Germany's Oktoberfest is canceled, a victim of the pandemic. Markus Söder, Bavaria's minister president, and Munich Mayor Dieter Reiter announced the news Tuesday. The German beer festival, scheduled to open Sept. 19 and run through Oct. 4, expected nearly 6 million guests. Germany has seen about 150,000 cases of coronavirus and 4,862 people have died, according to Johns Hopkins data.
"It hurts, it's such a pity," Söder said of the cancellation. "We have agreed that the risk is simply too high."
– Morgan Hines
Coronavirus has been here for 3 months. What now?
Three months ago Tuesday, the U.S. confirmed the nation's first case of what was then called the "novel" coronavirus – a Washington state man in his 30s who had recently returned from Wuhan, China, the epicenter of a seemingly distant illness that had killed six people.
"What's transpired since then has really gone beyond what anyone could imagine," said Dr. Jay Cook, chief medical officer at Providence Regional Medical Center Everett, which received the first patient. "And the story's still playing out." Read more.
– Grace Hauck
Autoplay
Show Thumbnails
Show Captions
has emerged from isolation. Cuomo, 49, had been holed up in his basement, away from his family but still appearing on TV while struggling with the infection. His wife Cristina Greeven Cuomo later also tested positive. But in a video shared to his Instagram account Monday night, Cuomo, the brother of New York Gov. Andrew Cuomo, revealed he had been cleared by the Centers for Disease Control and Prevention to head upstairs.
"Alright, here it is: The official re-entry from the basement," he said while emerging from the bottom floor and walking over to greet his wife and children. "This is what I've been dreaming of, literally, for weeks."
– Hannah Yasharoff
More coronavirus news and information from USA TODAY:
College students were promised aid in the coronavirus stimulus. It still hasn't arrived.
• Reopening America: What states are relaxing social distancing restrictions?
'It's carnage': Crematoriums are running around the clock.
Fact check: Herd immunity would not fully stop the spread of coronavirus.
Your one-stop guide to COVID-19: From symptoms to safety, rumors to reality.
Colleges can't say whether they'll open in fall 2020.And students are already tired of virtual learning.
President Donald Trump called to 'liberate' three states: Republican and Democratic governors aren't happy.
Mapping coronavirus: A trajectory chart for all 50 states, the District of Columbia, Guam, the Virgin Islands and the Northern Mariana Islands.
'We hear you, Dad': A daughter stays on the phone for hours and hours as her father dies alone from coronavirus.
Coronavirus Watch: Join our Facebook group.
'COVID toes' latest symptom of virus
Doctors have identified a new symptom of the coronavirus informally dubbed "COVID toes." The new symptom – a presence of purple or blue lesions on the patient's feet and toes – is puzzling infectious disease experts who say it seems to appear in patients who don't exhibit other symptoms.
"They're typically painful to touch and could have a hot burning sensation," said Dr. Ebbing Lautenbach, chief of infectious disease at the University of Pennsylvania's School of Medicine.
– Adrianna Rodriguez
California legislators demand more answers about COVID-19 response
In a hearing that stretched more than four hours Monday, California's Assembly Budget Committee held its first legislative oversight hearing on how Gov. Gavin Newsom plans to lead the state through the coronavirus pandemic — and how an estimated $7 billion in emergency expenses are being spent.
With the deadline to rework the state's budget just weeks away, the 11 legislators spread across the committee room expressed frustration over how little information they have received so far.
While most of the legislators took time to champion the governor's quick actions to issue statewide social distancing orders and success at "flattening the curve" of California's confirmed cases of the deadly COVID-19, they said they had largely been left out of key-decisions — and that often, they learned about statewide orders from the media or in real-time during Newsom's daily updates.
– Gabrielle Canon
Autoplay
Show Thumbnails
Show Captions