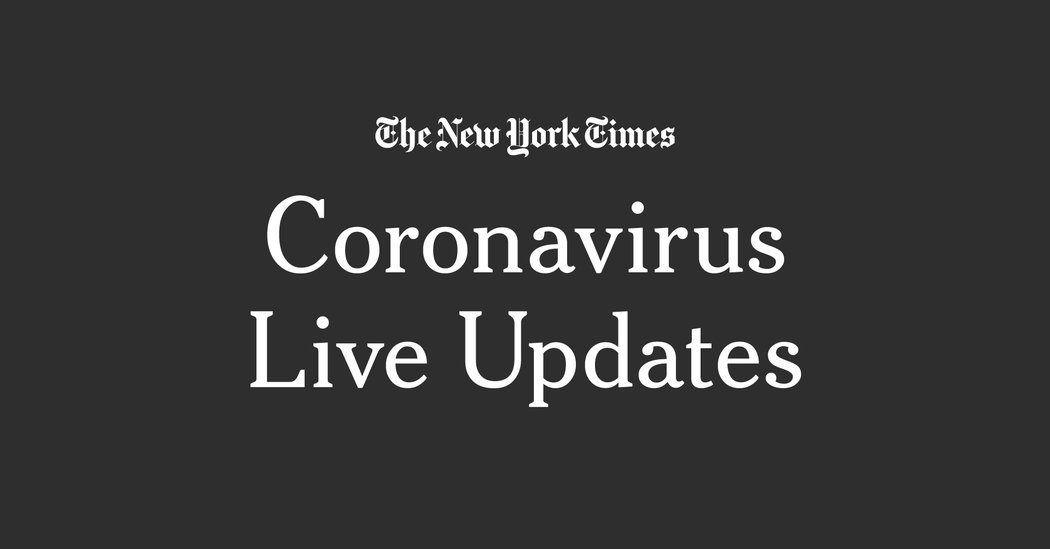 struck a deal on a $484 billion relief package that would replenish a depleted loan program for distressed small businesses and provide additional money for hospitals and coronavirus testing.
The Senate was on track to quickly pass the measure later in the afternoon without a formal vote, with the chamber in recess because of the pandemic.
President Trump had urged both chambers to quickly approve the agreement, writing on Twitter that once he signed the legislation into law, discussions would begin over providing relief for state and local governments, infrastructure investments, tax incentives for restaurants, entertainment and sports and payroll tax cuts, the latter of which has been repeatedly rejected by lawmakers in both parties.
The compromise would provide $310 billion to replenish the Paycheck Protection Program, which was created by the stimulus law and offers guarantees for forgivable loans to small businesses if a majority of the money is used to retain employees, according to text released less than two hours before the Senate was set to approve it.
It included several concessions Democrats had demanded as conditions of agreeing to steer more money to the small business loan program, including a requirement that the administration prepare a national coronavirus testing strategy.
The agreement would also add $60 billion for the Small Business Administration's disaster relief fund, and farms and other agriculture enterprises would now be considered eligible. It would steer $75 billion to hospitals and $25 billion to testing, including resources for states. But it did not include additional funds for state and local governments or more money for food assistance benefits, which Democrats had pushed for.
The House was planning to take up the agreement on Thursday, which would clear it for Mr. Trump's signature.
Trump is expected to announce a pause in issuing green cards, but backed off plans to also halt guest worker programs.
The president is expected on Tuesday evening to announce a temporary pause in the issuance of most green cards, a move that would close the United States off to tens of thousands of people seeking to join family members or accept employment during the crisis, a person familiar with the president's plans said.
But Mr. Trump, who declared his intention to "suspend immigration" in a late-night tweet on Monday, has backed off plans to also halt guest worker programs that bring farm laborers, high-tech employees and others to the United States using special visas.
Business groups had exploded in anger on Tuesday at the threat of losing their access to foreign labor.
Instead, the executive order — which Mr. Trump is expected to announce during the task force briefing on Tuesday — will focus on preventing people from obtaining permission to live and work in the United States.
Last year, about one million people were granted green cards, though the order will not bar all of them. American citizens seeking to bring their children or spouses to the United States would still be allowed to do so, the person said.
But the path to winning permanent legal status in the United States would be blocked for most other foreigners, including the relatives of current green card holders and those seeking green cards based on a job offer, the person said.
Mr. Trump's expected announcement prompted a fierce reaction from immigration rights advocates, who accused the president of using the economic fallout from the pandemic to carry out a broad assault on the nation's legal immigration system and provide a highly volatile campaign message that will help stoke populist anger among his core supporters as he heads toward Election Day in November.
"This is both a political act to demagogue and distract from his awful handling of the Covid-19 crisis and lack of testing," said Todd Schulte, the president of FWD.us, a technology group that advocates for immigration, "and it is also a policy effort by hardliners to use this crisis to enact their awful, decades-old wish list to radically slash immigration."
But the decision not to block guest worker programs — for now — is a concession to the backlash from business groups who assailed the White House on Tuesday. Jason Oxman, president of the Information Technology Industry Council, a tech industry trade group, said in a statement earlier on Tuesday that "the United States will not benefit from shutting down legal immigration."
Mr. Trump still could block some of the guest worker programs in a second phase of immigration restrictions because of the pandemic, the person said, but doing so will not happen immediately.
The record oil market collapse is continuing.
A bust in the oil market, the likes of which the industry has never seen, worsened on Tuesday as traders were gripped by fear that crude output remained far too high and storage was quickly running out.
The futures contract for West Texas Intermediate crude to be delivered in May fell on Monday into negative territory — a bizarre move that has never happened before. In other words, some traders were willing to pay buyers to take oil off their hands.
But other benchmarks of the price of crude remained much higher (closer to $20 per barrel), suggesting that the negative price was partly a result of how oil is traded, with different prices set for crude that will be delivered at different points.
The rest of the oil market also crashed on Tuesday. The West Texas Intermediate contract for June delivery sank more than 50 percent to below $10 a barrel, and Brent crude, the international benchmark, was down about 21 percent.
Demand for oil is disappearing; despite a deal by Saudi Arabia, Russia and other nations to cut production, the world is running out of places to put all the oil being pumped out, about 100 million barrels a day. At the start of the year, oil sold for more than $60 a barrel.
Refineries are unwilling to turn oil into gasoline, diesel and other products because so few people are commuting or flying, and international trade has slowed sharply. Oil is already being stored on barges and in any nook and cranny companies can find. One of the better parts of the oil business these days is owning storage tankers.
"I'm just living a nightmare," said Ben Sheppard, the president of the Permian Basin Petroleum Association, which represents shale oil companies in the area of Texas and New Mexico that became the world's largest oil field last year.
The sell-off in oil sharpened after the Texas Railroad Commission declined on Tuesday to force oil producers in the state to cut production. While one commissioner wanted to cut production by 20 percent, the other two members of the commission said they needed more legal advice before acting. The commission used to regularly manage oil production but hasn't done so since the early 1970s.
Stocks on Wall Street fell for a second-straight day. The S&P 500 dropped about 3 percent on Tuesday, its biggest daily decline in three weeks. Major European markets were 3 percent to 4 percent lower.
The two-day slump was yet another shift in sentiment for the stock market as it searches for a clear path forward during the crisis.
Georgia's reopening plan is condemned as more states move to relax rules.
A plan by Georgia's governor to begin reopening the state faced widespread criticism on Tuesday as public health experts — backed by some elected officials in both parties — warned that the virus had not leveled off enough to ease restrictions imposed to curb its spread.
Gov. Brian Kemp said Monday that he would allow certain businesses, including gyms, nail and hair salons, bowling alleys and tattoo parlors, to begin operating as soon as Friday. Under Mr. Kemp's approach, which he said he approved because he believed the situation had sufficiently stabilized, dine-in restaurants, theaters and other entertainment venues could resume operations next Monday.
But some Georgia mayors, barred from issuing their own restrictions, urged residents to ignore the reopenings sanctioned by Mr. Kemp and stay at home.
Mr. Kemp is not alone among governors in seeking to relax restrictions. South Carolina is pressing ahead with a partial reopening on Tuesday, just two weeks after restrictions were put in place, of retail shops that had been deemed "nonessential," such as sporting goods, book and craft stores. Beaches also were allowed to reopen in the state, which has recorded nearly 4,000 cases and more than 100 deaths.
On Folly Island, a seven-mile-long barrier island outside Charleston with a single bridge access, Mayor Tim Goodwin was struggling with the implications of the governor's plan. Like most beach towns in the area, it plans to keep its roadblock to non-residents but open beaches to people who live or work on the island. Mr. Goodwin and mayors of neighboring islands may let in non-residents, but he said he would base his decision on advice from scientists.
He said he and the other mayors recently shared a photo of the fictional Mayor Larry Vaughn from "Jaws," who faced intense pressure to reopen beaches despite obvious warning signs — with the result that visitors died in the teeth of the shark. "Every time they talk about reopening something here, I hear that theme music from 'Jaws' in my head," Mr. Goodwin said.
The governors of Ohio and Tennessee have also taken early steps toward reopening their states. Mr. Kemp, though, was the target of some of the most ferocious criticism on Tuesday.
Mayor Keisha Lance Bottoms of Atlanta, the capital and the site of a recent surge in cases, told ABC News that she would keep asking "people to continue to stay home, follow the science and exercise common sense."
On CNN, Mayor Hardie Davis Jr. of Augusta said that he had been caught off guard by the governor's decision and questioned the wisdom of it.
He pointed out that gyms, barbershops and salons were "places where we're all in close proximity to one another," adding, that "without a series of educational efforts to those industries, it's going to be extremely difficult for us to continue to flatten the curve."
Mr. Kemp, who has been keen to help alleviate the economic anguish the statewide restrictions helped create, said that stores were not reopening for "business as usual," noting that social distancing rules still must be enforced, and that businesses should check employees' temperatures for fevers and ramp up sanitation efforts.
The development, he said, was "a small step forward and should be treated as such."
But Senator Lindsey Graham, Republican of South Carolina, still expressed alarm, writing on Twitter that he feared "our friends and neighbors in Georgia are going too fast too soon."
"We respect Georgia's right to determine its own fate, but we are all in this together," Mr. Graham wrote. "What happens in Georgia will impact us in South Carolina."
Georgia has recorded more than 19,000 confirmed cases, and more than 770 deaths, with many concentrated in the counties making up the Atlanta area, which have a combined total of more than 6,000 cases and 200 deaths.
As other states moved to ease restrictions, Gov. Charlie Baker of Massachusetts, a Republican, said Tuesday that schools in his state would remain closed through the end of the school year. "It's the right thing to do considering the facts on the ground associated with the Covid-19 pandemic," he said.
New antibody testing studies show higher number of infections than expected.
Two new studies using antibody testing to assess how many people have been infected turned up numbers higher than some experts had expected.
Both studies were performed in California: one among residents of Santa Clara County, south of San Francisco, and the other among residents of Los Angeles County. In both cases, the estimates of the number of people infected countrywide were far higher than the number of confirmed cases.
In the Santa Clara County study, researchers tested 3,330 volunteers for antibodies indicating exposure. Roughly 1.5 percent were positive. After adjustments intended to account for differences between the sample and the population of the county as a whole, the researchers estimated that the prevalence of antibodies fell between 2.5 percent and a bit more than 4 percent.
That means that between 48,000 and 81,000 people were infected in Santa Clara County by early April, the researchers concluded.
In Los Angeles County, researchers conducted antibody tests for two days at six drive-through test sites in early April and estimated that between 2.8 percent to 5.6 percent of the county's adult population carried antibodies. If accurate, that would mean that 220,000 to 442,000 residents have been exposed.
By comparison, only 8,000 cases had been confirmed in the county at that time the testing was done.
Antibody studies in other countries have produced similar numbers, noted Dr. John Ioannidis, a professor of medicine at Stanford University and an author of the paper on Santa Clara County.
If the numbers prove accurate, he added, the virus may be much less deadly than originally expected, with a fatality rate more closely resembling that of a bad flu strain than a pandemic of profound lethality.
Neither report has been peer-reviewed or published in a scientific journal, and both pieces of research have met with criticism. Both relied on volunteers, which may have skewed the results, and the investigators say they are now probing their data to see how significant this bias may have been.
They maintain, though, that so-called participation bias would not alter the data enough to negate the overall conclusions.
Many widely available antibody tests have been found to be inaccurate. The investigators say they validated the accuracy of the tests they used beforehand, and argue that the tests could not be so much in error as to invalidate the conclusions.
For vulnerable people, like those in nursing homes, the virus is a terrible new threat, the researchers said in interviews. But the new data suggest most adults will experience milder to asymptomatic infections.
Little is known about the transmissibility of the virus from asymptomatic adults, however. That may complicate scientific understanding of the virus' spread.
Still, with better estimates of the virus's prevalence, it may be possible to reopen society in a rational manner, said Neeraj Sood, vice dean of research at the University of Southern California Price School of Public Policy and an author of the Los Angeles County report.
"We can model the scenarios," he said. "We should not make decisions just based on I.C.U. mortality," adding, "I would want whoever makes the decision to make it holistically and based on the best evidence."
Puerto Rico has the lowest testing rate in the country.
Hobbled by government scandal and dysfunction at the start of the pandemic, Puerto Rico has performed an average of 15 tests a day for every 100,000 people, according to the Covid Tracking Project. That rate is lower than any state and more than 10 times less comprehensive than the testing effort in New York.
Public health experts fear the situation could leave the island uniquely vulnerable once it attempts to reopen. Puerto Rico has one of the strictest lockdowns in the country, which has kept hospitals from becoming overwhelmed with patients but has also required much sacrifice from Puerto Ricans enduring the 14th year of an economic recession.
"Everything has been delay and disorganization," said Dr. Carlos Mellado, a physician in San Juan, the capital, who has been treating patients. "We're still under a complete lockdown. People are starting to get desperate."
The health department, which is being led by its third secretary since March 13, has been double-counting some test results. It is also embroiled in a $38 million contracting scandal over antibody tests that never materialized. Federal agencies are investigating.
More than in other places where testing has been insufficient, experts say that the huge lag has left Puerto Rico blind to where it lies on its infection curve.
The American department store was already in trouble. Then the virus hit.
American department stores, once all-powerful shopping meccas that anchored malls and Main Streets across the country, have been dealt blow after blow in the past decade. J.C. Penney and Sears were upended by hedge funds. Macy's has been closing stores and cutting corporate staff. Barneys New York filed for bankruptcy last year.
But nothing compares to the shock the weakened industry has taken from the coronavirus pandemic. The sales of clothing and accessories fell by more than half in March, a trend that is expected to only get worse in April. The entire executive team at Lord & Taylor was let go this month. Nordstrom has canceled orders and put off paying its vendors. The Neiman Marcus Group, the most glittering of the American department store chains, is expected to declare bankruptcy in the coming days, the first major retailer felled during the current crisis.
It is not likely to be the last.
"The department stores, which have been failing slowly for a very long time, really don't get over this," said Mark A. Cohen, the director of retail studies at Columbia University's Business School. "The genre is toast and looking at the other side of this, there are very few who are likely to survive."
At a time when retailers should be putting in orders for the all-important holiday shopping season, stores are furloughing tens of thousands of corporate and store employees, hoarding cash and desperately planning how to survive this crisis. The specter of mass default is being discussed not just behind closed doors but in analysts' future models. Whether that happens, no one doubts that the upheaval caused by the pandemic will permanently alter both the retail landscape and the relationships of brands with the stores that sell them.
At least seven people who participated in Wisconsin's in-person election got the virus.
Milwaukee health officials said they had identified at least seven people who contracted the coronavirus after participating in Election Day on April 7, which was held after the governor's attempt to postpone the vote for health reasons was blocked in court.
The seven people were the first identified by Milwaukee officials, who contend that the number may be higher as they are still conducting testing. Six of the cases they identified were Milwaukee voters; the seventh was a poll worker. Other cities in the state have not reported any cases tied to voting yet.
Wisconsin went ahead with in-person voting after the state's Republican-controlled Legislature refused to postpone the election or expand vote by mail. Gov. Tony Evers, a Democrat, tried to postpone it unilaterally, but was blocked in court.
Dr. Jeanette Kowalik, the Milwaukee health commissioner, said in a statement that the data was still incomplete because some patients may have declined to provide complete information, were delayed in presenting symptoms, or experienced delays in testing and processing. She added that they were looking at any new cases that began after April 7, as the incubation period is 14 days, which ends April 21.
Before the election, thousands of poll workers, many of whom are older and are considered high risk for the coronavirus, said they would not be able to work during the in-person election, resulting in a severely depleted election staff in many parts of the state. Milwaukee drastically cut its polling locations to just five, from 180, and voters across the city cited waits of well over two hours throughout the day.
The direct connection of contracting the virus from in-person voting in Wisconsin could further increase calls across the country for an expansion of vote by mail and absentee voting for the November elections.
With testing in the spotlight, Trump and Cuomo will meet at the White House.

The president and Gov. Andrew M. Cuomo of New York will meet Tuesday afternoon in the Oval Office, a rare face-to-face session for two leaders whose relations during the crisis have been alternately antagonistic and conciliatory. Mr. Trump said the governor had requested the meeting.
Mr. Cuomo, who announced 481 more fatalities, said he expected the meeting to focus on testing and the related roles of the federal and state governments. The latest state's official daily death toll, significantly below almost all of last week's, brought the overall total to at least 14,828.) Total hospitalizations were "basically flat," he said, and the number of intubations declined. New York would begin to allow elective treatment in hospitals in parts of the state that were less battered, he said.
On testing, officials were faced with "a situation where you need everyone to work together and you need to understand quickly who is in a better position to do what," he said.
Mr. Cuomo has not embraced Mr. Trump's calls for a rapid reopening of the U.S. and has insisted that increased testing would be key to lifting restrictions and reopening the state's economy. The governor repeated that he agreed with the federal government's position that testing should be left to the states.
In recent days, Mr. Cuomo has said that one of the main testing obstacles is the availability of the reactive chemicals in test kits known as reagents. He reiterated that the federal government should help in coordinating supply chains for national manufacturers.
He said on Sunday that test-kit manufacturers have told him that they were unable to supply more reagents to local labs in the state in part because the federal government was telling them which states to distribute reagents to.
The president on Monday again defended his administration's handling of testing, insisting the nation had excess capacity for screening even as some governors continued to say that they lacked some crucial materials, including nasal swabs and chemical reagents, required to collect them.
In a briefing at the White House, Mr. Trump framed the debates around testing in political terms, saying that Democrats who once asked him for ventilators were now only raising the availability of testing "because they want to be able to criticize."
To make his point, Mr. Trump allowed Vice President Mike Pence, several members of the White House task force and other administration officials to give detailed presentations to reporters about what they said was a surplus of testing capacity. Dr. Deborah L. Birx, the White House response coordinator, displayed a series of slides showing the locations of test centers in various states, and Mr. Trump at one point held up a thick binder that he said contained the locations of 5,000 testing facilities across the nation.
Still, governors continued to express frustration that they did not have the materials they needed to collect tests for analysis, and for now — in part because of shortages of those testing materials — many localities continue to limit testing to people who meet specific criteria.
But the virus has also been spread widely by people who have few or no symptoms, experts say, so the goal should be to test nearly everyone with mild or severe symptoms, plus an average of 10 people who have been in contact with each person who tests positive for the virus.
And a recent estimate by researchers at Harvard University suggested that the United States could not safely reopen the economy unless, over the next month, it triples the number of tests it is currently conducting.
The Food and Drug Administration on Tuesday said it had granted emergency approval to the first in-home test for the virus, a nasal swab kit that will be sold by LabCorp. It would first be made available to health care and other front-line workers, the company said, and then to consumers "in the coming weeks."
The president's family business is asking his administration for rent relief.
Mr. Trump's signature hotel in the nation's capital wants a break on its rent. The landlord determining the fate of the request is Mr. Trump's own administration.
Trump International Hotel, just a few blocks from the White House, had been a favored gathering place for lobbyists, foreign dignitaries and others hoping to score points with the president. But like most hotels, it is now nearly empty and looking to cut costs because of the pandemic.
In recent weeks, the president's family business has inquired about changing its lease payments, the company confirmed on Tuesday, which the federal government has reported amount to nearly $268,000 per month.
The Trump Organization owns and operates the luxury hotel, but it is in a federally owned building on Pennsylvania Avenue. As part of its deal to open the 263-room hotel, the company signed a 60-year lease in 2013 that requires the monthly payments to the General Services Administration.
The Trump Organization is current on its rent, according to Eric Trump, the president's son, but he confirmed that the company had opened a conversation about possible delays in future monthly payments.
The younger Mr. Trump said the company was asking the G.S.A. for any relief that it might be granting other federal tenants. The president still owns the company, but his eldest sons run the day-to-day operations.
"Just treat us the same," Eric Trump said in a statement on Tuesday. "Whatever that may be is fine."
Here's some advice on managing your emotions during the lockdown.
As each week of the pandemic passes, it is not unusual to experience unexpected emotions. Here are some strategies that might be helpful in trying to cope.
What's happening elsewhere in the world?
Reporting was contributed by Tim Arango, Karen Barrow, Jo Becker, Katie Benner, Alan Blinder, Jonah Engel Bromwich, Emily Cochrane, Michael Cooper, Steve Eder, David Enrich, Dana Goldstein, Lola Fadulu, Andrew Jacobs, Miriam Jordan, Gina Kolata, Patricia Mazzei, Allison McCann, Matt Phillips, Ben Protess, Alan Rappeport, Katie Rogers, Rick Rojas, Marc Santora, Katharine Q. Seelye, Eliza Shapiro, Michael D. Shear, Katie Thomas and Jin Wu.