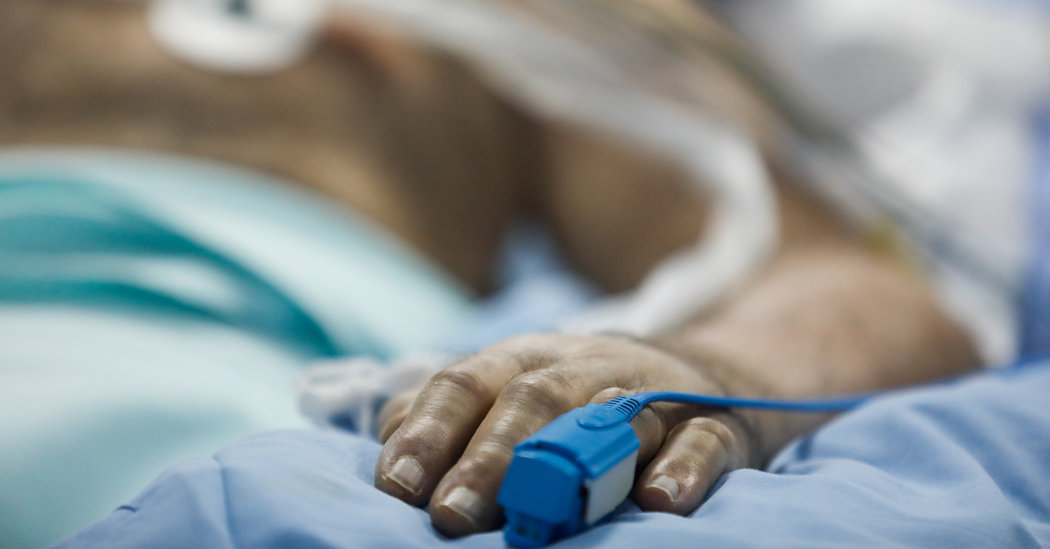 Twenty percent of Covid pneumonia patients then go on to a second and deadlier phase of lung injury. Fluid builds up and the lungs become stiff, carbon dioxide rises, and patients develop acute respiratory failure.
By the time patients have noticeable trouble breathing and present to the hospital with dangerously low oxygen levels, many will ultimately require a ventilator.
Silent hypoxia progressing rapidly to respiratory failure explains cases of Covid-19 patients dying suddenly after not feeling short of breath. (It appears that most Covid-19 patients experience relatively mild symptoms and get over the illness in a week or two without treatment.)
A major reason this pandemic is straining our health system is the alarming severity of lung injury patients have when they arrive in emergency rooms. Covid-19 overwhelmingly kills through the lungs. And because so many patients are not going to the hospital until their pneumonia is already well advanced, many wind up on ventilators, causing shortages of the machines. And once on ventilators, many die.
Avoiding the use of a ventilator is a huge win for both patient and the health care system. The resources needed for patients on ventilators are staggering. Vented patients require multiple sedatives so that they don't buck the vent or accidentally remove their breathing tubes; they need intravenous and arterial lines, IV medicines and IV pumps. In addition to a tube in the trachea, they have tubes in their stomach and bladder. Teams of people are required to move each patient, turning them on their stomach and then their back, twice a day to improve lung function.
There is a way we could identify more patients who have Covid pneumonia sooner and treat them more effectively — and it would not require waiting for a coronavirus test at a hospital or doctor's office. It requires detecting silent hypoxia early through a common medical device that can be purchased without a prescription at most pharmacies: a pulse oximeter.
Pulse oximetry is no more complicated than using a thermometer. These small devices turn on with one button and are placed on a fingertip. In a few seconds, two numbers are displayed: oxygen saturation and pulse rate. Pulse oximeters are extremely reliable in detecting oxygenation problems and elevated heart rates.
Pulse oximeters helped save the lives of two emergency physicians I know, alerting them early on to the need for treatment. When they noticed their oxygen levels declining, both went to the hospital and recovered (though one waited longer and required more treatment). Detection of hypoxia, early treatment and close monitoring apparently also worked for Boris Johnson, the British prime minister.
Widespread pulse oximetry screening for Covid pneumonia — whether people check themselves on home devices or go to clinics or doctors' offices — could provide an early warning system for the kinds of breathing problems associated with Covid pneumonia.
People using the devices at home would want to consult with their doctors to reduce the number of people who come to the E.R. unnecessarily because they misinterpret their device. There also may be some patients who have unrecognized chronic lung problems and have borderline or slightly low oxygen saturations unrelated to Covid-19.
All patients who have tested positive for the coronavirus should have pulse oximetry monitoring for two weeks, the period during which Covid pneumonia typically develops. All persons with cough, fatigue and fevers should also have pulse oximeter monitoring even if they have not had virus testing, or even if their swab test was negative, because those tests are only about 70 percent accurate. A vast majority of Americans who have been exposed to the virus don't know it.
There are other things we can do as well to avoid immediately resorting to intubation and a ventilator. Patient positioning maneuvers (having patients lie on their stomach and sides) opens up the lower and posterior lungs most affected in Covid pneumonia. Oxygenation and positioning helped patients breathe easier and seemed to prevent progression of the disease in many cases. In a preliminary study by Dr. Caputo, this strategy helped keep three out of four patients with advanced Covid pneumonia from needing a ventilator in the first 24 hours.
To date, Covid-19 has killed more than 40,600 people nationwide — more than 10,000 in New York State alone. Oximeters are not 100 percent accurate, and they are not a panacea. There will be deaths and bad outcomes that are not preventable. We don't fully understand why certain patients get so sick, or why some go on to develop multi-organ failure. Many elderly people, already weak with chronic illness, and those with underlying lung disease do very poorly with Covid pneumonia, despite aggressive treatment.
But we can do better. Right now, many emergency rooms are either being crushed by this one disease or waiting for it to hit. We must direct resources to identifying and treating the initial phase of Covid pneumonia earlier by screening for silent hypoxia.
It's time to get ahead of this virus instead of chasing it.
Richard Levitan, an emergency physician in Littleton, N.H., is president of Airway Cam Technologies, a company that teaches courses in intubation and airway management.
The Times is committed to publishing a diversity of letters to the editor. We'd like to hear what you think about this or any of our articles. Here are some tips. And here's our email: [email protected].
Follow The New York Times Opinion section on Facebook, Twitter (@NYTopinion) and Instagram.