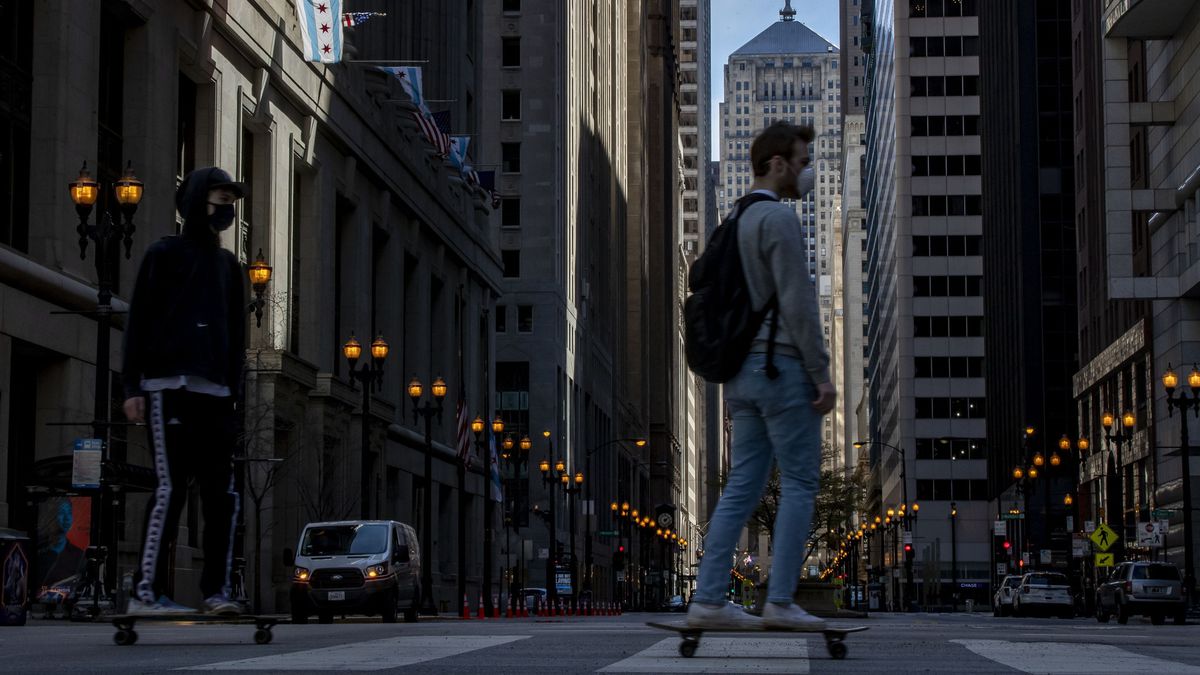 The comments from Pritzker and Lightfoot came as state officials reported 1,551 new known cases of COVID-19 over the past 24 hours and 119 additional deaths. The statewide totals are now 33,059 known infections and 1,468 fatalities.
Here's what's happening on Tuesday with COVID-19 in the Chicago area and Illinois:
3: 08 p.m.: Illinois Supreme Court to hear arguments via Zoom
Due to the COVID-19 pandemic, the Illinois Supreme Court will hold oral arguments in May via Zoom videoconference – a first in the high court's history.
"These are extraordinary times, but what we have found is that we can keep our traditions the same. Holding oral arguments via Zoom would have sounded beyond our abilities a few months ago, but now feels almost normal," Chief Justice Anne Burke said in a statement Tuesday.
The Supreme Court plans to hear 11 cases between May 12-14, and involved counsel will receive advanced training for the virtual proceedings. The public will be able to livestream the oral arguments on the Illinois Courts YouTube channel. —Antonia Ayres-Brown
2: 51 p.m.: Pritzker announces new relief options for those with student loans, affecting more than 138,000 people
Gov. J.B. Pritzker on Tuesday announced new relief options for those with student loans, affecting more than 138,000 people in the state.
Illinois with Federal Family Education Program Loans or privately-held student loans who are having difficulty making payments due to the pandemic are eligible for additional relief. Relief options include waivers of late payment fees, ensuring no borrower is subject to negative credit reporting, providing a minimum of 90 days of forbearance and ceasing debt collection lawsuits.
Borrowers can immediately contact loan providers for relief, Pritzker said.
"This is new, so even the lenders are getting up to speed on this," Pritzker said.
Officials reported 1,551 cases of the new coronavirus over the past 24 hours, including 119 new deaths. The statewide totals are now 33,059 known cases and 1,468 deaths.
In her update on cases Tuesday, lllinois Department of Public Health Director Dr. Ngozi Ezike also offered what she called some "encouraging news," that roughly three-quarters of people who reported a positive COVID-19 test four weeks ago now report having recovered. —Jamie Munks
2: 41 p.m.: Gogo furloughs 60% of workforce amid coronavirus pandemic
In-flight internet company Gogo will furlough more than 600 employees — or roughly 60% of its workforce — in an effort to cut costs amid the coronavirus pandemic.
The furloughs will vary based on workload, according to a news release from the Chicago-based company. Most remaining employees will have their compensation reduced as well.
The airline industry has been hit hard by the pandemic, as travel has drastically slowed and people stay home in an effort to quell the spread of COVID-19, the disease caused by the coronavirus.
Gogo, in turn, has sustained losses. Roughly 60% of the company's revenue comes from its commercial airline customers, according to the news release. Passenger traffic with Gogo's commercial airline clients has declined 95% this month compared to last year.
The rest of Gogo's revenue comes from business aviation, which has also seen a drop in flights.
CEO Oakleigh Thorne, who will take a 30% salary cut, said in a statement the company is "implementing the appropriate measures" to ensure Gogo's long-term viability. Read more here. —Ally Marotti
2: 35 p.m.: 1,551 new known cases and 119 more deaths reported
Officials reported 1,551 new known COVID-19 cases on Tuesday, as the total number of known infections reached 33,059. There were also 119 additional deaths reported, bringing the toll since the start of the outbreak to 1,468.
1: 54 p.m.: Pay cuts and furloughs for employees at Lurie Children's Hospital
Lurie Children's Hospital is instituting pay cuts and unpaid furloughs amid financial challenges created by the COVID-19 pandemic, the hospital told employees Monday.
Doctors, people at the director level and above, and other providers are having their pay temporarily cut, through Aug. 31. Other employees, such as nurses, may have their pay cut or be subject to unpaid furloughs.
"This has been an extremely difficult time for not only Lurie Children's but hospitals nationwide," spokeswoman Julie Pesch said in an email. "We are taking these measures to ensure that we retain our highly trained workforce to take care of medically complex patients.
"We are supporting our workforce as best we can and are sharing the burden of reduced compensation as equitable as possible starting with the CEO, senior leadership and providers."
Hospitals across the country are under financial stress as they've cut elective surgeries and seen their numbers of non-coronavirus patients drop.
In recent weeks, Lurie has had about 70% fewer outpatient visits and about 30% to 40% fewer inpatients in recent weeks, CEO Dr. Tom Shanley has said. The children's hospital is losing about $10 million a week because of the drop in elective surgeries, outpatient visits and inpatients. Lurie is not treating many COVID-19 patients since children who catch the disease tend not to get severely ill.
Lurie also didn't get much cash during the first distribution of money under the federal Coronavirus Aid, Relief, and Economic Security (CARES) Act, because the funds were distributed based on Medicare payments, and Lurie, as a children's hospital, doesn't get much Medicare funding.
Other Chicago-area hospitals that have instituted furloughs include Weiss Memorial Hospital in Chicago, West Suburban Medical Center in Oak Park, Loyola University Medical Center in Maywood, Gottlieb Memorial Hospital in Melrose Park and MacNeal Hospital in Berwyn.
The Illinois Health and Hospital Association estimates that hospitals statewide could now be losing about $1.4 billion a month because of canceled elective surgeries and fewer visits by other patients. —Lisa Schencker
1: 34 p.m.: Lightfoot says she's expecting Illinois' stay-at-home order to extend into June
Illinois Gov. J.B. Pritzker's stay-at-home order could extend into June, Chicago Mayor Lori Lightfoot said on a conference call with reporters.
Lightfoot was asked during a teleconference call with reporters whether a June 30 deadline for an ordinance giving her extended powers signals anything about when the city expects stay-at-home orders and restrictions to be lifted.
The mayor said no, just that it's a date where the city may have a better view of the future.
But, she said, the state's current April 30th end to the stay-at-home order is not viable anymore. Lightfoot reiterated her previous prediction that the order could go into May, then added that it could go into June. —Gregory Pratt
1: 25 p.m.: Lightfoot awards $7.5 million in funding to Chicago community groups as they fight two battles: COVID-19 and uptick in violence
Chicago Mayor Lori Lightfoot on Tuesday announced awards of $7.5 million to local organizations working to reduce violence in city neighborhoods, sending funds to community groups battling both the spread of COVID-19 and an uptick in homicides so far this year.
The announcement marks the first allocation of dollars after Lightfoot last year pledged to support the work of nonprofit groups that provide job training, counseling and street outreach in disinvested neighborhoods, mostly on the South and West sides.
1: 06 p.m.: About half of Cook County juvenile detention center's detainees will be tested for COVID-19
About half of the young detainees at Cook County's Juvenile Temporary Detention Center will be tested for COVID-19, an attempt to assess the virus' spread in juvenile lockup, the Chief Judge's office announced Tuesday.
There have been no confirmed infections so far in the center's general population, but about 80 youths in that group will be chosen for tests either by random selection or because they live in an area where employees who have tested positive worked.
While the general population has had no positive tests, each new admission is subject to testing and is kept away from general population for 14 days. Three residents so far have tested positive for the coronavirus. They had not been admitted to the general population.
Of the 19 employees of the Chief Judge's office who have tested positive, seven work at the Juvenile Temporary Detention Center, which as of Tuesday houses 161 youths. —Megan Crepeau
12: 40 p.m.: Pritzker says COVID-19 won't peak in Illinois until mid-May
Gov. J.B. Pritzker on Tuesday said models are now predicting the new coronavirus won't peak in Illinois until mid-May, weeks later than previously projected.
Pritzker made the comments during a live interview on The Washington Post Live.
Pritzker noted that Illinois was the second state to issue a stay at home rule and that because people have been abiding by it, "for the most part," the anticipated peak of the outbreak in mid-to-late April has changed.
"So it's been pushed out now, according to the models, to maybe mid-May, but at a lower level, and so we're moving, inching toward that date," Pritzker said. "People are doing what they need to do in the state of Illinois, staying indoors or staying at home, wearing masks outside as I've urged everybody to do, making sure they're washing their hands and all the other things that we've asked people to do."
Pritzker's statewide stay-at-home order remains in effect until April 30, but he's said in recent days he's considering modifications. Last week, a regional coalition of states was announced to coordinate the reopening of their economies. Read more here. —Jamie Munks and Antonia Ayres-Brown
12: 35 p.m.: IHSA cancels all 2020 high school spring sports
The Illinois High School Association's board of directors has announced the cancellation of the spring sports season.
The IHSA's move Tuesday follows Gov. J.B. Pritzker's decision Friday to keep school buildings closed statewide for the remainder of the academic year.
"We support the decision by Governor Pritzker and the Illinois State Board of Education, and given the logistics, we simply felt we could not conduct state tournaments that meet the expectations of our member schools this spring, " IHSA Executive Director Craig Anderson said. "As disappointing as it may be for students, it is the right decision for their health and safety, as well as for the health and safety of the general public, as we cope with this unprecedented pandemic." Read more here.
12: 20 p.m.: Reputed gang member released from federal jail in part due to COVID-19 spread, as inmate on R Kelly's floor tests positive
The chief federal judge in Chicago on Tuesday released a reputed gang member convicted of a weapons charge to home confinement, saying overcrowding at the Metropolitan Correctional Center could "exacerbate the problem" of containing the spread of coronavirus.
Meanwhile, prosecutors New York have confirmed for the first time that an MCC inmate on the same floor as indicted singer R. Kelly has tested positive for COVID-19 and was taken to a hospital.
In allowing Jose Flores, an alleged member of the Latin Saints street gang, to be released to the custody of his wife while he awaits sentencing, U.S. District Chief Judge Rebecca Pallmeyer said Flores was being "returned into a world that is quite different from the one that existed" when he was arrested two years ago.
"Right now, all of us are on home detention," Pallmeyer said to Flores, who participated in the hearing via a jailhouse telephone. "It happens that I'm sitting in a courtroom right now, but most of the time I'm at home." Read more here. —Jason Meisner
11: 35 a.m.: City of Chicago starts cloth mask drive
The city of Chicago is launching a citywide cloth mask drive on Saturday aimed at providing homeless shelters and community health clinics with more coronavirus protection.
The city is asking residents to make and donate cloth masks, which can be made from T-shirts, bandannas, jeans, thick cotton and other breathable fabrics, Mayor Lori Lightfoot's office said.
"The COVID-19 crisis has been hard on all of us, but it's shown the impact we all have on each other strangers and friends alike," Lightfoot said in a statement.
Federal health officials have recommended cloth face masks in public where social distancing measures are otherwise hard to do, the mayor's office said.
People can drop off masks in clear, sealable plastic bags, the mayor's office said. Donations can be made from 10 am to 2 pm on Tuesdays and Saturdays from April 25 through May 16, the mayor's office said. The masks can be dropped off at these locations. — Gregory Pratt
11 a.m.: Open two weeks — or two days — and then coronavirus: new business owners left in lurch by pandemic
Matthew Abitbol got to live his dream for 17 days. The devoted marathon runner — he's up to 82 of them — saved money for 10 years while working in banks to launch the running store of his dreams. On Feb. 28, Abitbol finally opened Commonwealth Running Co. in downtown Evanston.On March 16, he closed it due to COVID-19.
With a newborn at home and the new coronavirus spreading quickly, Abitbol decided he shouldn't risk his shop becoming a vector for spreading the virus. The state's stay home order took effect five days later, which ensured Commonwealth Running would be closed for weeks to come.
"The day I closed was a sad day," Abitbol said. "I asked myself, 'Did I only get 17 days of this?"
Now closed longer than it was open, Abitbol has shifted Commonwealth Running to online sales. But sending shoes through the mail is hardly the reason he got into the retail side of running. He prefers the camaraderie of the community, and the satisfaction of fitting someone into the right pair of shoes.
Abitbol has been buoyed by pleasant surprises, such as locals making a point to support him, even ordering products not in stock. He's been disappointed by other developments, such as the ineffectiveness of Facebook, Google and Instagram advertising, which has shown almost no return.
Every day, he said, is a balancing act: Commonwealth Running is closed and has little name recognition. Yet Abitbol paid his April rent in full and is trying to stay afloat.
"Do I spend money and try to make money by spreading the word or do I hunker down and try to wait for this thing to pass?" he said. "Doubts definitely creep in about how long I can last and how much advertising I can and should do."
Virtually all small business owners are in crisis as the coronavirus pandemic and resulting stay-home orders persist, but the newest businesses — those whose owners saved for years and only realized their dreams in the days or weeks before the spread of COVID-19 — face particular challenges.
The early days of a new business are less about generating revenue than generating brand awareness and attracting customers, said Linda Darragh, a clinical professor of entrepreneurship at Northwestern University's Kellogg School of Management. That becomes infinitely more difficult during a stay home order, she said. Read more here. –Josh Noel
10: 30 a.m.: City cancels Gospel, House and Blues festivals
The 35th annual Chicago Gospel Music Festival (May 27-30), the 37th annual Chicago Blues Festival (June 5-7) and the 5th annual Chicago House Music Conference & Festival (May 21-24) have been canceled due to the COVID-19 crisis, according to an announcement from the city's Department of Cultural Affairs and Special Events.
Also canceled: the Chicago Memorial Day Parade and Wreath Laying Ceremony (May 23); and Chicago in Tune (May 21-June 7), a new event that was to have been a featured program in the city's Year of Chicago Music. Read more here. –Howard Reich
10: 15 a.m.: U. of I. will use emergency coronavirus fund to provide relief to students 'as much as we can'
Tuition increases at the University of Illinois that were due to take effect in the fall for new in-state students have been waived, with the money being covered through an emergency coronavirus fund."
We stretched to make sure that we can provide emergency relief, as much as we can, in the near term," U. of I. President Tim Killeen told the Tribune. Read more here. –Elyssa Cherney
10: 05 a.m.: As Chicagoans eat at home because of COVID-19, rats used to dining out on restaurant scraps follow the food supply
The COVID-19 pandemic has commanded a new way of life, and not just for people — even Chicago's rat population has been affected.
Restaurants can remain open for delivery and takeout under Gov. J.B. Pritzker's stay-at-home order, but plenty have reduced hours or have closed temporarily or permanently, casualties of the coronavirus outbreak.
That means some formerly reliable food sources for rats, such as dumpsters behind restaurants or overflowing outdoor garbage cans stuffed to the brim daily with Chicagoans' food scraps, now sit empty. But rats are resilient and they'll move into residential homes, eat dog feces, or even cannibalize dead or young rats before they'll starve.
Now, hundreds of thousands of Norway rats, the kind that live in Chicago and don't usually travel more than 150 feet from burrow to food source, suddenly are changing up their routines, boldly searching farther for food, including during the day — a shift for the normally nocturnal animals, said Robert Villamil, owner of Chicago-based Crow Pest Control Inc. Despite the explosion in rat boldness, the business has seen its commercial work slow with bars and restaurants closed or limited to takeout orders, as it's been getting more business from residential customers. Read more here. –Katherine Rosenberg-Douglas and Ryan Ori
A correctional officer at the Cook County Jail has died from complications caused by COVID-19, and the sheriff's office said it is awaiting tests to determine if a second officer has also died from the coronavirus.
The office also announced that two more inmates have died after testing postive for the virus, bringing the total to six.
As of Sunday evening, 191 correctional officers had tested positive for the virus, as had 34 other employees of the sheriff's office. Additionally, 79 other employees previously tested positive but have since recovered and returned to work. Read more here. — Megan Crepeau
Mayor Lori Lightfoot and Chicago's Office of Emergency Management and Communications were scheduled to launch a cloth mask drive Tuesday morning, to encourage city residents to make and donate cloth masks for "vulnerable residents" to help protect against COVID-19, according to a news release.
The masks will be given to people at homeless shelters, health clinics and other sites to help prevent the spread of the new coronavirus, according to the city.
People can donate masks at sites throughout the city from 10 a.m. to 2 p.m. Tuesdays and Saturdays starting this coming Saturday until May 16, according to the city.
For guidelines on how to make masks and information on where to drop off masks, check chicago.gov/coronavirus. — Chicago Tribune staff
Breaking coronavirus news
Stay up to date with the latest information on coronavirus with our breaking news alerts.
Here are five things that happened Monday that you need to know: