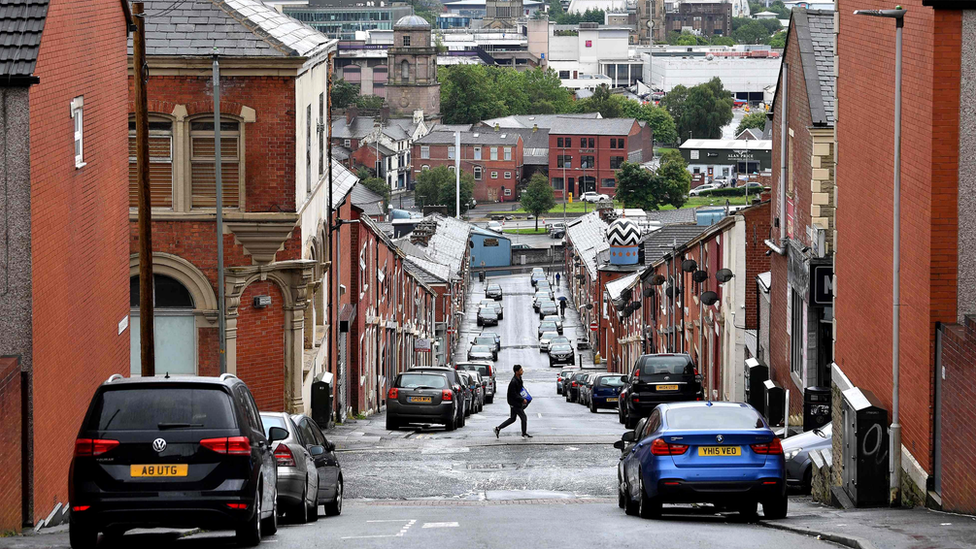 A local lockdown in Blackburn with Darwen is "the very last resort" in tackling the area's rise in coronavirus cases, its public health boss has said.
The Lancashire borough is overtaking Leicester as England's coronavirus hotspot, according to official figures.
It recorded the highest infection rate, with 79.2 cases per 100,000 people, in the week to 17 July, Public Health England said.
Prof Dominic Harrison said he would be "reluctant" to impose a local lockdown.
The number of cases in the borough nearly doubled to 118 in the past week, compared with 63 the week before.
The latest figures are subject to daily revision, but they reflect the position on Sunday night.
New measures to curb the spread of Covid-19 in Blackburn with Darwen have already been introduced after a spike.
They include tighter limits on visitors from another household, and officials have called on people to bump elbows in place of handshakes and hugs.
New cases in Leicester, where there is a local lockdown, have fallen to a rate of 77.7, with 276 new infections, compared with 429 the previous week.
Analysis
By Daniel Wainwright, BBC England Data Unit
The data on new cases of coronavirus is published every afternoon, and that means new results for previous days are being added in all the time.
So far, looking at the week up to Friday, Blackburn with Darwen has recorded twice the number of cases it had in the previous week, while cases in Leicester – which is in a localised lockdown – appear to be falling.
Last Wednesday, both areas recorded 35 new cases. However, with Leicester having a population more than twice the size of Blackburn with Darwen, that gave the Lancashire borough a higher rate of new cases per 100,000 residents.
Whether Blackburn with Darwen takes the top slot from Leicester should become clearer over the next day or two.
Most new cases in the Blackburn area have been among the south Asian community centred in terraced houses with a high number of occupants, public health officials have said.
Prof Harrison, public health director of Blackburn with Darwen Council, warned that cases would continue to rise.
He said: "We should be concerned the figures have gone up, but I entirely expected them to and I expect them to rise again this week."
Prof Harrison warned a local lockdown could be imposed if things were not turned around, but added: "We would only use those powers as a very, very last resort.
"We've had good co-operation, so I would be very reluctant to use the powers."
At the weekend it was revealed that contact tracers had reached only about half of Covid-19 contacts in the area.
Sam Ali, from the Switch Youth Community Organisation in the town, said: "We have all been affected by this.
"Anyone across the country wouldn't like to be on the radar of going into another lockdown, but it's important to realise that the pandemic is still here.
"We need to wear the appropriate masks, we need to wash our hands, we need to keep distant.
"Blackburn is a fantastic town. We're going to get stronger from this."
Steve Hartley, 52, who lives in Darwen, said: "You see more people in masks but a lot of people aren't social distancing or wearing them.
"It's shocking but some people still just aren't taking it seriously despite everything that's going on.
"Now a lot of shops have signs in the windows telling people they can't come in without a mask."
Why not follow BBC North West on Facebook, Twitter and Instagram? You can also send story ideas to [email protected]