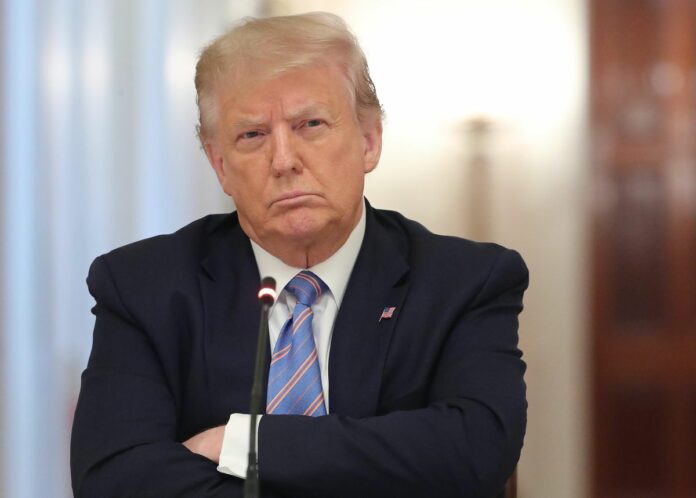 TOPLINE
The head of the Centers for Disease Control and Prevention shot back at President Trump Thursday, saying the CDC would not revise its guidelines on safely reopening schools during the pandemic even after Trump railed against the guidelines, as well as schools that planned to reopen with remote-only courses and governors that have not yet promised to reopen schools this fall, as the subject becomes increasingly political ahead of the November election. 

KEY FACTS
On Wednesday, Trump criticized the CDC guidelines for being "very tough" and "impractical" and threatened to withhold federal funding from schools that don't physically reopen and Vice President Mike Pence said that the agency will revise its guidelines for reopening schools.
CDC Director Robert Redfield pushed back in a Good Morning America interview Thursday saying that "our guidelines are our guidelines," and that the CDC will provide additional reference documents for schools but that "it's not a revision of the guidelines."
Redfield emphasized that the CDC produces guidelines, not requirements, to help local jurisdictions and that the agency is working with the jurisdictions to "take the portfolio of guidance that we have given to make them practical for their schools to reopen."
The administration's push for schools to reopen has been widely viewed as a strategy for boosting the economy before the election and some politicians, like Chair of the House Education Committee Rep. Bobby Scott (D-Virginia) have argued that Trump's push to "prematurely reopen" schools ignores the health experts and is "dangerous."
Other politicians question the administration's ability to cut federal funding, as Evan Hollander, spokesperson for Democrats on the House Appropriations Committee, said in a statement to NPR that Trump "has no authority to cut off funding for these students, and threatening to do so to prop up his flailing campaign is offensive."
About 90% of school funding comes from states and localities, and Trump has limited ability to curtail appropriations approved by Congress.
key background
On Tuesday, Education Secretary Betsy DeVos said she is "very seriously" looking at withholding federal funds from schools that don't physically reopen this fall. "Schools have got to open up, there has got to be concerted effort to address the needs of all kids and adults who are fear-mongering and making excuses simply have got to stop doing it and turn their attention on what is right for students and for their families," DeVos told Fox News' Tucker Carlson.
Chief Critic
Trump has made his views clear.
tangent
Among many other measures, the CDC has recommended that desks be placed at least 6 feet apart and that students have staggered arrival times and eat lunch in their classrooms.
further reading
Trump Criticizes CDC And Threatens To Cut Funding For Schools That Refuse To Reopen (Forbes)
Trump Promises To Pressure Governors To Reopen Schools (Forbes)