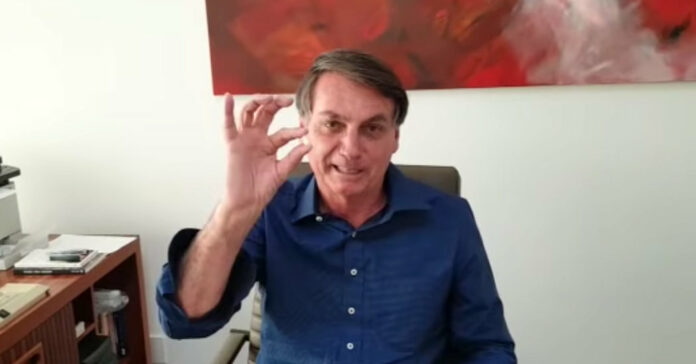 He is infected and has Covid-19 symptoms, but Brazil's president still endorses hydroxychloroquine, an unproven treatment. He projects optimism amid a pandemic that kills over 1,000 Brazilians a day.

RIO DE JANEIRO — President Jair Bolsonaro of Brazil has been presenting an image of resilience and vigor as he fights the coronavirus, flashing smiles and thumbs-up, posting on social media — and enthusiastically promoting the drug hydroxychloroquine.
His attitude during convalescence is consistent with his widely-discredited contention that the virus poses little threat to people who are healthy, and his endorsement of the drug, though studies have found no evidence that it works on Covid-19 patients, but have shown possible danger in taking it.
"I'm doing much better than I was," Mr. Bolsonaro, 65, said in a video posted Tuesday night as he washed down a dose of hydroxychloroquine with water. "It's working."
Mr. Bolsonaro acknowledged that there are no drugs scientifically proven to treat Covid-19, but he said: "I'm one more person it's working on. I trust hydroxychloroquine."
In the United States, the National Institutes of Health in June stopped a clinical trial of hydroxychloroquine, saying the drug did not work, and the Food and Drug Administration issued a warning in May, explaining that the medication can cause dangerous abnormalities in the heart rhythm of coronavirus patients.
The president's illness, which he disclosed on Tuesday, has reignited debate over the government's handling of the pandemic: Mr. Bolsonaro has downplayed the danger posed by the virus, encouraged Brazilians to brush aside quarantine measures adopted by states, and urged Brazilians to continue working.
The virus has infected more than 1.7 million people and killed about 68,000 patients in Brazil, and it is not slowing down. On Tuesday, the country reported 45,305 new infections and 1,254 deaths.

The president's critics, including health experts, fear that his insistent endorsements of hydroxychloroquine will encourage many more people to take it, while not taking precautions to avoid infection. And if Mr. Bolsonaro recovers quickly without serious complications, they say, it would add to that false sense of invulnerability.
In an editorial, the newspaper O Globo called Mr. Bolsonaro's latest statement "irresponsible marketing" for a drug that can have dangerous side effects in patients with heart conditions.
His stance is a lonely one among major world leaders. Even President Trump, who for months enthusiastically promoted hydroxychloroquine, took it for only two weeks and mentioned it less often after studies cast doubt on it.
With symptoms that appear mild so far, Mr. Bolsonaro showed no sign that testing positive for the virus had made him any less dismissive of the merits of social distancing, mask wearing and other measures that have enabled other countries to rein in transmission and save lives.
Despite his apparent confidence, Mr. Bolsonaro is not out of danger. It often takes about a week after symptoms emerge for Covid-19 cases that become serious to shift for the worse.
Nelson Teich, a doctor who stepped down as health minister in mid-May, less than a month into the job, warned in a column published Wednesday that the country is in dire need of a data-driven strategy to reopen the economy while mitigating risks.
"We're in a race against time," he wrote in an article published in O Globo under the headline "It's Almost like Waiting for a Miracle."
"The longer the quarantine lasts," he added, "the harder it will be to manage the consequences of the impact of Covid-19 in the health sector, the economy and people's behavior."
Mr. Bolsonaro's leadership during the pandemic has been criticized at home and abroad as among the most disastrous in the world. The country's infection and death totals are second only to those of the United States. Brazil's contagion rate remains high, and may spike higher as restaurants, bars and gyms are reopening.
Since mid-May, the health ministry has been run by an active-duty army general with no public health background, who acquiesced to Mr. Bolsonaro's demand that hydroxychloroquine be included in the protocol to treat Covid-19 patients in Brazil. Mr. Bolsonaro's two former health ministers resisted that move, regarding it as irresponsible.
Yet the president on Wednesday held out Brazil's response as exemplary.
"No country in the world has done what Brazil has," he wrote in a message on Twitter. "We saved lives and jobs without creating panic, which also leads to depression and death. I always maintained that the fight against the virus could not have a collateral effect worse than the virus itself."