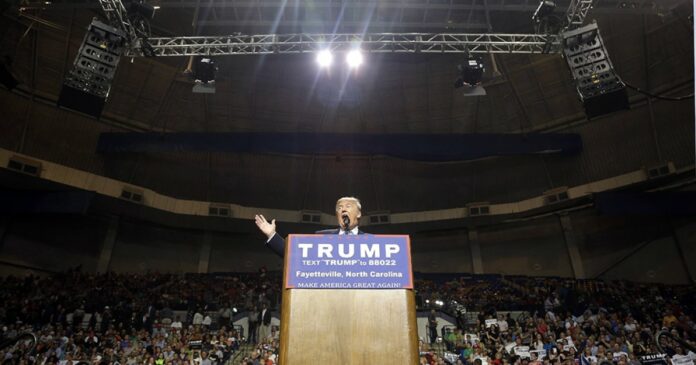 A new ad by anti-Trump Republicans featuring regretful Trump voters is targeting disaffected GOP voters in North Carolina and Arizona, swing states the president won in 2016 and where his troubles are mounting.
Fifteen voters who supported President Trump in 2016 share first-person testimonials in the ad, sponsored by the group Republican Voters Against Trump, about why they no longer plan to support him. "Donald Trump has broken my faith in the Republican Party," says a man identified as Paul, a voter from Tennessee. "I'll take anybody over him," Connor from Maine says. "It's okay to change your mind," the ad concludes.
New ad airing before Trump's Saturday CoronaRally and on Fox News Sunday in NC and AZ: "It's OK To Change Your Mind. We Did." pic.twitter.com/V90phUsOTr

— Republican Voters Against Trump (@RVAT2020)
July 10, 2020
The buy was made by Longwell Partners, a communications firm launched last year by Republican strategist Sarah Longwell. Longwell is a co-founder of Defending Democracy Together, a conservative anti-Trump nonprofit group that sponsors the Republican Voters Against Trump project, where Longwell is a strategic director. She is also the spokesperson for DDT's flagship effort, Republicans for the Rule of Law.
Longwell told the Washington Examiner that the Charlotte buy was part of a $2 million cable and digital campaign by Republican Voters Against Trump targeting North Carolina and Arizona voters this month.
Ads by the group ran through the Fourth of July weekend in North Carolina and featured testimonials from Republican voters and former elected officials.
The new spot will air on Fox News Sunday in Charlotte and Raleigh, North Carolina, and in Phoenix, Arizona, each state's biggest television market.
"Our focus is entirely on elevating the voices of real people, real voters, real Republicans," Longwell told the Washington Examiner. "They're all people who've been Republicans their whole life. Some of them are not any longer because of Trump. Some of them are still but are saying that they're not going to vote for him in 2020, and they're going to vote for Joe Biden."
The group plans to spend $10 to $15 million in swing states ahead of the general election, targeting voters it views as persuadable.
"Frankly, a lot of the focus of our campaign is on women," she said, particularly right-leaning or independent Republican women. "That's a demographic that has been quickly moving away from this president, even if they voted Republican their whole lives."
A RealClearPolitics average of polls shows Biden with a narrow 3.3 point lead in North Carolina and a 3.5 point lead in Arizona.
One Republican strategist close to the White House said that if the Trump campaign could devise a message that was salable in Florida, it would end up winning North Carolina too.
"If you nail Florida, you're going to win North Carolina," the strategist said. "If you can hit the right message in Florida, you're going to do a lot better, and you're going to win North Carolina, and you're going to have a good chance in Arizona."