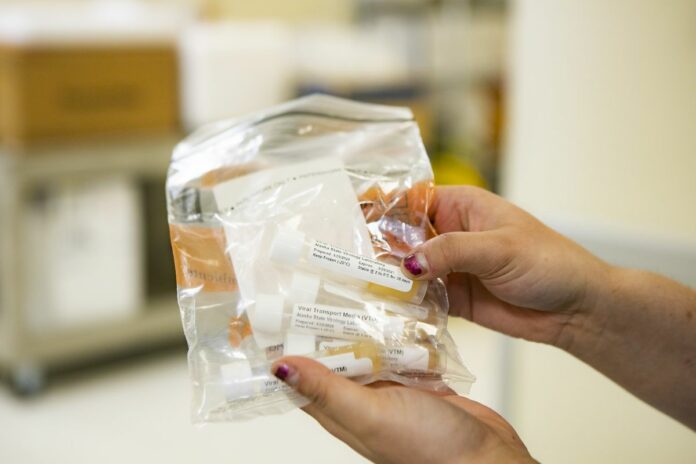 We're making coronavirus coverage available without a subscription as a public service. But we depend on reader support to do this work. Please consider joining others in supporting local journalism in Alaska for just $3.23 a week.
Alaska reported a near-record increase in the number of confirmed novel coronavirus cases on Wednesday, with 40 new cases in residents and seven in nonresidents.
One more infected resident required hospitalization Tuesday, for a total of 79 since the pandemic began in March, according to the Alaska Department of Health and Social Services COVID-19 dashboard.
Statewide hospital census information showed 30 people hospitalized Wednesday morning with either positive tests or pending results, but that data can change quickly.
No new deaths were reported Wednesday. Seventeen Alaskans have died with coronavirus listed as a contributing cause. The latest victim announced Tuesday was a woman in her 70s from Wasilla with underlying health problems.
It wasn't clear how many of the new cases involved people with symptoms of the virus, as opposed to asymptomatic people who got tested for travel or other requirements.
Hospital and state health officials this week said health care capacity remains healthy but they're watching the rising numbers given Alaska's limited hospital resources.
The 47 new cases reported Wednesday came after the state hit a record high of 50 reported cases July 3.
Nearly half the new resident cases were in people from the Anchorage area, according to state data.
There were 17 new resident cases in Anchorage and one each in Chugiak and Eagle River. Six cases were in Kenai residents and three in Soldotna. Three cases were reported among Palmer and North Pole residents. Two were reported in Fairbanks. One new case was reported each among residents of Cordova, the Northwest Arctic Borough, Unalaska and the Kusilvak Census Area in Southwest Alaska.
The upturn of cases statewide has strained the state's ability to swiftly conduct contact tracing, a key component to slowing the spread of the virus.
Alaska has been seeing a steady rise in active coronavirus cases since late May, when the state lifted most pandemic-related restrictions in response to low daily case counts and a boost in personal protective equipment and health care capacity. Several cases have been tied to bars and other entertainment establishments as well as large gatherings.
The new numbers bring Alaska's total case count since March to 1,474, including 1,226 in residents and 248 in nonresidents.
More than half the state's total cases are people considered to have active infections now.
[Because of a high volume of comments requiring moderation, we are temporarily disabling comments on many of our articles so editors can focus on the coronavirus crisis and other coverage. We invite you to write a letter to the editor or reach out directly if you'd like to communicate with us about a particular article. Thanks.]