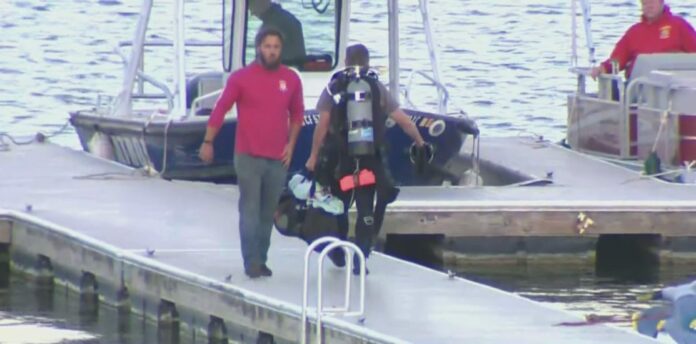 LAKE PIRU (CBSLA) — The search for 33-year-old actress Naya Rivera was suspended late Wednesday night after she went missing earlier in the day.
According to the Ventura County Sheriff's Department, Rivera rented a pontoon boat at about 1 p.m. for she and her 4-year-old son to take out onto Lake Piru.

About three hours later, another boater found her child sleeping in the boat by himself. The boater notified officials, who immediately began a search for Rivera with the use of helicopters, drones and dive teams.
The child was said to be unharmed and told investigators that he and his mother were swimming, but his mother never got back into the boat.
It was not immediately clear how the child got back into the boat.
"There's a lot of challenges in a reservoir this size, at times with visibility," Capt. Eric Buschow, of the sheriff's department, said. "I don't have details yet as to the depth of the area where the boat was found or what conditions they're encountering out there."
The vehicle Rivera and her son traveled to Lake Piru in was removed from the scene, though the boat remained in the water.
Authorities were working to reunite the child with family members Wednesday evening.
On Tuesday, Rivera shared a photo of she and her son with the caption, "just the two of us," on Twitter.
just the two of us pic.twitter.com/wCunAlGJ1B

— Naya Rivera (@NayaRivera) July 7, 2020
The search for Rivera was expected to resume Thursday morning.
Note: Authorities initially said the child was a 3-year-old girl, but later confirmed that the child is a 4-year-old boy.