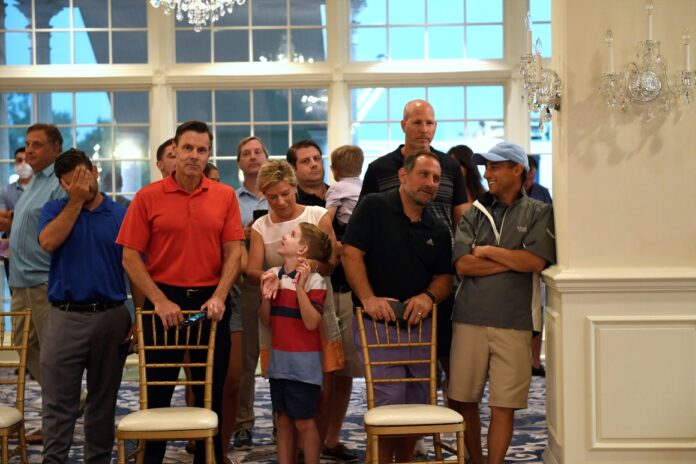 People wait to watch President Donald Trump speak at Trump National Golf Club Bedminster in New Jersey on Aug. 7, 2020. | Susan Walsh/AP Photo
BEDMINSTER, N.J. — As White House negotiators and Democrats tried — and failed — to reach a deal that could help the millions of Americans who are unemployed and facing evictions, the man who calls himself a master dealmaker was missing in Washington.
President Donald Trump had retreated at the end of last week to his private club here in New Jersey, where he watched his political troubles mount: His poll numbers against Joe Biden were sliding, and White House negotiators failed to force Democrats to cave and reach a deal that would address the pressing concerns of a nation ravaged by the coronavirus pandemic and exhausted by the economic side effects.
Frustrated by the gridlock and his own grim political news, Trump did what has become routine for the president when he faces political impasse: He ordered his aides to draw up executive actions to sign and asked his team to assemble the press, in an attempt to put a Trumpian spin on the failures back in Washington.
To the delight of club members in pastel-colored polo shirts and golf cleats who, at times, sounded like a sitcom laugh track for the president's jabs at Democrats and the press, the president put on back-to-back shows in the ballroom of his property.
The news conferences and executive actions were reminiscent of other times when Trump decided to act on his own when unable to reach a deal, like when he declared a national emergency to get funds for the border wall and end an argument over funding that shut down the government. And while the signings and speeches gave the optics of progress, it's doubtful the power of pen will completely alleviate the financial pain being felt by millions across the country as the virus continues to spread. Questions have already been raised about the legality of the measures and how they will be funded.
Trump's own aides acknowledged that executive actions would fall far short of what was needed to tackle the economic crisis, but the president wanted to convince the public otherwise.
On Friday evening, Trump stepped out to a podium set up in a ballroom of his club with crystal chandeliers and tall windows overlooking a perfectly groomed golf course, to send a threat to Congress that if a deal wasn't made he would act on his own. But by that night there were no more plans for negotiations and his team was already drawing up executive actions for him to sign.
Then on Saturday, the president walked out to the podium once more with four leather-bound folders filled with official documents to sign. He declared that his actions would "take care of, pretty much, this entire situation," and said once again that the virus — which has infected more than 5 million people in the U.S., has claimed the lives of over 164,000 and continues to spread — was "disappearing."
The president touted the measures he was taking as "important" and signed actions to give unemployed Americans $400 in weekly assistance ($200 less than what people had been receiving), and deferrals of payroll taxes and federal student loans. He also issued a vague memo that directs the secretaries of Housing and Urban Development and the Treasury to identify "any and all Federal funds to provide temporary financial assistance to renters and homeowners" who are unable to pay rent or mortgages because of the coronavirus.
"So, that's the story," Trump said on Saturday, as he closed the cover of an executive action he'd just signed, and then handed his signature Sharpies to club-goers.
But Trump's version of the story failed to acknowledge just how little his executive actions would accomplish, the potential legal challenges, and the major hurdles still facing the country. In his remarks, the president placed blame on Democrats for wanting additional measures, like in a deal to address the coronavirus, even though he personally pushed for things such as money for a new FBI building in downtown D.C.
Also missing from what the president said was the fact that it was Senate Republicans who couldn't muster the votes in their own caucus to advance a relief bill — months after House Democrats passed their own version to address the ongoing crisis.
Democrats immediately panned the executive actions. Senate Minority Leader Chuck Schumer, appearing Sunday morning on ABC News' "This Week," called them "paltry."
"Unfortunately, the president's executive orders, described in one word, could be paltry; in three words, unworkable, weak and far too narrow," the New York Democrat said. "The event at the country club is just what Trump does, a big show, but it doesn't do anything."
A White House official on Saturday said the president had the "upper hand" by moving forward with actions and showing how little the Democrats were willing to actually negotiate.
"It just shows Trump is willing to get things done and work on the weekends, unlike Chuck and Nancy," said Jason Miller, a Trump campaign adviser, referring to the minority leader and House Speaker Nancy Pelosi.
But throughout negotiations the president himself was largely missing, although he said he was updated regularly by his chief of staff, Mark Meadows, and Treasury Secretary Steven Mnuchin. And while the country has been rocked by the pandemic, the president has not spoken to Pelosi since last year, and suggested he wouldn't anytime soon.
"We'll see what happens, but right now they're not ready," Trump said, referring to Democratic lawmakers. "And they're not ready because, frankly, I don't think they care about people."
The president was happy with how the news conferences went, according to aides, especially in the company of members from his club. Some came straight from happy hour holding glasses of wine.
Ahead of the first news conference, according to CNN, the president was heard on a microphone telling members: "You'll get to meet the fake news tonight. You'll get to see what I have to go through. Who's there? Oh, all my killers are there, wow. So you'll get to see some of the people that we deal with every day."
People in the room booed and hissed when a reporter asked why members at his club appeared to be flaunting New Jersey guidelines by crowding into the room. Trump called it a "peaceful protest" at his country club.
"You know, you have an exclusion in the law. It says peaceful protest or political activity, right?" Trump said. "I call it a peaceful protest because they heard you were coming up and they know the news is fake, they know it better than anybody."
The weekend was meant to help Trump reset. On Friday, the president met with his top campaign advisers, including Bill Stepien and Jason Miller, at Bedminster, and spent time Friday and Saturday with one of his closest allies, Sen. Lindsey Graham (R-S.C.). On Saturday morning, Trump and Graham called into a South Carolina Republican Party meeting, according to a person familiar. First lady Melania Trump and their son Barron spent the weekend at Bedminster, too.
The weekend away was also part of a big fundraising push by the Republican National Committee. RNC Chairwoman Ronna McDaniel traveled with the president on Marine One and accompanied him at exclusive fundraisers on Thursday in Ohio, and then over the weekend in the Hamptons and New Jersey. On Saturday, Trump got a boost from hobnobbing with friends at fundraisers at the ritzy homes of the Wall Street billionaire John Paulson and Trump's eldest son, Donald Jr., in the Hamptons that raised $15 million for Trump Victory.
His Sunday fundraiser took place on the shore of New Jersey in Long Branch, where people acted as if there was no pandemic. Supporters, not socially distanced and without masks, crowded along the side of the road to see the president.
But even though the pandemic seemed far away for some of the public in New Jersey, the president had a gut-wrenching reminder of the virus's toll when he visited. His final fundraiser of the weekend was held at the home of Stanley Chera, an old friend of the president's and a fellow real estate tycoon who died of the coronavirus this spring.
"A great person, and a very early supporter," Trump said. "Unfortunately, he didn't make it."