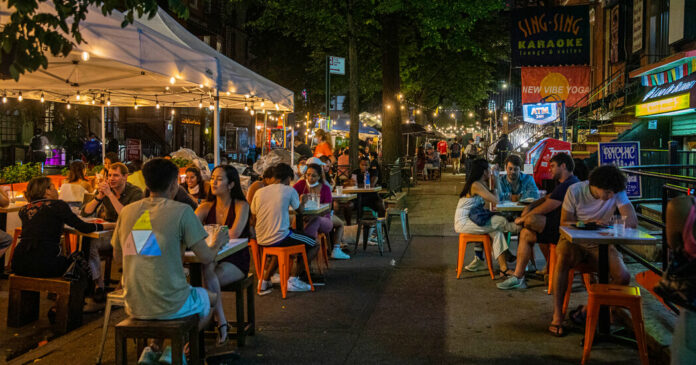 New York|Warnings Issued as Virus Cases Rise in New York
Clusters of cases have emerged in Brooklyn and New York City's northern suburbs, in areas with large Orthodox Jewish communities.

After months of a decline in the rate of positive test results, New York reported a spike in its rate of new coronavirus cases on Monday, as state and New York City officials continued to warn about dangerous behavior in several communities in the city and its northern suburbs.
Gov. Andrew M. Cuomo said the statewide positivity rate was approximately 1.58 percent, a sharp increase from results reported on Sunday, and weeks prior.
Mr. Cuomo, a third-term Democrat, said the increase was primarily because of clusters in Brooklyn, as well as in Rockland and Orange Counties, in the Hudson Valley, saying there was "significant action" in those areas.
Officials are particularly concerned about eight neighborhoods in Brooklyn and Queens, some with large Orthodox Jewish communities, that have accounted for about one-fourth of New York City's new cases in the past two weeks, despite representing about 7 percent of the city's population.
On Friday, New York City health officials began carrying out emergency inspections at private religious schools in Orthodox Jewish neighborhoods, and threatened to limit gatherings or force closings of businesses or schools if there was not better compliance to social distancing requirements.
All told, the state reported 834 new cases, out of nearly 53,000 tests, the governor said on Monday, adding that the state planned to analyze the daily results by ZIP code "to see if we can target it" and contact hospitals in those areas.
Mr. Cuomo stressed that "mask compliance is important," and urged local governments to enforce mask rules and prohibitions on large gatherings, even if residents were feeling "compliance fatigue."
"The virus isn't tired," he said on a conference call in Manhattan. "It's no time to get tired."
The results come as New York City — once the global epicenter of the epidemic — prepares this week to reopen its public schools to more students and allow restaurants to permit some indoor dining, two changes that Mr. Cuomo and other officials have warned could bring more infections.
The rate of new cases, which had been 1.1 percent or less since late June, had defied expectations and surprised experts, remaining mostly flat even as the state significantly ramped up its testing capacity to test up to 100,000 people per day.
But in recent weeks, areas in the Hudson Valley and some neighborhoods in New York City have seen an increase in new cases and hospital admissions, according to state officials.
The statewide positivity rate began to creep up over the weekend, when officials reported rates just slightly above 1 percent; hospitalizations have also risen over the last several days, according to state statistics. On Monday, the state reported that 543 people were hospitalized as a result of the disease, another slight increase.
While Mr. Cuomo noted that the positivity rate reported on Monday was still far below that of many other states and countries, he said that health officials would focus on increasing testing and compliance of social distancing measures in areas seeing spikes. Ten ZIP codes that make up only 3 percent of the state's population accounted for 27 percent of the new cases that were reported on Monday.
The governor and public health officials have been warning about the possibility of a second wave for months as schools reopen, people return to workplaces and subway ridership increases.
In July, the state began requiring travelers from states with increasing cases to quarantine for 14 days upon their arrival in New York, though the enforcement has been loosely enforced. On Monday, Mr. Cuomo said he would sign a new executive order subjecting most travelers from other countries to the 14-day quarantine.