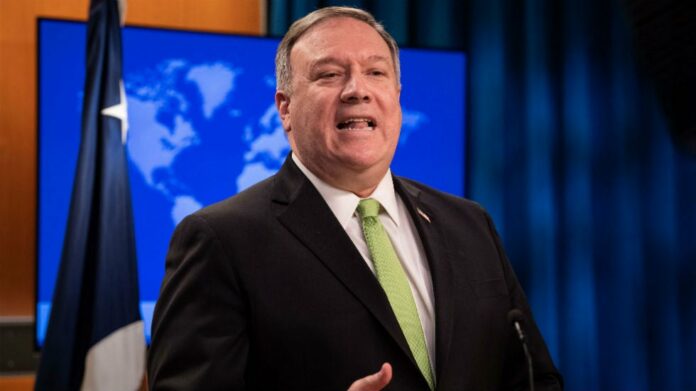 The U.S. announced Friday it is sending $17 million in relief aid to Lebanon after a massive explosion rocked its capital city of Beirut earlier this week, killing at least 150 people and wounding thousands more.
National security adviser Robert O'Brien said in a statement that the first wave of aid would include "food, water, and critical medical supplies." He added that the U.S. Agency for International Development (USAID) was deploying a Disaster Assistance Response Team to "assist in the coordination and delivery of humanitarian assistance."
Secretary of State Mike Pompeo

Michael (Mike) Richard PompeoGOP lawmaker calls for Justice Dept. to probe international court Trump hits Hong Kong leader with sanctions Overnight Defense: Air Force general officially becomes first African American service chief | Senators introduce bill to block Trump armed drone sale measure | State Department's special envoy for Iran is departing the Trump administration MORE noted in his own statement that the $17 million in disaster aid "augments the $403 million in U.S. humanitarian assistance to Lebanon since September 2019, including $41.6 million in assistance for the [COVID-19] response."
Details surrounding the explosion are still somewhat murky. President Trump

Donald John TrumpJoe Arpaio loses bid for his old position as sheriff Trump brushes off view that Russia denigrating Biden: 'Nobody's been tougher on Russia than I have' Trump tees up executive orders on economy but won't sign yet MORE raised eyebrows on Tuesday when called the explosion an "attack," citing his military advisers, despite Lebanese officials not saying the same. The president tempered his description of the explosion the following day.
"Whatever happened, it's terrible," Trump said Wednesday during a press briefing. "But they don't really know what it is. Nobody knows yet. At this moment they're looking — I mean, how can you say accident?"
"I don't think anybody can say right now. We're looking into it very strongly. …  I mean, you have some people think it was an attack and you have some people that think it wasn't."
"In any event, it was a terrible event and a lot of people were killed and a tremendous number of people were badly wounded, injured," he added.
Officials have said a large stock of ammonium nitrate was stored in a warehouse where the explosions occurred.
The Lebanese government has launched its own investigation into the blasts, with officials signaling the materials had been housed at the warehouse since 2014.