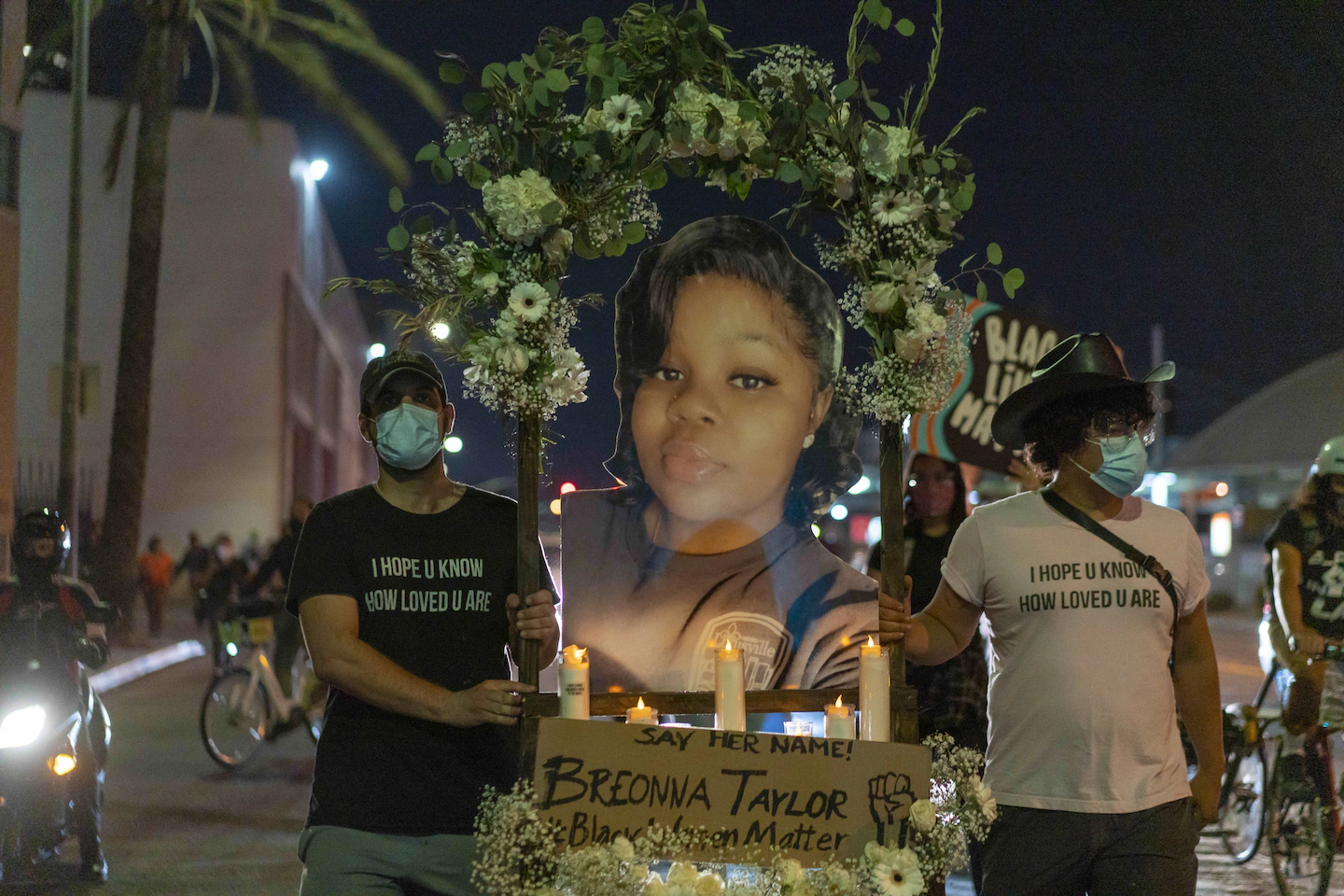 Taylor's name became a rallying cry for policing overhauls and racial justice as the Black Lives Matter movement swept the United States this summer.
On Wednesday evening, two officers were shot following the indictment, and a suspect is in custody, authorities said. The shooting occurred about 8:30 p.m. as officers responded to shots fired in a large crowd. The officers suffered non-life-threatening injuries, said the interim police chief.
Here are some significant developments:
The grand jury did not announce indictments against the other officers involved in Taylor's death. Kentucky Attorney General Daniel Cameron (R), facing the toughest moment yet in his fledgling political career, said he did not anticipate charges in the future.
President Trump tweeted his support for the two Louisville officers who were shot Wednesday night. "The Federal Government stands behind you and is ready to help," the president said.

Ben Crump, one of the attorneys for Taylor's family, told CNN that the grand jury's decision felt "like killing Breonna all over again."

Dozens of protesters were arrested in Louisville Wednesday night, said police spokesman Sgt. Lamont Washington. While the arrest numbers were still being tallied early Thursday, Washington said he expected the total to be close to 100.

Asked about the Taylor case, Joe Biden, the Democratic presidential nominee, said he hoped for peaceful demonstrations, but rankled some activists by singling out protesters in Louisville and associated their cause with violence.

Cameron said the state's investigation determined the officers' use of force was "justified" because they had been fired upon first, by Kenneth Walker, Taylor's boyfriend. Walker has sued Louisville police and disputed their version of events.

Cameron said the investigation uncovered one witness who heard the detectives identify themselves, disputing earlier reports that a "no-knock" warrant was being served. However, Taylor family attorneys have disputed this, and police were not wearing body cameras.
September 24, 2020 at 3:31 AM EDT
With Breonna Taylor decision, summer's anguished protests get fresh impetus for the fall
By Griff Witte
Inside the Kentucky History Center, the state's top law enforcement official was explaining why Breonna Taylor's death was a tragedy, but not a crime.
Attorney General Daniel Cameron (R) had reviewed the evidence. He had studied the law. He had come to a conclusion about how justice could best be served, and it didn't involve prosecuting police officers for shooting to death the 26-year-old emergency room technician in her apartment after midnight on March 13.
The two officers at her door that night, Cameron said, were "justified" in using force to defend themselves after Taylor's boyfriend — fearing an intruder, not the police, was breaking into the apartment — fired on them.
But even as he spoke, a very different judgment was already coming in on the streets of Louisville. Hundreds of people were marching through an otherwise deserted downtown. Some shouted obscenities at police. Others lit a trash can on fire.
September 24, 2020 at 2:37 AM EDT
'It's like killing Breonna all over again': Family attorney slams grand jury's decision not to indict officers in her death
By Timothy Bella
Benjamin Crump, one of the attorneys for the family of Breonna Taylor, said the Wednesday decision by a grand jury to not indict Louisville police officers in her death was the equivalent of killing her again.
"It's just heartbreaking. It's like killing Breonna all over again," Crump told CNN's Don Lemon, saying the family was "outraged" over the decision. "Legalized genocide of people of color, because no matter how much evidence we have, they always find a way to try to legally justify it."
Hours after Kentucky Attorney General Daniel Cameron (R) announced no officers would be indicted for her death, Crump characterized the grand jury proceeding as "outrageous." One officer was charged with "wanton endangerment," accused of firing recklessly into a neighboring apartment.
"The D.A. could have indicted a ham sandwich if they wanted to," Crump said to CNN. "We strongly feel they did not want an indictment against these police officers."
Crump criticized Cameron's process and lack of action Wednesday, saying the "unjustifiable" decision handed down by the attorney general underscored that there were "two justice systems in America: one for Black America and one for White America."
"We stand here today to say that there is no justification for the murder of Breonna Taylor," he said. "And we will go to our graves proclaiming that Breonna Taylor did not get justice from the Kentucky attorney general's office."
September 24, 2020 at 2:01 AM EDT
'I'm tired, like every Black American': Chicago protesters hope this time is different
By Mark Guarino
CHICAGO — As three protests in downtown and the South Side ended, a fourth on the North Side was just getting started.
About 300 people marched north on California Avenue to protest a Louisville grand jury's decision not to indict officers in Breonna Taylor's death. They stopped in front of the 14th Police District headquarters, which was lined for a full block with police on the sidewalk. Protesters on foot and bike yelled into the faces of police officers for about 30 minutes until the march continued north up Milwaukee Avenue toward Logan Square, where Chicago Mayor Lori Lightfoot (D) lives on a residential street.
The noise on the street drew Mike and Sara Franklin, 34 and 32 respectively, out of their house where they joined the march. Sara said the march, like many others in Chicago this summer, are "part of change" in her city. "It won't happen overnight, but every little bit counts," she said.
The protest was also the first for Nasceita Luckett, 24, who decided to join the marchers after she left her job at a spa. Luckett, who is Black, said she decided to finally join the movement Wednesday because of one reason: "I'm tired, like every Black American."
"I'm exhausted that Black people are not getting the justice we deserve," she said. "I'm so tired of turning on the TV, it keeps going and it is never going to stop … This is my time to try to make a difference."
The marchers walked around a turnaround to enter Lightfoot's street. They stopped two blocks from her house after seeing that Chicago police had barricaded the intersection, preventing them from moving forward. They reversed and ended up in the park, located in the middle of the turnaround. There, they spray-painted the 1918 Illinois Centennial Memorial Column with Taylor's name and other graffiti.
Matthew James, 34, stood nearby on his bicycle watching. He showed up because he said he was "tired of watching the same scene play out for too long and elected officials failing to take police violence seriously." He said the march reflects "a movement that is continuing to grow."
"Five years ago people protesting the police were thought of as crazy," he said, "but now they are understanding why people have been upset for so long."
September 24, 2020 at 1:20 AM EDT
Biden rankles some activists who claim he linked protests and violence
By Darren Sands
Asked about the Breonna Taylor case in Louisville, Joe Biden, the Democratic presidential nominee, said he understood there would be protests after the grand jury's decision not to indict officers in her death.
Assured that there were indeed demonstrations, Biden said, "Well, they should be peaceful," according the pool report. "Do not sully her memory or her mother's by engaging in any violence. It's totally inappropriate for that to happen. She wouldn't want it, nor would her mother, so I hope they do that."
Tamika Mallory, a co-founder of the group Until Freedom, called Biden's statement's "triggering" because it singled out protesters and associated their cause with violence. "I would hope that Vice President Biden understands the rage and pain that Black people are experiencing in this moment," Mallory told The Washington Post.
Later, Biden issued a statement humanizing Taylor as a "beloved daughter, member of her community, and an essential worker."
"But she died, shot in her own home by the police. In the wake of her tragic death, we mourn with her mother, family, and community and ask ourselves whether justice could be equally applied in America," said Biden.
Stephen Green, a national activist based in New York who joined Mallory and others on the Until Freedom campaign in Louisville, said organizers spent all day Wednesday figuring out next steps. Not once did the conversations turn to the election or electing Democrats.
"The pain is not translating to the polls," he said.
September 24, 2020 at 12:50 AM EDT
300 protesters demonstrate in front of Portland police headquarters
By Cleve Wootson
PORTLAND, Ore. — More than 300 demonstrators blocked off the street in front of the Portland Police Bureau's headquarters Wednesday night, shouting Breonna Taylor's name and proclaiming, "Black lives matter."
The demonstration took place despite a cold rain that drenched protesters. Portland has seen nearly four months of protests since the death of George Floyd, a string broken when smoke from wildfires made outdoor activities hazardous.
Videos posted to social media also showed crowds gathering in front of the Multnomah County Justice Center, including a drum line playing to the chants of, "Whose life mattered? Breonna Taylor!"
The protests come ahead of what's expected to be another tense stretch in Portland. In a few days, thousands of members of the Proud Boys — a self-identified western chauvinist group that the FBI has said has ties to white nationalism — are expected to arrive in the City of Roses and engage in clashes with local activists.
September 24, 2020 at 12:20 AM EDT
Democrats decry Kentucky AG decision on Breonna Taylor as an example of systemic injustice
By Chelsea Janes
Top Democrats decried the decision by Kentucky Attorney General Daniel Cameron (R) to charge only one officer involved in Breonna Taylor's shooting, and not for her death, calling it another example of the systemic injustice faced by Black Americans.
"Breonna Taylor. Breonna Taylor. Breonna Taylor," House Speaker Nancy Pelosi (D-Calif.) interrupted as a previously planned segment on MSNBC wrapped up Wednesday afternoon. "Say her name."
Pelosi and other congressional leaders also used the moment to call for police reform and an overhaul of the criminal justice system.
"This is wrong," said Senate Minority Leader Charles E. Schumer (D-N.Y.). "Breonna Taylor's life mattered. She deserves justice. Her family deserves justice. Unjust laws produce unjust outcomes. This must end."
September 23, 2020 at 11:26 PM EDT
Video: Gunfire erupted after police fired flash-bangs at protesters
By Derek Hawkins
Before two Louisville police officers were reported shot, a crowd of protesters had amassed at Jefferson Square Park, the site of months-long demonstrations sparked by Taylor's death, where they chanted and listened to speeches by organizers.
Around 7:45 p.m., after several small fires were set in trash cans, police declared the gathering an "unlawful assembly" and threatened to use chemical agents if protesters refused to clear the park.
Heeding the warning, several hundred protesters marched south, chanting, "Say her name!" and "Breonna Taylor!" as they wove through downtown Louisville.
Jordan Lawson, a 29-year-old civil engineering student at the University of Louisville, said he took a break from studying to march with his sister. He said friends and family had been victims of police aggression.
"To me, in my heart, it's the right thing to do," he said. "We need to let them know this is not okay."
Eventually, the crowd turned up Brook Street and started heading north again, walking parallel to Interstate 65.
Ahead, a line of police vehicles blocked the intersection at Broadway, halting the march and causing the crowd to thicken. Someone could be heard shouting, "Y'all do what you want to do. Y'all are free!"
Without warning, at 8:29 p.m., police fired at least a pair of flash-bangs at the protesters.
A split second later, gunfire erupted. At least four shots rang out near the intersection, sending the crowd scrambling for safety.
Several armored vehicles sped to the scene, lights flashing. About 10 officers with wooden batons and riot gear sprung out and attempted to clear the crowd, yelling, "Move! Move! Move!"
The protesters dispersed in all directions. By the time police reported that an officer had been hit, the crowd had thinned completely. Police had the area roped off for blocks, and few people remained in the streets.
Police said officers were wounded responding to shots fired in the area of a large crowd.
September 23, 2020 at 10:08 PM EDT
Protesters spill into D.C. streets after grand jury decision in Breonna Taylor case
By Clarence Williams and Fredrick Kunkle
About 200 people protesting the grand jury decision on the Breonna Taylor case marched through downtown Washington Wednesday night.
The demonstration was mostly peaceful, but at about 9:30 p.m., some protesters broke windows and turned over newspaper boxes as the march turned into more residential neighborhoods.
The protest started at the Justice Department building as demonstrators shouted demands for justice in Taylor's name as drivers honked in support. Taylor was sleeping in her home in Louisville in March when three police officers fired their weapons in her apartment, killing her.
September 23, 2020 at 9:58 PM EDT
Protesters march in Chicago 'to fight for my people, especially Black women'
By Mark Guarino
At least four protest marches proceeded peacefully throughout Chicago early Wednesday evening as hundreds of people seized upon the news that no Louisville police were indicted in the killing of Breonna Taylor.
On the far South Side, the Rev. Michael Pfleger, a Catholic priest with St. Sabina Parish, led about 100 people in a march that blocked an intersection at 79th Street and Racine Avenue. Pfleger was joined by other South Side church leaders in speaking to the crowd about spreading the Black Lives Matter message to people far beyond the neighborhoods hurting the most.
Farther north, in Bronzeville, about 150 people stood in front of the Chicago Police headquarters until marching about four blocks north to a park where they called for police reform and denounced Chicago officials including Mayor Lori Lightfoot, whom they characterized as caring little about making lasting change.
One speaker, Nico Jordan, 23, said he showed up "to fight for my people, especially Black women."
"I came from a Black woman, I'll always fight for them," he said. The upcoming election does not give him hope that much will change on the national stage because he said he viewed most politicians as "corrupt." But locally, he said, the frequent street marches all summer give him hope. "I expect [reform] will come slowly but surely," he said.
At the park, the crowd took a symbolic knee for Taylor. Among the protesters was a man waving a giant black flag he said represented "freedom." The man, 40, who did not want to give his name, said he and his flag are present at most protests because he views himself as fighting for "the abolition of the police."
"They follow their own laws as far as I know. Thugs with badges, we're sick and tired of it," he said. "If our country has any morality, we'd punish killer cops."
He too said he sees little differences between both political parties, although he hopes President Trump will be ejected from office come November. "Democrats and Republicans are both players in the same game, which is imposing imperialism," he said.
In downtown Chicago, dozens of protesters gathered on the sidewalk in front of Millennium Park before marching through the Loop, followed by a platoon of Chicago police officers on bicycles and in vehicles. A few miles to the west, in Palmer Park, some 300 protesters gathered before marching north through the neighborhood. No arrests were reported.
September 23, 2020 at 8:58 PM EDT
Ky. attorney general on Breonna Taylor's case: 'I understand as a Black man,' but acting on outrage 'is no justice'
By Marc Fisher
The attorney general who solemnly told Louisville and the nation that no police officer would be charged in the shooting death of Breonna Taylor is a young Black man who choked up at the thought that his own mother might ever face such a devastating tragedy.
That same Kentucky lawyer is one of the Republican Party's best hopes for building a more diverse appeal, a protege of the ultimate old-school practitioner of the dark arts of politics, and a favorite of President Trump who nonetheless has a reputation for being a stickler for unadulterated facts.
As thousands of protesters gathered on Louisville's streets Wednesday afternoon, Daniel Cameron faced the toughest moment yet in his fledgling political career. Kentucky's 34-year-old attorney general patiently explained on national TV that his allegiance was to the law, not to his race or to emotions or to public sentiment, and that every tragic wrong does not necessarily find a cure in the criminal code.
September 23, 2020 at 8:35 PM EDT
NBA players 'disappointed' and 'speechless' after Breonna Taylor ruling
By Ben Golliver
KISSIMMEE, Fla. — After spending months campaigning for justice for Breonna Taylor from the bubble, NBA players and coaches were dismayed Wednesday when a Kentucky grand jury decided not to charge three Louisville police officers with murder in the case.
September 23, 2020 at 7:55 PM EDT
In Taylor's neighborhood, confusion and dismay
By Maria Sacchetti
More than five months after police fatally shot Taylor, a memorial sits in front of Taylor's porch in a Louisville apartment complex about 20 minutes from downtown. Melted candles, handwritten notes and plastic flowers mingle with posters saying "Black Lives Matter" and "Justice for Queen Breonna."
The neighborhood of two-story brick buildings is filled with working families. A children's bicycle with silver streamers sits on the porch next door to Taylor's former apartment, where Louisville police officers barged in for a raid.
The shooting terrified residents, who recalled bullets seeming to fly indiscriminately.
Seny Soumaoro, a 26-year-old customer service representative at Amazon and an upstairs neighbor, said the FBI came to speak with her about the shooting. But she said she still was not sure what happened the night Taylor died.
Across the parking lot, Brian Tyler Burton, a 30-year-old forklift driver, rushed to deliver dinner from McDonald's to his daughter in another apartment nearby. He said he knew Taylor enough to wave hello and was unhappy with the grand jury's decision.
The police officers there that night "should have been charged with some type of murder," he said.
"I don't think it is justice," he said, juggling takeout in his arms, adding that the decision means there is going to be "no peace at all."
"It's going to make things worse," he said.
September 23, 2020 at 7:38 PM EDT
Trump says Kentucky AG Cameron is 'handling it very well'
By Meryl Kornfield
President Trump on Wednesday praised the Kentucky attorney general who announced the grand-jury charge of wanton endangerment against one of the police officers involved in the killing of Taylor — even as protesters in the streets of Louisville call for murder charges for all three officers.
Trump said Attorney General Daniel Cameron (R) was "brilliant." He said Cameron was "handling it very well" after he watched the attorney general share the grand-jury indictment Wednesday afternoon.
"Cameron is doing a fantastic job," Trump said at a later coronavirus briefing. "I think he is a star."
Trump proceeded to read a quote from Cameron's announcement: "Justice is not often easy. It does not fit the mold of public opinion, and it does not conform to shifting standards. It answers only to the facts and to the law. If we simply act on emotion or outrage, there is no justice. Mob justice is not justice. Justice sought by violence is not justice. It just becomes revenge."
"I heard that and I said, 'Write that down for me please,'" Trump said.
Trump said he will be speaking to Gov. Andy Beshear (D), but commended Beshear's choice to call the Kentucky National Guard.
Later during the news briefing, when a reporter repeatedly asked for him to speak of Taylor's death and the subsequent protests, Trump said he had an emergency call and walked out of the room.
September 23, 2020 at 7:32 PM EDT
Biden urges peaceful protests, declines to weigh in immediately on charges
By Hannah Knowles
Joe Biden called for protests to remain peaceful after only one officer involved in Breonna Taylor's death was indicted — and said he could not immediately comment on the charging decision, which has set off new outrage in the case. A former Louisville police officer was charged with "wanton endangerment" for putting Taylor's neighbors at risk with his gunfire.
"I don't know the details, so I'm reluctant to comment," Biden said. "I really don't. I haven't had a chance to get briefed."
He said he would try to learn more and comment further, adding that his "heart goes out" to Taylor's mother.
When reporters said that protests are expected, Biden said, "Well, they should be peaceful."
"Do not sully her memory or her mother's by engaging in any violence," he urged. "It's totally inappropriate for that to happen. She wouldn't want it nor would her mother, so I hope they do that."
The former vice president has expressed support for protesters' calls for reform and racial justice this summer but has also condemned the violence that has broken out in many cities. His opponent, President Trump, has campaigned on a "law and order" message and has sought to portray Biden as weak on crime.