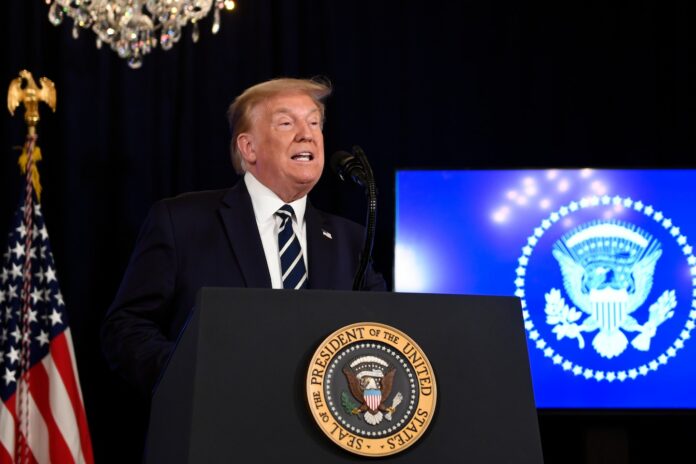 President Trump is expected to sign as many as four executive orders as soon as Saturday after talks with Democrats faltered on an economic relief package, two people briefed on the planning said.
One of the executive orders would aim to restore some unemployment aid for millions of Americans whose enhanced benefits expire last month. Two of the other executive orders would relate to eviction protections and student loan relief.
And the fourth executive order would seek to defer payroll tax payments from July – retroactively – through December.
The first three issues had been the subject of talks with congressional Democrats, which faltered on Friday. The payroll tax initiative is one Trump has sought for more than a year with little congressional support.
The people describing the planning spoke on condition of anonymity because they weren't authorized to describe the plans.
Trump plans to hold a press conference in Bedminster, N.J. at 3:30 p.m.
Part of the urgency in the recent talks has been the expiration of several key elements of the $2 trillion Cares Act, which passed Congress in March.
That bill provided enhanced weekly unemployment benefits of $600 through July, as well as temporary eviction protections, which also expired in July.
House Democrats passed a bill in May that would have extended the $600 unemployment benefit through January, but the White House and Senate Republicans sought to change the formula for these benefits so that – in many cases – the benefit came to around $200 a week. They eventually changed their offer and told Democrats they would agree to around $400 a week in benefits. But those talks collapsed in part because of a broader disagreement about aid to states.
The unemployment rate in February was 3.5 percent, near historic lows, but it jumped to more than 14 percent in April when large parts of the country shut down because of the coronavirus pandemic. The unemployment rate in July was 10.2 percent, but more than 30 million Americans are still collecting jobless aid and many parts of the economy remain dislocated.