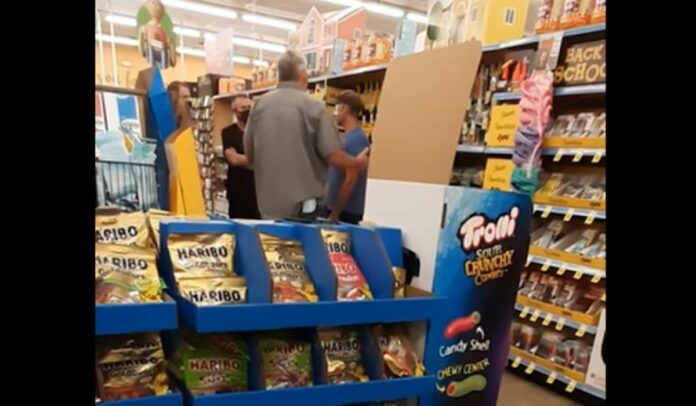 A Smith's Food and Drug store in Utah is under fire after several employees were caught on camera cursing and berating a customer for improper mask use.
A nearly seven-minute video filmed inside the supermarket chain in Cedar City showed four employees surrounding a customer and hurling profanity and insults at him. As an apparent statement, the customer had worn his face mask, which is supposed to cover the nose and mouth, as an eye mask instead, like a superhero.
"You're doing it just to be a jerk," a female employee told the customer in the video. "We all know this and so do you."
"Why don't you get a [expletive] job and get out," a male employee said. "You're going to be 86'd from every [expletive] Smith's in the world."
"This is private property, so get your [expletive] out of this store," a second male employee said.
"You're turning into a little Nazi right now," the customer told the first male employee.
"You're a [expletive] Trumpster, [expletive] redneck," the man responded. "I'm about to throw you out."
"We have a right to defend ourselves," a third male employee chimed in.
"And I have a right to defend myself," the customer replied.
"But I promise you, you'll be the one going down," the third male employee fired back.
That's when the female employee interjected to say the police were on their way.
The man who recorded the July 23 altercation, a longtime Cedar City resident and Smith's customer who wished to remain anonymous for fear of retaliation, told FOX 13 in an interview Wednesday that he knew most of the employees in the video and was shocked by their behavior.
"I've been here for 30 years, never seen anything like this," he said. "I actually did the video because I was afraid it was going to break out into a fistfight.
"I was shocked, because I know most of the people there in the video, except for the guy in the mask, and I have for many, many years," he said. "I was surprised to hear that type of abusive language and threats being thrown out by them."
Smith's Corporate Affairs Manager, Aubriana Martindale, told FOX 13 that the employees had since been "retrained on de-escalation and expected customer service."
"At Smith's the safety of our customers and associates remains our top priority," she said. "While we do request all customers to wear a facial covering to help mitigate the spread of COVID-19, we were disappointed in the manner this incident was handled as it does not reflect our values or standards of service and have addressed the associates involved."
Ms. Martindale declined to say whether any of the employees in the video faced disciplinary action.
Cedar City Police confirmed a report was made but no charges were filed, FOX 13 reported.
*WARNING: VIDEO CONTAINS GRAPHIC LANGUAGE*