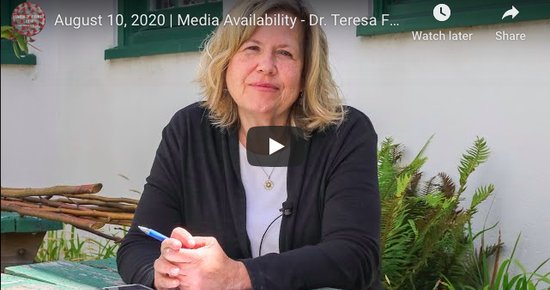 Humboldt County Health Officer Dr. Teresa Frankovich, sitting outdoors this time, begins her latest media availability video with a dash good news: The county is adjusting its case count down by three because it turns out their initial tests, performed outside the county, returned false positives. 
"They re-ran the specimens. They were negative and confirmed as negative," Frankovich says. The total case county has been adjusted accordingly. 
Below you'll find our standard, time-stamped guide to the Q-&-A.
(0:53) The Redheaded Blackbelt asks, "We understand staff at another nursing home in Humboldt County has a positive COVID test associated with it." What applicable lessons did Public Health learn from the outbreak at Alder Bay? Is the county or state providing more personal protective equipment (PPE)? 
There is so far only a single case, not an outbreak, at the latest facility, Frankovich says. (The Redheaded Blackbelt reported that the infected person works at Fortuna Rehabilitation and Wellness Center.) Frankovich says lessons have been learned "across the board." Public Health is working to ensure senior facilities are well-stocked with PPE and following safety protocols. The county also provides the assistance of an infection control specialist at facilities that report a positive case.
(3:16) The Redheaded Blackbelt asks, "With nursing homes traditionally staffed by low-paid workers who are often employed at multiple jobs to keep their finances afloat, what can be done to support the staff by Humboldt County Public Health? And do you have suggestions [for] how our community as a whole can support both the staff and the elderly?"
Per state guidelines, employers are supposed to have plans in place to deal with employees who need to quarantine, Frankovich says. What we can all do to support staff and the elderly is what we've been talking about for months now, she adds: limiting travel and gatherings, distancing and consistently using facial coverings. 
(4:37) The Redwood News asks, "With kids heading back to school … what is your advice for parents on the best way to keep their kids safe this fall?"
Parents should emphasize the importance of facial coverings, hand-washing/sanitizing and distancing, Frankovich says. "I also think that parents need to be really active at monitoring their children for signs and symptoms of infection so that we are not sending children to school when they're ill," she adds. And families should keep their activities limited to their own households. 
(6:15) The Redwood News asks, "There has been a lot of talk lately about a COVID-19 vaccine and the trials for a vaccine. St. Joseph hospital was involved in a clinical trial for Remdesivir … . Is Humboldt County going to be involved with any vaccine trials? If so, what is that going to look like?
Nothing planned for Humboldt thus far, Frankovich says. Most clinical trials are centered around large academic institutions in bigger cities. But if someone has a proposal to engage locals, "We'd be happy to talk with them," she adds.
(7:15) The Redwood News asks, "Can you give us an update on the flooding/plumbing problem that happened at the Public Health lab on Friday? How much of the lab was impacted? Was any equipment damaged? Were any tests or collected samples damaged? Has testing been — or will it be — damaged in any way?
Luckily, the flooding mostly affected the lower level of the building, including Frankovich's own office. The lab was hardly affected at all. Staff there "mopped up a bit and cleaned off what they needed to and got back to work," she says. 
(8:47) The Lost Coast Outpost asks, "Last night the director of the California Department of Public Health resigned after it came to light that the state failed to receive results of a quarter of a million tests conducted by Quest Diagnostics between July 31 and Aug. 4, as a result of a technical glitch. How did this glitch affect Humboldt County's reported testing numbers last week? We note that the two large reports of positive cases last week were on Wednesday, Aug. 5 and Thursday, Aug. 6 — the two days following the correction of this glitch."
Frankovich says she doesn't know that there's any connection between the state health officer's resignation and the laboratory issue. The vast majority of testing done in Humboldt is conducted via the Public Health lab, the Optum lab at Redwood Acres or within local health care facilities, none of which were impacted by the Quest Diagnostics glitch, "so I'm hoping that the impact will be relatively small," she says. 
(10:54) The Lost Coast Outpost asks, "Many epidemiologists are now arguing that the country could be deploying fast, cheap and not terribly sensitive saliva tests that could be administered at schools, workplaces, or in the home — the idea being that the quantity of such tests would more than compensate for their lower quality. (See a New York Times article here.) Is this approach gaining traction in state public health circles? Do we have such tests available in Humboldt County in any quantity? Are they on the horizon?"
There are lots of people creating testing platforms of varying degrees of sensitivity and usefulness, Frankovich says. Public Health staff is looking at each new option in collaboration with the state. It is "a big deal" in terms of resource allocation to get false testing results, so the accuracy of tests are paramount. At some point, a high volume of testing might become a more paramount priority, "but I don't think we're at that point yet," she says. 
(13:02) ????? [The audio completely cuts out during the reading of this question.]
There has been an increase of cases in children, largely from within infected households, Frankovich says. It's less common for the kid to be the original case. 
(14:14) The North Coast News asks, "Just as thousands more students return to classrooms this week, another study shows how easily children can get coronavirus. More than 97,000 children in the U.S. tested positive for coronavirus in the last two weeks of July according to a study in the American Academy of Pediatrics and the Children's Hospital Association. At what point would you consider reversing course and closing schools entirely again for in-person instruction? 
Public Health staff is monitoring local epidemiological data, hospital data and capacity daily, Frankovich says. We're currently not exceeding the state's threshold for mandated distance learning, though our trends are concerning. If cases continue to grow, prohibiting in-person classes could happen, "but we're not quite there yet," she says.
(15:37) The North Coast News asks, "California's top public health official has resigned just days after the state announced a … glitch that caused a lag in reporting coronavirus test results … ." Did the glitch affect Humboldt County's data?
See above. 
(16:21) Hermosa Beach officials said the city is using a private policing firm to help police enforce an ordinance requiring face coverings in public areas … . Would you support local officials if they resorted to such actions to enforce your orders here?
"Well, obviously, I'm open to any discussions about things that we can do to improve enforcement," she says, "but that certainly would be informed heavily by what local law enforcement feels they are able to do in our local areas to be able to increase adherence to local orders."