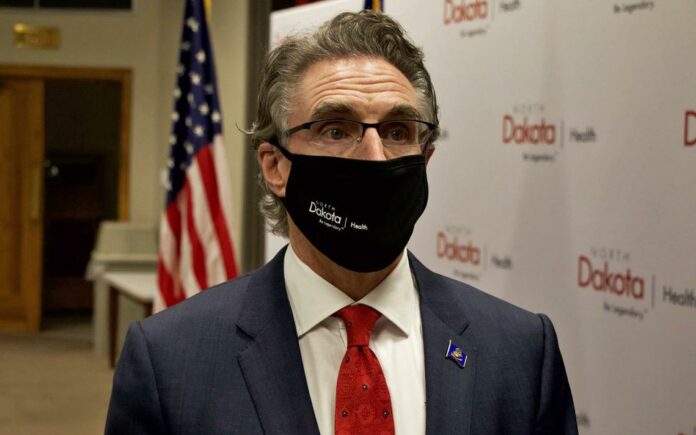 With the order now declared null, North Dakota is again out of step with CDC recommendations. The agency's website says close contacts should get tested for COVID-19, and "asymptomatic contacts testing negative should self-quarantine for 14 days from their last exposure."

Written By: Jeremy Turley
|

Sep 24th 2020 – 9pm.
×

North Dakota Gov. Doug Burgum wears a mask during an interview in Bismarck on Thursday, Sept. 3. Jeremy Turley / Forum News Service
In a move that defies federal health guidelines, North Dakota announced late Thursday, Sept. 24, that interim State Health Officer Paul Mariani has rescinded an order that required close contacts of known COVID-19 cases to quarantine.
The order, which Mariani expanded Wednesday, mandated that residents identified as close contacts quarantine at home for 14 days or risk facing Class B misdemeanor charges. The department defines a close contact as a person who was within six feet of a known COVID-19 case for at least 15 minutes.
Republican Gov. Doug Burgum said in a Thursday news release "we need a light touch of government with more local leadership and collaboration, and we feel we can better support those efforts by working more closely with local public health and community leaders to identify mitigation strategies that will work and be supported in each community."
Burgum said while announcing the amended order Wednesday that the move was made to align with guidelines set by the Centers for Disease Control and Prevention.
With the order now declared null, North Dakota is again out of step with CDC guidelines. The agency's website says close contacts should get tested for COVID-19, and "asymptomatic contacts testing negative should self-quarantine for 14 days from their last exposure."
Burgum noted Wednesday that it is extremely important that close contacts stay away from other members of the public because as many as a third of all close contacts identified by contact tracers ended up testing positive for the illness. Health officials have said in the past that residents refusing to comply with requests to quarantine has been a serious issue.
Mariani said close contacts should still avoid others "whenever possible," adding "we continue to stress the importance of quarantining and isolation to bend the curve back in the right direction in North Dakota."
The original order issued by then-State Health Officer Mylynn Tufte in April only required household contacts of known positives to quarantine. A spokeswoman for the Department of Health did not respond in time for publication when asked if the original order remains in effect. A separate order still requires people who have tested positive for COVID-19 to isolate for at least 10 days.
Both versions of the order exempted essential workers as defined by the U.S. Department of Homeland Security.
Local law enforcement would have enforced the quarantine mandate, but Thursday's release said no one has actually been charged with violating either version of the order.
Thursday's retraction isn't the first time during the pandemic the health department has backed off an order just hours after it was issued. Tufte, who later resigned, dramatically weakened a quarantine order for returning travelers in March a day after she declared the mandate.